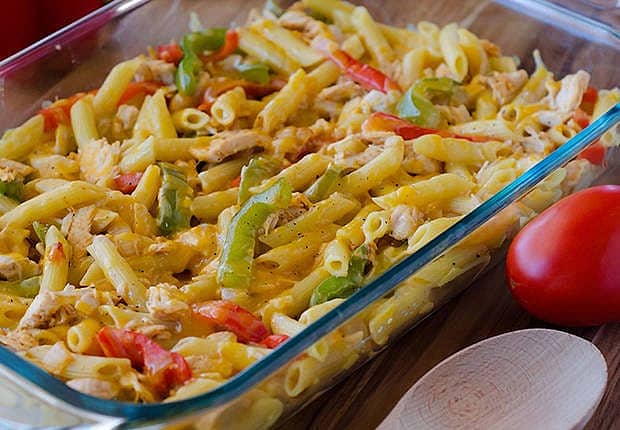 Fajita Pasta Bake Recipe
Classic fajita fixings add extra flavor to cheesy baked pasta. By Pillsbury Kitchens
30 Minutes Prep
50 Minutes Total
Ingredient List
2 cups thinly sliced red and green bell peppers
1 small white onion, chopped
2 cups uncooked penne pasta (6 oz)
1 lb shredded cooked chicken breast
1 package (1 oz) Old El Paso™ taco seasoning mix
1 cup whipping cream
1 cup shredded Colby-Monterey jack cheese blend (4 oz)
Advertisement
Recipe Continues Below
Preparation
Heat oven to 350°F. Spray 13x9-inch (3-quart) glass baking dish with cooking spray.
Spray 10- to 12-inch skillet with cooking spray; heat over medium heat. Add 2 cups thinly sliced red and green bell peppers and 1 small white onion, chopped, to skillet; cook and stir about 10 minutes or until tender.
Meanwhile, cook 2 cups uncooked penne pasta as directed on package until al dente. Drain.
In large bowl, toss together cooked pasta, bell peppers and onion, 1 lb shredded cooked chicken breast, 1 package Old El Paso™ taco seasoning mix and 1 cup whipping cream until combined. Pour into baking dish.
Sprinkle 1 cup shredded Colby-Monterey jack cheese blend (4 oz) evenly over top.
Bake 15 to 20 minutes or until thoroughly heated and cheese is melted.
Expert Tips
Plan ahead! This recipe calls for shredded cooked chicken!
Top pasta servings with sour cream and salsa!