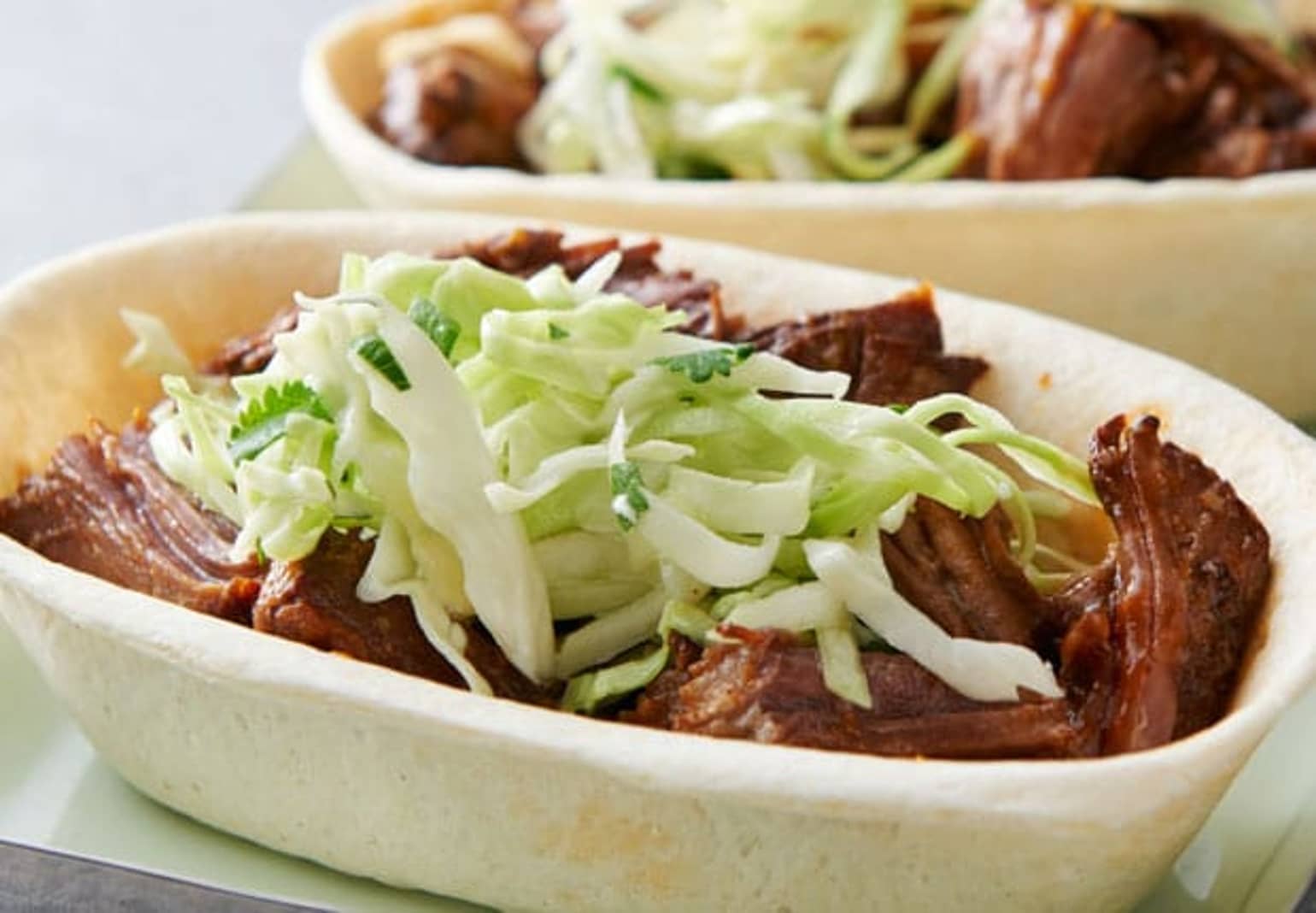 Slow-Cooker Sweet and Spicy Barbacoa Tacos with Creamy Lime Slaw
Creamy lime slaw adds a unique twist to sweet and spicy barbacoa tacos!
Ingredient List
2 lb boneless beef chuck roast, trimmed of fat and cut into 4 pieces
1 package (0.85 oz) Old El Paso™ beef barbacoa slow cooker seasoning mix
1 cup chopped onions
3 cloves garlic, finely chopped
1 medium jalapeño chile, seeded and finely chopped
3/4 cup barbecue sauce
1/4 cup water
2 tablespoons cider vinegar
3 tablespoons mayonnaise
1 tablespoon fresh lime juice
1 1/2 teaspoons honey
1/4 teaspoon salt
3 cups shredded green cabbage
1/4 cup chopped fresh cilantro
1 package Old El Paso™ soft flour tortilla bowls
Advertisement
Recipe Continues Below
Preparation
Spray 4- to 5-quart slow cooker with cooking spray. In slow cooker, mix beef, seasoning mix, onions, garlic, jalapeño chile, 1/2 cup of the barbecue sauce, the water and vinegar. Cover; cook on High heat setting 4 to 5 hours, or Low heat setting 8 to 9 hours or until tender. Transfer beef to cutting board; shred with two forks. Return to slow cooker with remaining 1/4 cup barbecue sauce. Stir to combine.
To make slaw: In medium bowl, beat mayonnaise, lime juice, honey and salt with whisk. Add cabbage and cilantro. Toss to coat.
Heat tortilla bowls as directed on package. Using slotted spoon or tongs, lift beef out of cooking liquid; divide among tortilla bowls. Top with slaw.