Back to School Meal Prep - How to Best Stock Your Pantry
Back to school season can be a whirlwind of new schools, teachers and classmates. However, the return to routine also means the return to busy weeknights for your family. Take the stress out of the transition with these quick tips on how to stock a pantry to make your routine a little easier and a lot more delicious.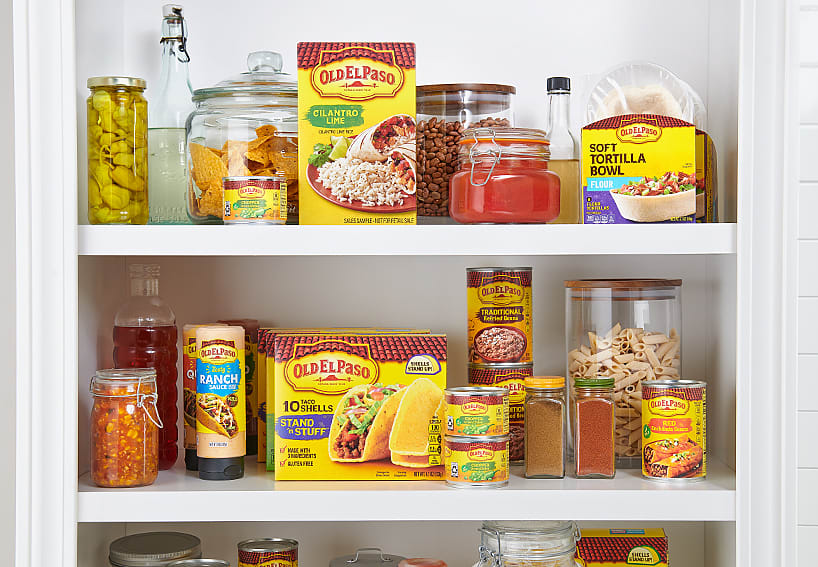 Grains: Ready for Anything
Pantry must-haves begin with choosing a few of your go-to grains, such as pasta, tortillas, rice and bread, to make sure you have the foundation for whatever meal you need.
Ready-Made Meals: Easy Grab-n-Go
Meal kits, like Old El Paso Burrito Bowls or Street Taco Kits, help alleviate the dinner rush when everyone needs to get to afterschool activities. When you add these to your pantry stock list, you'll know you can return home to a quick and satisfying meal.
Apps and snacks
Need to feed hungry kids after school? Consider some family favorites made in a flash, like tortilla chips, sauces and canned beans to help make fun and filling nachos.
Back to School Recipes
Back to school can feel fast-paced, but with these pantry recipes, you can tackle any kid cravings and make dinner a snap: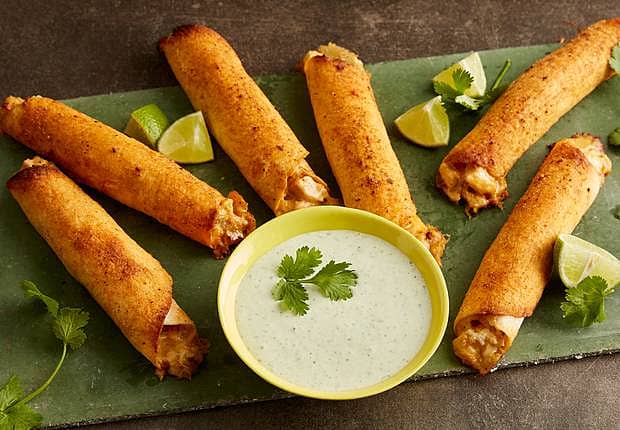 Recipe Name
Baked Cheesy Chicken Flautas
Total Time
35 minutes
Servings
10
Ingredients
1 container (8 oz) sour cream
1/4 cup fresh cilantro leaves
2 tablespoons roughly chopped green onions
1 tablespoon honey
1 tablespoon fresh lime juice
1/4 teaspoon salt
2 tablespoons vegetable oil
1 package (0.85 oz) Old El Paso™ chicken taco seasoning mix
1 cup chopped cooked chicken
1 cup shredded Mexican cheese blend (4 oz)
4 oz cream cheese, softened (from 8-oz package)
1 can (4.5 oz) Old El Paso™ chopped green chiles
1 package (8 oz) Old El Paso™ flour tortillas for soft tacos and fajitas
Preparation
Place Herbed Sour Cream ingredients in blender; cover and puree 30 to 60 seconds or until smooth. Transfer to small bowl; cover and refrigerate until ready to serve.
Heat oven to 425°F. Spray large rimmed pan with cooking spray. In small bowl, mix oil and 1 tablespoon of the taco seasoning mix.
In medium bowl, mix chicken, shredded cheese, cream cheese, chiles and remaining taco seasoning mix.
Place slightly less than 1/4 cup chicken mixture on bottom third of each tortilla. Roll up tightly; place seam-side down in pan. Brush filled tortillas with oil mixture. Bake 10 to 13 minutes or until filling is hot (at least 165°F) and flautas are crispy. Serve with Herbed Sour Cream.
Expert Tips
Herbed Sour Cream can be made up to a day ahead; store covered in refrigerator.
We tested this recipe using deli shredded rotisserie chicken, but any leftover cooked chicken will work well.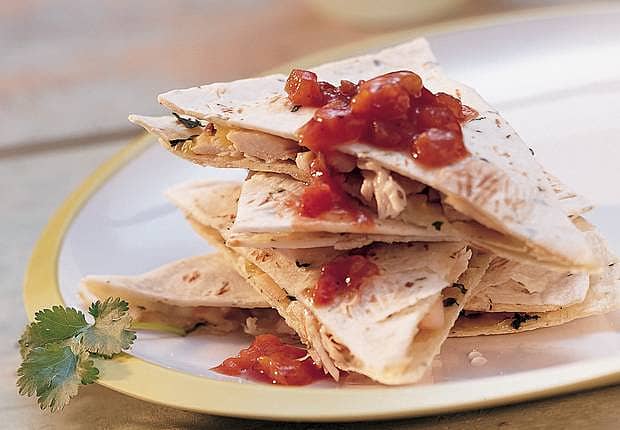 Recipe Name
Chicken Quesadillas
Total Time
25 minutes
Servings
4
Ingredients
2 cups shredded cooked chicken
1/4 cup chopped fresh cilantro
8 Old El Paso™ flour tortillas (8 inches in diameter)
1 cup shredded Monterey Jack cheese (4 ounces)
1 can (4.5 ounces) Old El Paso™ chopped green chiles, drained
Old El Paso™ Thick 'n Chunky salsa, if desired
Preparation
Heat coals or gas grill for direct heat. Mix chicken and cilantro.
Place 1 tortilla on 30x18-inch piece of heavy-duty aluminum foil. Top with one-fourth of the chicken mixture, 1/4 cup of the cheese and one-fourth of the chilies. Top with another tortilla. Wrap foil securely around tortillas; pierce top of foil packet once or twice with fork to vent steam.
Repeat with remaining tortillas, chicken mixture, cheese and chilies. Cover and grill foil packets, seam sides up, 4 to 6 inches from medium heat about 15 minutes or until cheese is melted.
Cut quesadillas into wedges. Serve with salsa.
Expert Tips
Use deli roasted chicken if you don't have leftover cooked chicken on hand.
For a super-quick side dish, combine hot cooked rice with salsa or with melted process cheese spread. Top with sliced ripe olives and chopped green onions for a festive look.
If you don't want to heat up the grill, cook the filled tortillas in a 10-inch skillet over medium-high heat 4 to 6 minutes, turning after 2 minutes, until light golden brown.