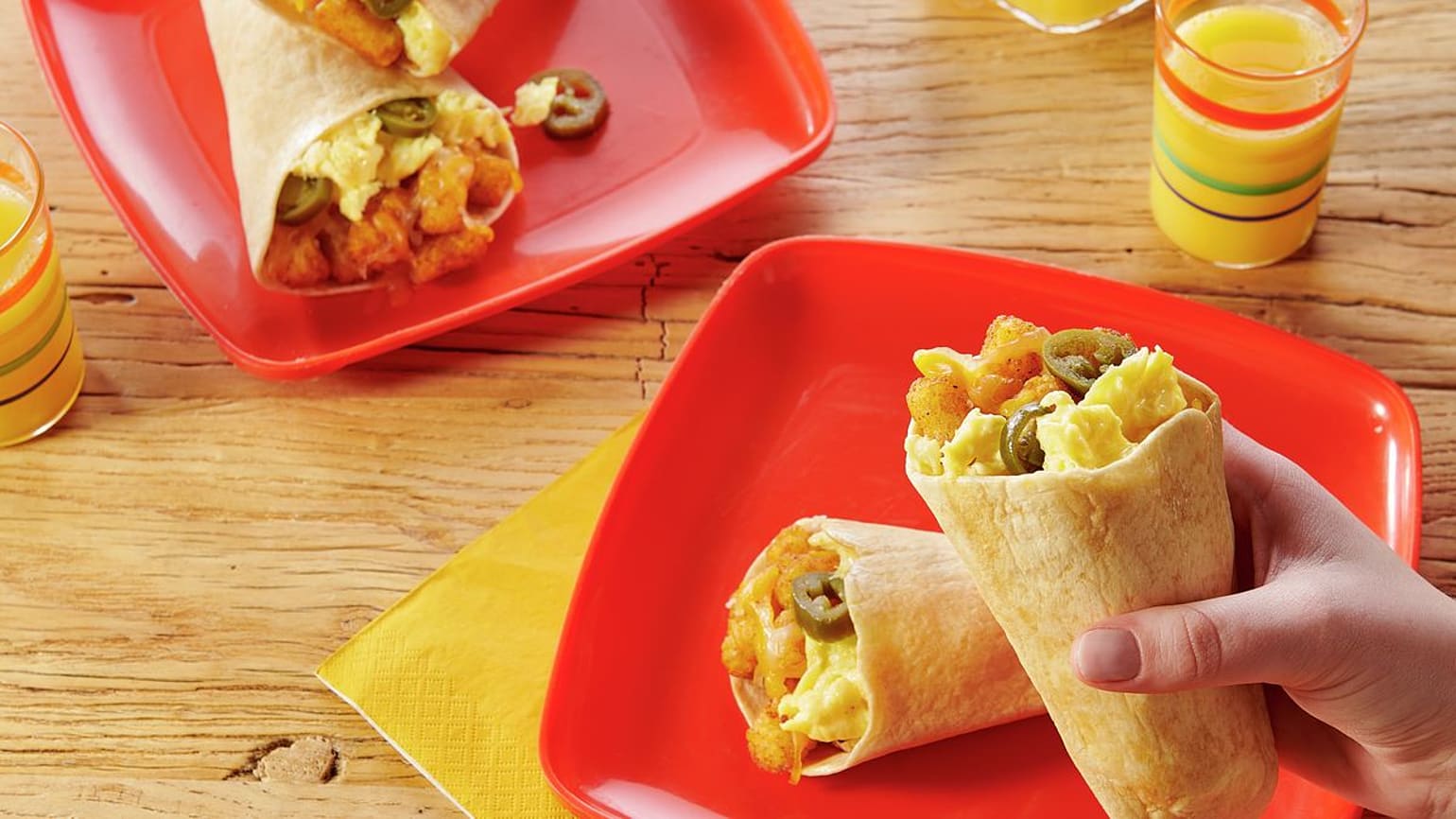 Cheesy Totcho and Egg Tortilla Pockets
Totchos for breakfast. Need we say more? Scrambled eggs and cheesy potatoes come together in a warm tortilla pocket for the perfect on-the-go morning meal. Pickled jalapeño slices bring a briny heat that balances the richness of the other ingredients. These pockets are way more than restaurant-worthy.
Ingredient List
80 Ore-Ida™ Mini Tater Tots™ Frozen Potatoes (from 28-oz bag)
1 tablespoon from 1 container (6.25 oz) Old El Paso™ Original Taco Seasoning Mix
1 1/4 cups from 1 package (7 oz) Old El Paso™ Shredded Mexican Style 4 Cheese Blend
6 eggs, beaten
1/4 cup milk
1/4 teaspoon salt
1 tablespoon butter
1 package (8.4 oz) Old El Paso™ Tortilla Pockets™ (8 Count), heated as directed on package
1/4 cup from 1 jar (12 oz) Old El Paso™ Hot Jalapeño Slices
Advertisement
Recipe Continues Below
Preparation
Heat oven to 425°F. Line large rimmed baking sheet with foil or cooking parchment paper.
In large bowl, mix frozen potatoes and taco seasoning mix until thoroughly coated. Place on baking sheet, and bake 10 minutes; stir. Bake 5 to 10 minutes or until browned. Top with cheese; continue to bake for another 3 to 5 minutes or until cheese is melted.
In medium bowl, beat eggs, milk and salt slightly with fork or whisk until well blended.
In 10-inch nonstick skillet, heat butter over medium heat just until it begins to sizzle and look hot. Add egg mixture. Cook 3 to 4 minutes, stirring frequently, until eggs are thickened throughout but still moist and creamy.
Stuff tortilla pockets with cheesy potatoes, scrambled eggs and jalapeño slices.
Expert Tips
If you want to add a little extra heat to your breakfast tortilla pocket, try substituting Old El Paso™ Shredded 3 Pepper Cheese Blend for the Old El Paso™ Shredded Mexican Style 4 Cheese Blend.
To avoid losing any cheese to the bottom of the baking sheet, arrange frozen potatoes closely together before adding the cheese.
Before buying eggs, open the carton and check that the eggs are clean and uncracked. Gently move each egg to be sure it hasn't cracked and stuck to the carton. If an egg cracks on the way home, throw it away.
Nutrition
2 Pockets Calories 650 (Calories from Fat 330); Total Fat 37g (Saturated Fat 16g ,Trans Fat 0g); Cholesterol 325mg; Sodium 1500mg; Potassium 590mg; Total Carbohydrate 54g (Dietary Fiber 1g ,Sugars 4g); Protein 24g
% Daily Value: Vitamin A 10%; Vitamin C 0%; Calcium 35%; Iron 20%
Exchanges: 2 1/2 Starch; 1 Other Carbohydrate; 1 High-Fat Meat; 4 Fat
Carbohydrate Choice: 3 1/2
*Percent Daily Values are based on a 2,000 calorie diet