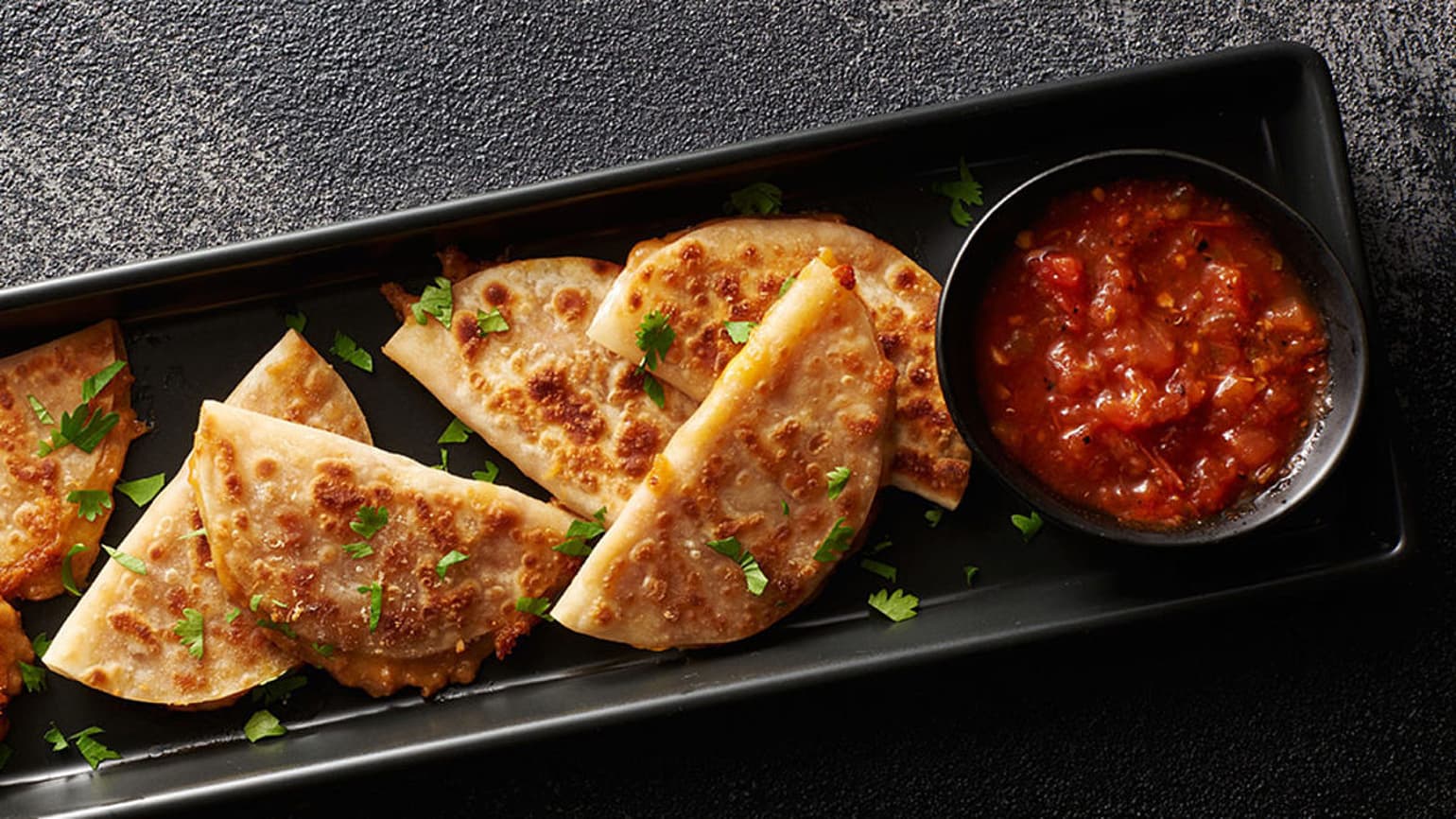 Cheesy Wonton Quesadillas
Get this spicy and savory appetizer on the table in less than a half hour! These Cheesy Wonton Quesadillas are packed full of cheese and refried beans and fried until they are light and crispy. Serve them up with salsa and you have a snack that will be hard to resist. But hey, wonton wrappers are much smaller and slightly thinner than tortillas, so feel free to grab more than one (or several more than one, because these are really that good). If you are planning on sharing these with guests, we suggest just doubling this fried quesadilla recipe!
Ingredient List
1/4 cup canned Old El Paso™ refried beans
1/4 teaspoon ground cumin
1/4 teaspoon ground coriander
1/8 teaspoon ground red pepper (cayenne)
1 cup shredded Mexican cheese blend (4 oz)
12 round (gyoza) wonton wrappers (from 12-oz package)
1 teaspoon vegetable oil
2 tablespoons chopped fresh cilantro leaves
Advertisement
Recipe Continues Below
Preparation
In small bowl, mix beans, cumin, coriander and red pepper. Stir in cheese. Divide mixture evenly among wonton wrappers (about 1 tablespoon per wrapper); spread mixture evenly over half of each wrapper. Fold wrapper in half over filling; do not seal.
In 12-inch nonstick skillet, heat oil over medium-high heat. Add wonton quesadillas to pan; cook uncovered 1 to 2 minutes or until browned in spots. Turn and cook 1 to 2 minutes or until cheese melts and filling is hot.
Transfer to serving platter; top with cilantro.
Expert Tips
To get the best crispy texture, wait until the pan is hot and the oil is sizzling before starting to fry your wontons.
Prepare the filling ahead of time to make assembling and frying these fried cheese quesadillas a breeze! The bean and cheese filling can be made up to four hours ahead of time.
Cover and refrigerate until you are ready to assemble the quesadillas. Give the filling 30 minutes on the counter at room temperature before using.
Share these pan-fried quesadilla wontons with a crowd and add a few more spicy appetizers. While making your cheese wonton filling ahead of time, also prepare a tray of Chicken Enchilada Roll-Ups to stick in the fridge until you are ready to eat.
Serve quesadilla frita wontons with salsa, chopped green onions and sour cream for a little nacho flair.
Nutrition
1 Quesadilla Calories 70 (Calories from Fat 30); Total Fat 3 1/2g (Saturated Fat 2g ,Trans Fat 0g); Cholesterol 10mg; Sodium 55mg; Potassium 25mg; Total Carbohydrate 6g (Dietary Fiber 0g ,Sugars 0g); Protein 3g
% Daily Value: Vitamin A 0%; Vitamin C 0%; Calcium 6%; Iron 2%
Exchanges: 1/2 Starch; 1/2 Fat
Carbohydrate Choice: 1/2
*Percent Daily Values are based on a 2,000 calorie diet