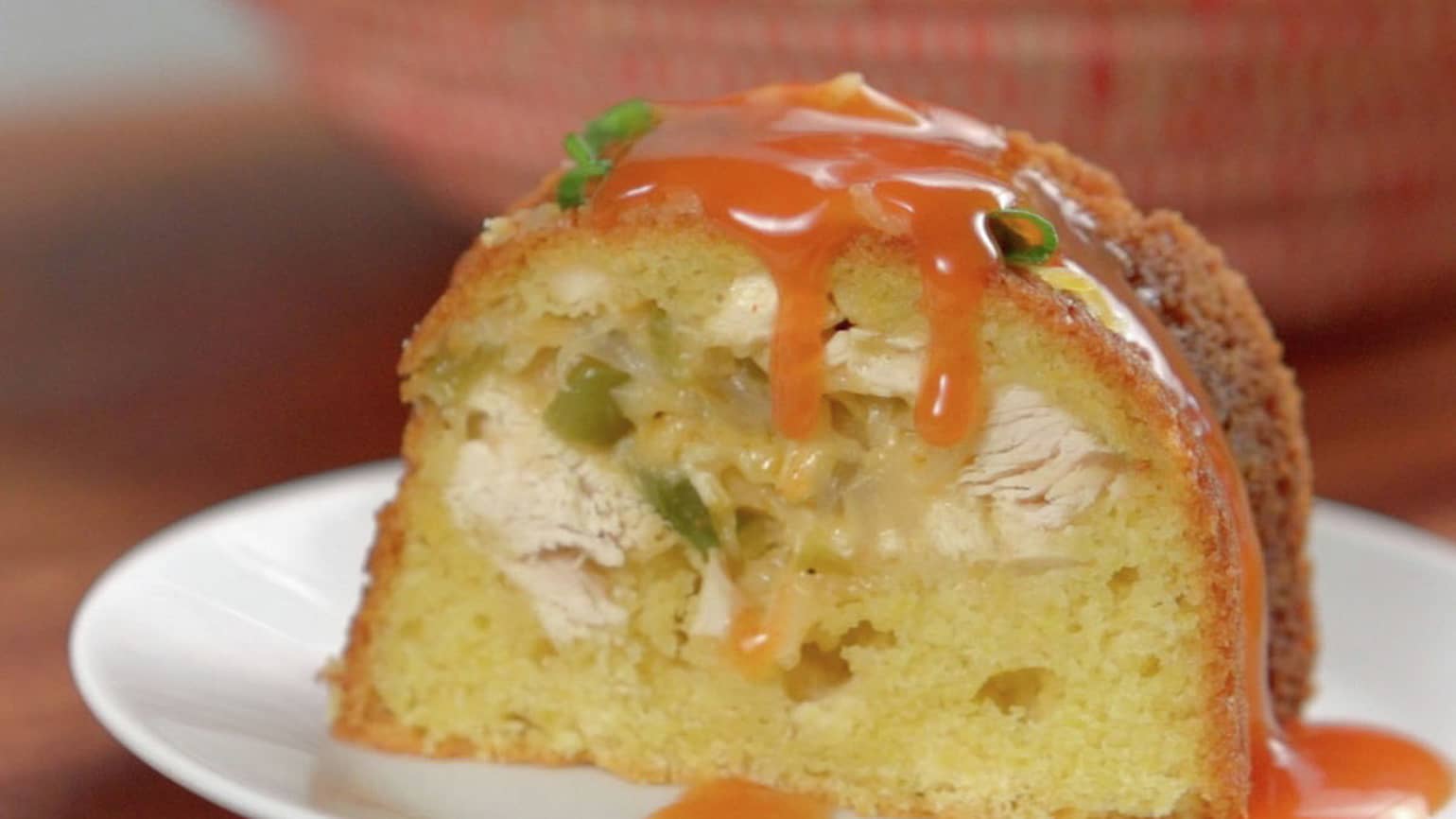 Chicken Enchilada Bundt Bread
This Chicken Enchilada Bundt Bread is a fun twist on traditional enchiladas that your whole family will enjoy!
Ingredient List
1 tbsp vegetable oil
1 cup diced onions
2 minced garlic cloves
1 can (4.5 oz) Old El Paso™ Chopped Green Chiles
1 teaspoon from 1 container (6.25 oz) Old El Paso™ Original Taco Seasoning Mix
1 1/2 cups chopped/shredded rotisserie chicken
1 1/2 cup shredded Mexican cheese blend
1/2 cup diced green bell peppers
2 (8.5 oz) boxes cornbread mix
2/3 cup milk
3 eggs
1/2 cup Old El Paso™ enchilada sauce
1/2 cup shredded Mexican cheese blend
Sliced green onions or scallions for garnish
Advertisement
Recipe Continues Below
Preparation
Preheat the oven to 400°F (205°C). Spray a bundt pan with non-stick spray.
Saute the onions in the vegetable oil in a medium skillet over medium heat until softened, about 5 minutes. Add bell pepper. Stir in garlic, cook for 1 minute until fragrant.
Add in the green chiles and cook 3 minutes to evaporate the liquid. Add the taco seasoning and the chicken, stirring to mix well.
Remove from the heat. Stir in the 1 1/2 cups shredded cheese.
Prepare the cornbread by whisking together the two mixes with 2/3 cup milk and 3 eggs. Pour half into the prepared bundt pan.
Spoon the chicken filling evenly in the middle of the pan on top of the cornbread batter, leaving space along the edges and the tube of the pan so the filling will stay tucked inside of the bread.
Cover the filling with the remaining half of the cornbread batter, spreading evenly to make sure the sides have filled in with the batter and there aren't pieces of chicken or cheese poking through the cornbread.
Bake 30-35 minutes, until the cornbread is browned on top, the sides have started to pull away from the pan, and a toothpick inserted into the cornbread portion comes out free of crumbs.
Cool 5 minutes in the pan before inverting onto a serving plate. Pour the enchilada sauce over top of the cornbread, then top with the remaining 1/2 cup shredded cheese and the chopped green onions before slicing.
Nutrition
*Percent Daily Values are based on a 2,000 calorie diet