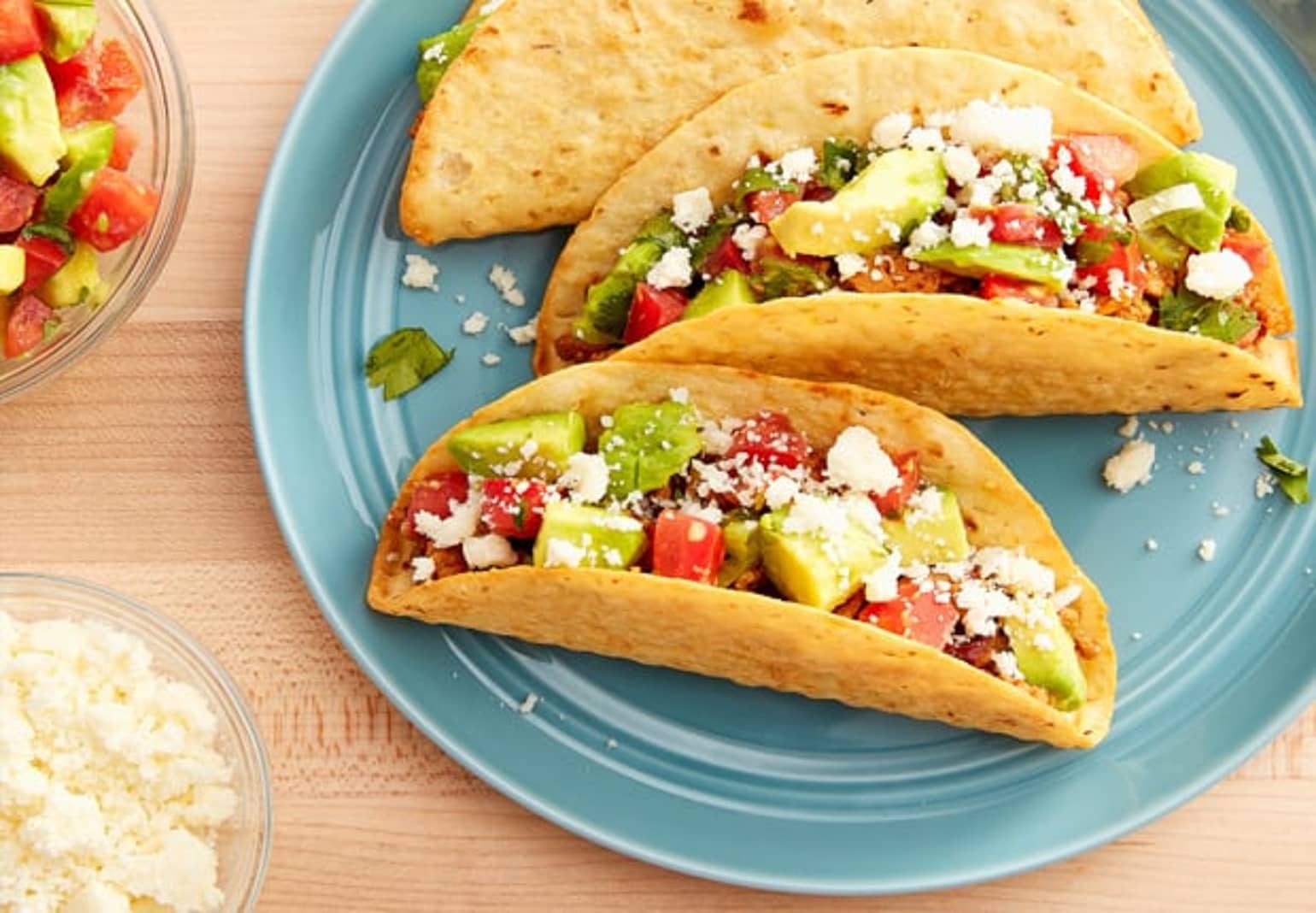 Chipotle Turkey Crispy Flour Tacos
This chipotle turkey taco combines perfectly with the chunky avocado-tomato topping all in a crispy flour tortilla for a new addition to your taco night menu.
Ingredient List
1 teaspoon vegetable oil
1 lb lean (at least 90%) ground turkey
1 package (0.85 oz) Old El Paso™ chicken taco seasoning mix
1/2 cup water
1 tablespoon chopped chipotle chiles in adobo sauce (from 7-oz can)
1 avocado, pitted, peeled and 1/2-inch diced
1 medium plum (Roma) tomato, coarsely chopped
1 green onion, sliced
1 tablespoon finely chopped fresh cilantro leaves
1 tablespoon fresh lime juice
1/4 teaspoon salt
1 box (8 count) Old El Paso™ crispy flour tortilla shells, heated as directed on box
3/4 cup crumbled Cotija cheese (3 oz)
Advertisement
Recipe Continues Below
Preparation
In 10-inch nonstick skillet, heat oil over medium heat. Add turkey; cook 8 to 9 minutes, stirring occasionally, until no longer pink; drain. Stir in taco seasoning mix, water and chipotle chiles. Heat to boiling; reduce heat, and simmer 2 to 3 minutes, stirring occasionally, until slightly thickened.
Meanwhile in medium bowl, mix avocado, tomato, green onion, cilantro, lime juice and salt; stir to blend. Set aside.
Divide turkey mixture among heated shells; top with avocado mixture and cheese.
Expert Tips
Try adding an easy seasoned sour cream as another cooling layer. In small bowl, mix 1/2 cup sour cream, 1 tablespoon chopped fresh cilantro leaves and 1 tablespoon lime juice; spoon onto tacos.
Heating shells before filling provides the perfect crispness for your tacos.
Nutrition
1 Taco: Calories 260 (Calories from Fat 140); Total Fat 15g (Saturated Fat 5g, Trans Fat 0g); Cholesterol 55mg; Sodium 630mg; Potassium 290mg; Total Carbohydrate 15g (Dietary Fiber 1g); Protein 15g % Daily Value: Vitamin A 8%; Vitamin C 2%; Calcium 10%; Iron 6% Exchanges: 1 Starch, 1 Very Lean Meat, 1/2 Medium-Fat Meat, 2 1/2 Fat Carbohydrate Choices: 1