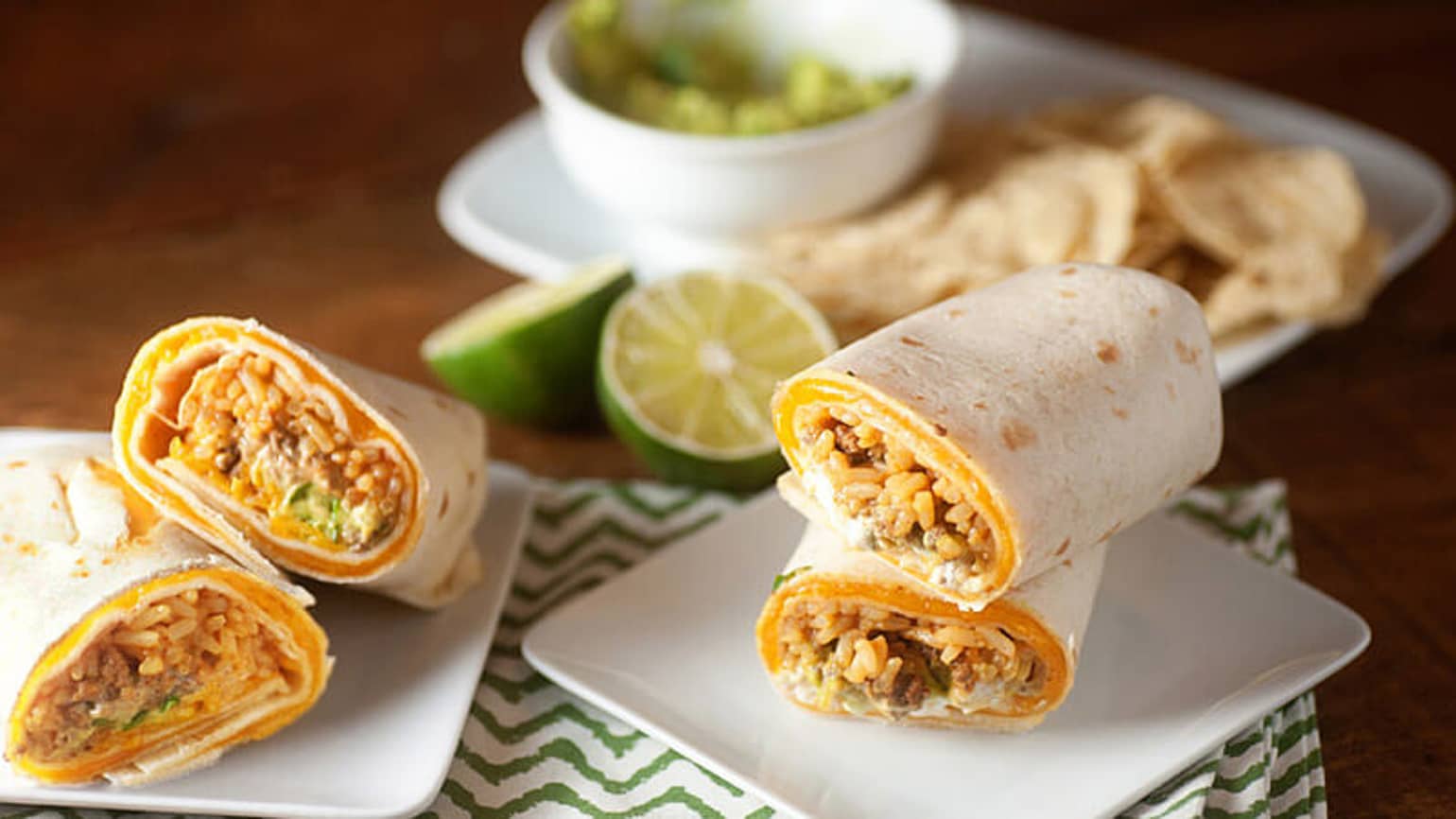 Copycat Taco Bell™ Quesarito
Forget about needing to leave the house to go to the drive-through, you can easily make this amazingly-good copycat recipe for Taco Bell™ Quesaritos at home! Roll up spicy beef, Old El Paso™ fiesta rice, cheese and guacamole inside two quesadillas packed with freshly-melted cheese. Add in your own ingredients to make these your own custom masterpiece or keep it classic by making them mimic the Taco Bell™ recipe. Either way, you get the satisfaction of making these amazing Quesaritos at home and the freedom to make (and of course eat) as many as you want!
Ingredient List
1 pound ground beef
1 packet Old El Paso™ taco seasoning mix
1 packet Old El Paso™ heat & serve fiesta rice
16 Old El Paso™ Old El Paso™ flour tortillas for burritos
1 cup cheddar cheese, shredded
8 tablespoons sour cream
8 tablespoons prepared guacamole
Advertisement
Recipe Continues Below
Preparation
Add the ground beef to a large skillet over medium heat. Stir often to break up the meat until cooked through, about 10 minutes.
Drain the grease from the meat and stir in the packet of taco seasoning and water, as called for on the seasoning packet. Cook for 2 minutes and remove from the heat.
While the meat is cooking, cook the rice according to package instructions.
Lay one tortilla on a microwave-safe plate and top with a sprinkling of cheddar cheese. Top with a second tortilla. Microwave for 15 seconds or until the cheese has melted.
Spoon a bit of rice onto the tortilla, topped with the ground beef, more cheese, sour cream, and guacamole as desired. Don't overfill your tortillas or they'll be difficult to close.
Fold the ends of the tortillas up and bring the center over the filling. Roll the burritos closed.
Expert Tips
Try a blend of Mexican cheese instead of cheddar for a little extra cheesy flavor in your Quesarito!
Before you roll up your Quesaritos, add a little fresh cilantro and squeeze a sprinkle of fresh lime juice over your ingredients for an added flavor boost.
Make your own homemade guacamole for this recipe! Try our famous recipe for Guacamole with Queso Fresco for a rich and creamy guacamole - perfect for your quesaritos or just great alone with a bag of corn chips.
We are firm believers that chips and dip should be eaten as often as possible. Try our easy and amazing microwave recipe for Taco Salad Dip that the whole family is sure to love.
Nutrition
1 Serving Calories nc (Calories from Fat nc); Total Fat nc (Saturated Fat nc, Trans Fat nc); Cholesterol nc; Sodium nc; Total Carbohydrate nc (Dietary Fiber nc, Sugars nc); Protein nc
% Daily Value:Vitamin A nc; Vitamin C nc; Calcium nc; Iron nc; Exchanges:
Carbohydrate Choice:nc