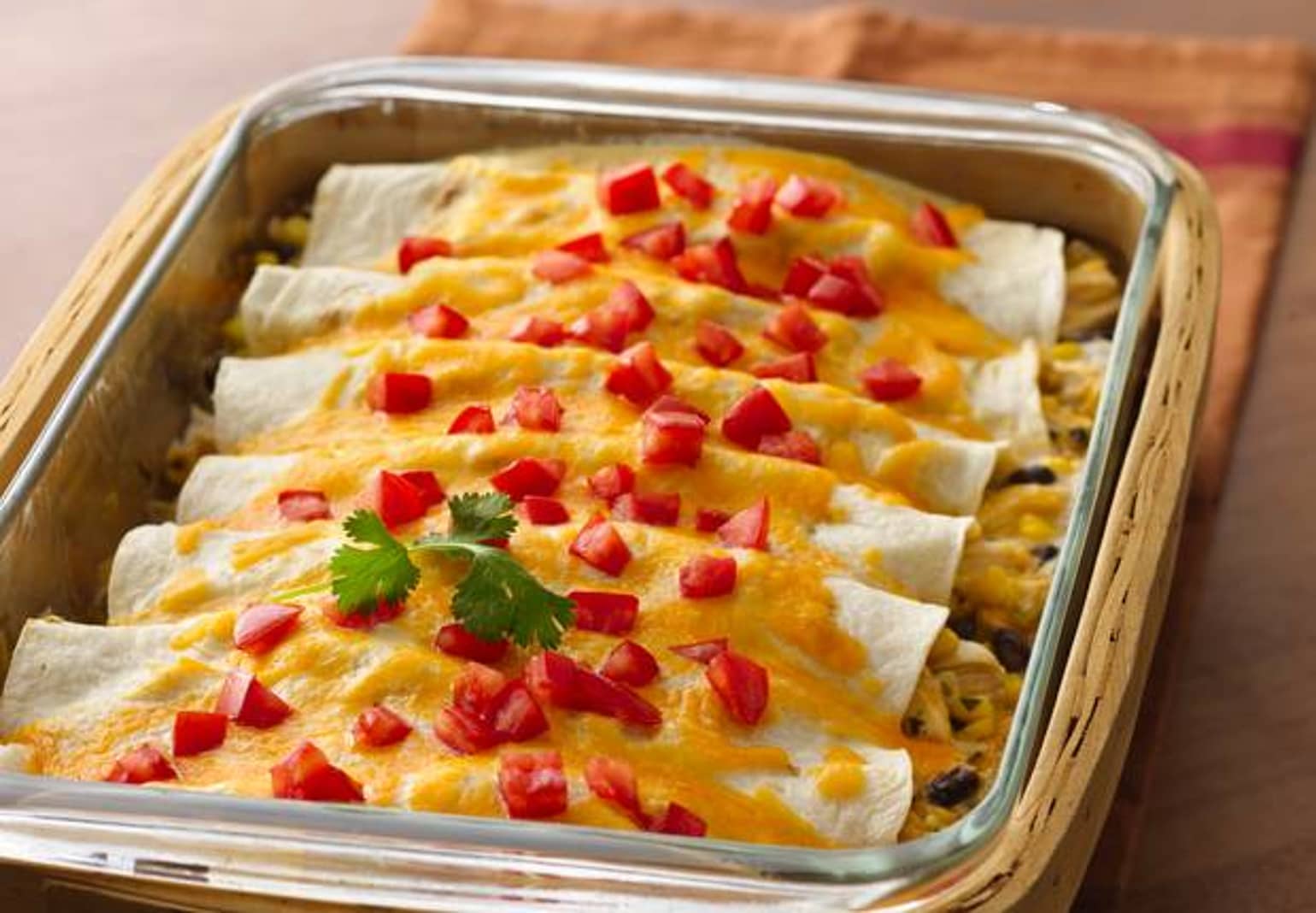 Creamy Chicken & Chile Enchiladas
These green chile chicken enchiladas make the creamy, cheesy family favorite a go-to every week. Just six ingredients and 15 minutes of prep time mean you can wrap up chicken enchiladas with green chiles any time. It's easy to get the spice and sauce just right with Old El Paso™ Green Chile Enchilada Sauce and Old El Paso™ Chopped Green Chiles. Don't forget to sprinkle cheddar cheese on top of the Old El Paso™ Flour Tortillas.
30 Minutes Prep
1 Hours 5 Minutes Total
Ingredient List
2 cups Progresso™ chicken broth (from 32-oz carton)
3 tablespoons Gold Medal™ all-purpose flour
1/2 teaspoon ground cumin
1/8 teaspoon red pepper (cayenne)
1 container (6 oz) Greek Fat Free plain yogurt
2 cups cubed or shredded cooked chicken breast
1 1/2 cups shredded reduced-fat Cheddar cheese (6 oz)
1 cup frozen whole kernel corn
3/4 cup black beans
1/2 cup sliced green onions (8 medium)
1/4 cup chopped fresh cilantro leaves
1 can (4.5 oz) Old El Paso™ chopped green chiles
8 flour or corn tortillas (6 or 7 inch)
1 medium tomato, chopped (3/4 cup)
Advertisement
Recipe Continues Below
Preparation
Heat oven to 350°F. Spray 13x9-inch (3-quart) glass baking dish with cooking spray.
In 2-quart saucepan, stir broth, flour, cumin and red pepper with whisk until blended. Cook and stir about 5 minutes, until mixture boils and thickens slightly. Remove from heat. Stir in yogurt until blended.
In medium bowl, mix chicken, 3/4 cup of the cheese, the corn, black beans, green onions, cilantro, chiles and 1/2 cup of the yogurt sauce. Spoon about 1/3 cup chicken mixture down center of each tortilla. Roll up tortillas; arrange seam sides down in baking dish. Top with remaining yogurt sauce. Cover with foil.
Bake 30 to 35 minutes or until sauce is bubbly. Sprinkle with remaining 3/4 cup cheese. Bake uncovered about 5 minutes longer or until cheese is melted. Top with tomato just before serving.
Expert Tips
These creamy green chile chicken enchiladas are a step up in flavor, featuring Old El Paso™ Green Chile Enchilada Sauce and chopped green chiles. Not a fan of spice? Don't worry. The cream cheese helps to settle the zing of the green chiles without taking away the flavor.
Did you know the history of enchiladas dates back to the 19th century? The first Mexican cookbook, El Cocinero Mexicano ("The Mexican Chef"), published in 1831 included recipes for enchiladas.
Craving beef instead of chicken? Swap out the protein in the green chile chicken enchiladas with this recipe for Beef and Green Chile Enchiladas. It uses the same chopped green chiles you love but swaps the filling and uses Old El Paso™ Red Enchilada Sauce instead.
Love all the flavors of chicken enchiladas with green chiles? Enjoy them in a soup! Slow Cooker Green Enchilada Soup satisfies all your flavor cravings in this easy-to-prep comfort meal.
Nutrition
1 enchilada
Calories 280
(Calories from Fat 140);
Total Fat 15g
(Saturated Fat 7g,
Trans Fat 1g);
Cholesterol 60mg;
Sodium 550mg;
Total Carbohydrate 19g
(Dietary Fiber 0g,
Sugars 0g);
Protein 16g
% Daily Value: Vitamin A 8%; Vitamin C 4%; Calcium 10%; Iron 6%;
Exchanges: 1 1/2 Starch, 1 Very Lean Meat, 1/2 High-Fat Meat, 2 Fat
Carbohydrate Choices: 1
*Percent Daily Values are based on a 2,000 calorie diet.