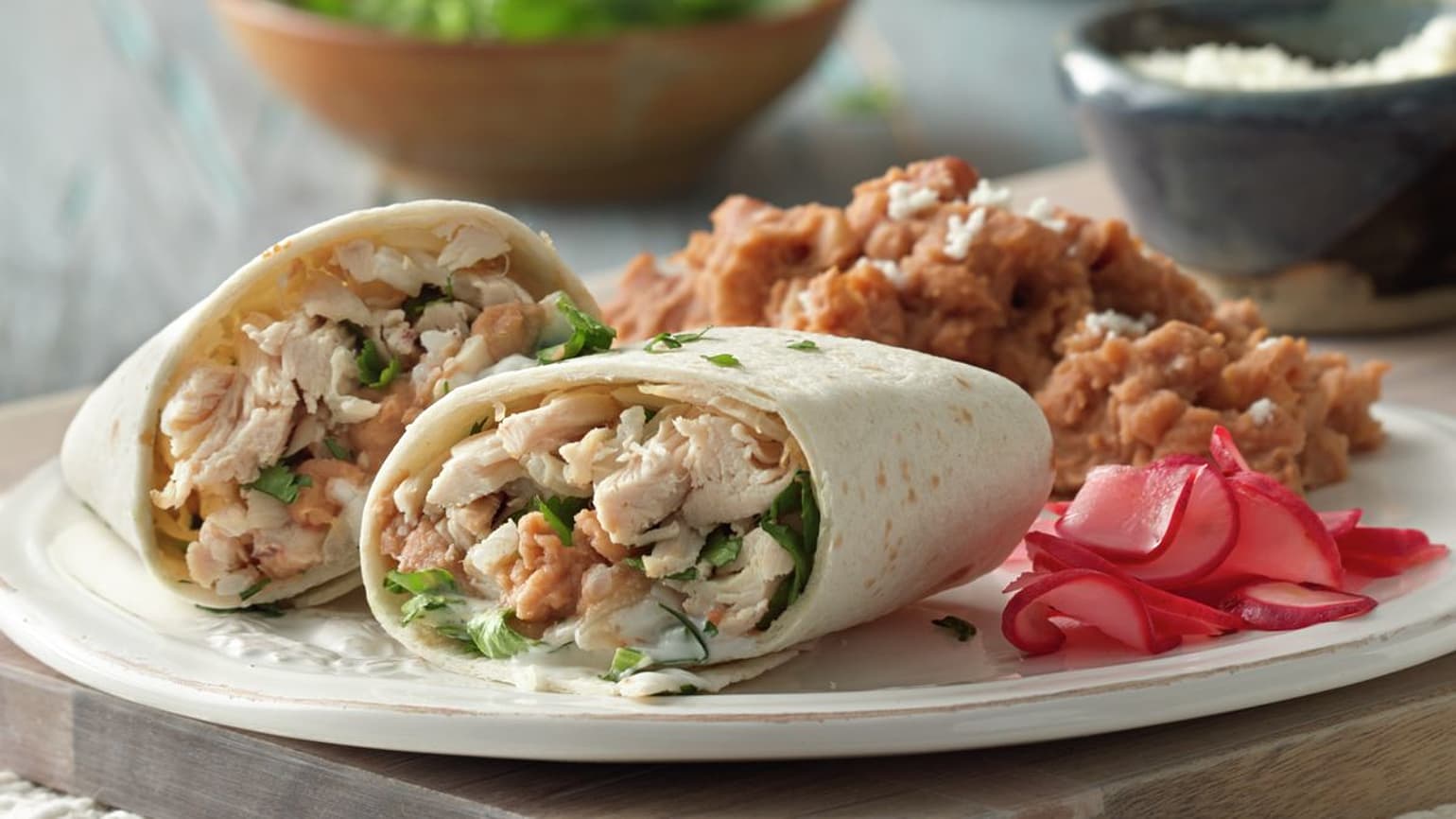 Easy Chicken and Bean Burritos
Want to chow down on a tasty takeout-style burrito without leaving the house? You can't go wrong with a homemade bean and chicken burrito—and these Easy Chicken and Bean Burritos are sure to satisfy every craving without any fuss. Jazzed-up beans, juicy shredded chicken and plenty of fresh ingredients create a tasty filling for an easy-to-wrap handheld meal that's ready in just 30 minutes!
Ingredient List
1/2 cup uncooked regular white rice
Juice of 1 medium lime
1/3 cup chopped fresh cilantro leaves
2 cups shredded deli rotisserie chicken (from 2-lb chicken)
1 can (16 oz) Old El Paso™ refried beans
1 package (11 oz) Old El Paso™ flour tortillas for burritos (8 inch)
1 cup pico de gallo salsa
1 cup shredded romaine lettuce, if desired
1/2 cup Mexican sour cream or sour cream
Advertisement
Recipe Continues Below
Preparation
Cook rice as directed on package. Stir in lime juice, cilantro and chicken, fluffing with fork. Meanwhile, heat beans as directed on can.
Wrap tortillas between two paper towels. Microwave on High 30 seconds. Place 1 tortilla on work surface. Place about 1/2 cup chicken mixture on middle of tortilla. Top with 2 tablespoons each beans, salsa and lettuce. Add sour cream on top.
Fold edge of tortilla closest to you toward middle of mixture; repeat with edge farthest away. Starting with right side, begin to fold tortilla up slowly, ensuring that folded sides remain intact. Continue until burrito is completely enclosed. Cut in half before serving, wrapping in foil if desired. Serve remaining beans on the side, if desired.
Expert Tips
Serve your bean and chicken burritos with chips, salsa and guacamole to round out the meal.
You can use any variety of Old El Paso™ Refried Beans to make these Easy Chicken and Bean Burritos.
If desired, make some easy quick-pickled radishes to serve with your burritos. Combine 1 cup thinly-sliced radishes, 1/2 cup white vinegar, 1/2 cup water, 1 tablespoon sugar and 1/2 teaspoon salt in small saucepan and bring to boil over medium heat. Boil 1 minute, then remove from heat and let stand 5 minutes. Transfer mixture to heatproof container, then cover and refrigerate until cool. Drain radishes before using.
Nutrition
1 Burrito Calories 320 (Calories from Fat 90); Total Fat 10g (Saturated Fat 4g ,Trans Fat 1g); Cholesterol 40mg; Sodium 1030mg; Potassium 220mg; Total Carbohydrate 40g (Dietary Fiber 3g ,Sugars 2g); Protein 16g
% Daily Value: Vitamin A 6%; Vitamin C 2%; Calcium 8%; Iron 15%
Exchanges: 2 1/2 Starch; 1 Lean Meat; 1 Fat
Carbohydrate Choice: 2 1/2
*Percent Daily Values are based on a 2,000 calorie diet