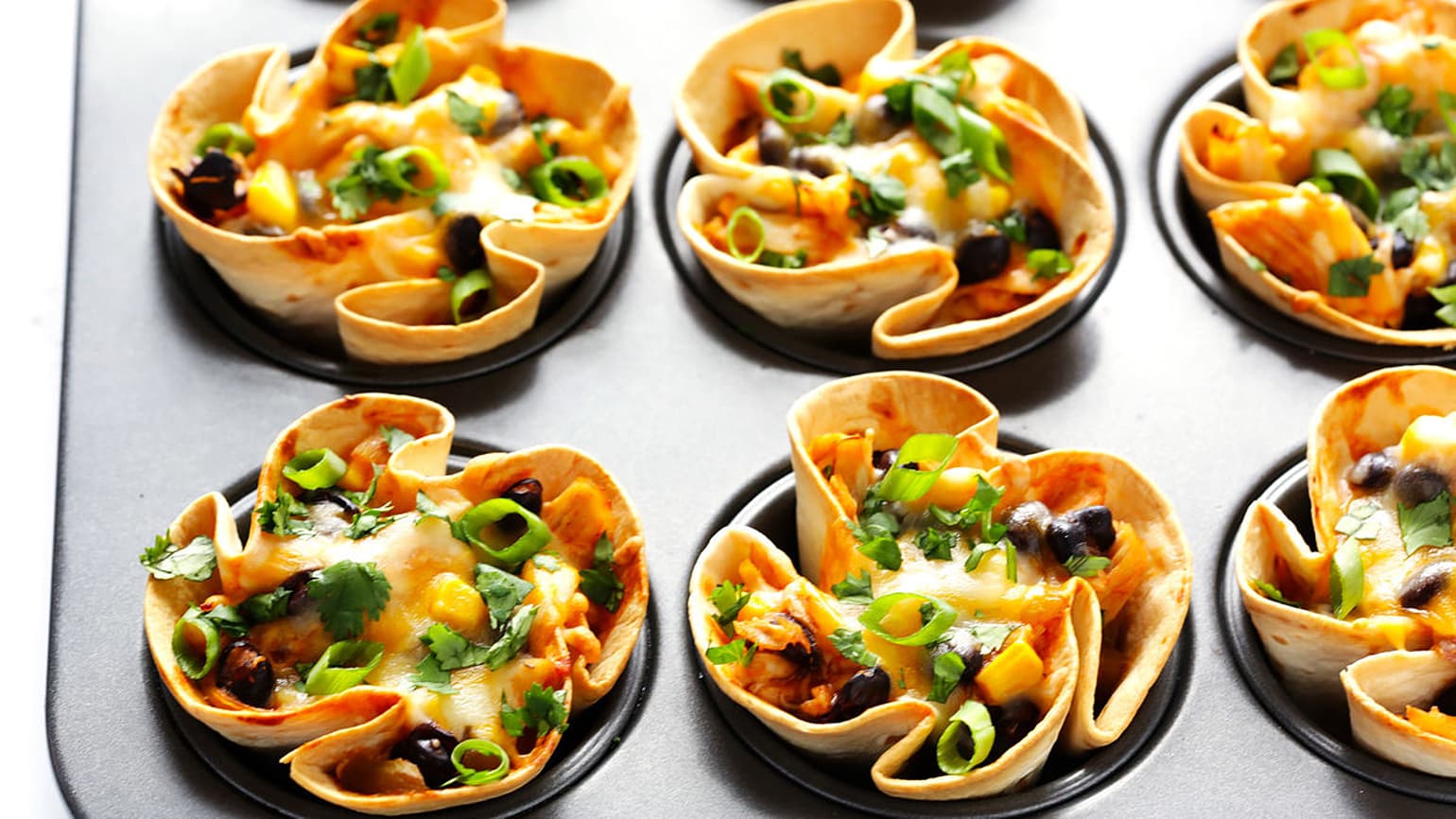 Easy Enchilada Cups
These Easy Enchilada Cups are quick and simple to make, easy to customize with your favorite enchilada ingredients and totally delicious! Old El Paso™ makes it easy to create chicken enchilada cups with our small flour tortillas, red enchilada sauce and chopped green chiles. Make them into a full meal with a side salad or spice up a potluck—the choice is yours, and the party is here!
Ingredient List
1 package (8.2 oz) Old El Paso™ Flour Tortillas for Soft Tacos and Fajitas (10 count)
1 can (10 oz) Old El Paso™ Mild Red Enchilada Sauce
1 (14-ounce) can black beans, rinsed and drained
1 can (4.5 oz) Old El Paso™ Chopped Green Chiles
2 cups shredded cooked chicken (*or other desired filling, see options below)
1/2 cup whole-kernel corn
1 cup shredded Mexican-blend cheese
1/4 cup chopped fresh cilantro
1/4 cup thinly-sliced green onions
Advertisement
Recipe Continues Below
Preparation
Heat oven to 350°F.
Tuck each of the tortillas into the cups of a standard-sized muffin pan, gently pleating the edges of the tortillas so that they fit snugly inside each cup, careful not to let the tortillas fold too closely into the middle (since we'll need an opening for the filling later). Bake for 10-12 minutes, or until the tortilla cups have hardened slightly on all sides. Remove and set aside.
While the tortillas are baking, combine the enchilada sauce, black beans, green chiles, chicken, and corn together in a large mixing bowl. Toss until the ingredients are evenly combined.
Once the tortilla cups are ready, carefully spoon the filling into each cup until it is filled nearly to the brim. Place a pinch of cheese on top of each tortilla cup. Then return the pan to the oven and bake for 15 minutes, or until the cheese is melted and the filling is warmed through.
Remove from the oven, and sprinkle the top of each cup evenly with cilantro and green onions. Serve warm.
Expert Tips
Shredded cooked turkey or pork work well as a substitute for the chicken in this Easy Enchilada Cups recipe.
Make it your own! Try different beans—like chickpeas or pinto beans—instead of the black beans. Or for a little heat, use shredded Pepper Jack cheese instead of the Mexican blend cheese.
Round out the meal by pairing your Easy Enchilada Cups with a simple mixed green salad drizzled with olive oil and a squeeze of lime juice. Sprinkle with flaky salt and fresh-cracked pepper. Take it up a notch by adding diced mango, pineapple and red onion.
All in on taco night in a bowl? Try this recipe for Mini Taco Salad Bowls, a hit for both adults and kids.
Nutrition
1 Serving Calories 220 (Calories from Fat 70); Total Fat 8g (Saturated Fat 3 1/2g ,Trans Fat 0g); Cholesterol 35mg; Sodium 500mg; Potassium 210mg; Total Carbohydrate 23g (Dietary Fiber 3g ,Sugars 2g); Protein 14g
% Daily Value: Vitamin A 4%; Vitamin C 4%; Calcium 10%; Iron 10%
Exchanges: 1 Starch; 1/2 Other Carbohydrate; 1 1/2 Very Lean Meat; 1 1/2 Fat
Carbohydrate Choice: 1 1/2
*Percent Daily Values are based on a 2,000 calorie diet