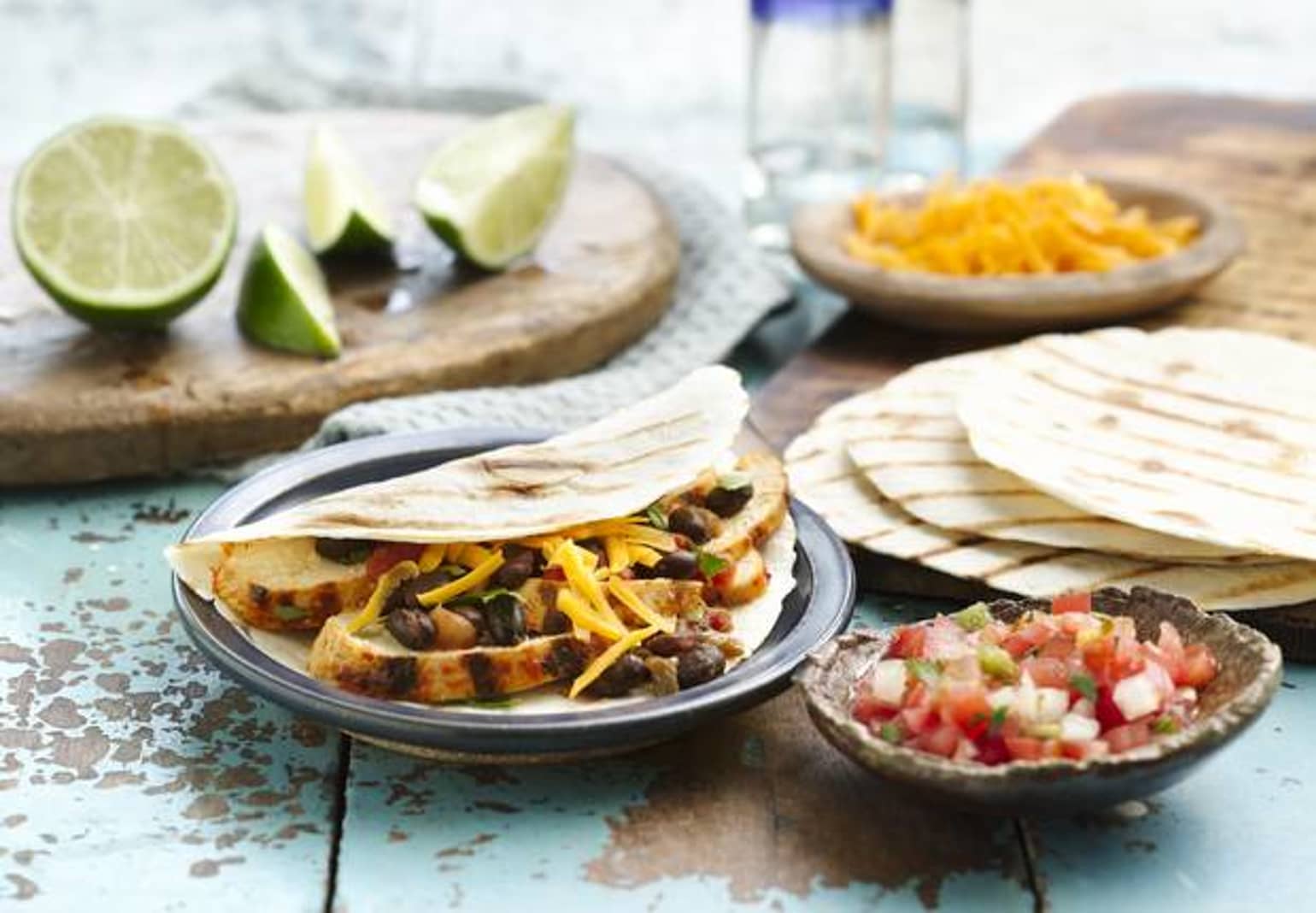 Easy Grilled Chicken Tacos
If you're planning a grill-out with friends or just want to cook a great meal outdoors on a sunny day, you're going to want to try this Easy Grilled Chicken Tacos recipe. An extra-flavorful tip: try grilling the tortillas! Got your ingredients handy? Here's how to make grilled chicken tacos that are absolutely perfect for a backyard cookout.
Ingredient List
1 tablespoon vegetable oil
1 tablespoon fresh lime juice
1 tablespoon Old El Paso™ taco seasoning mix (from 1-oz package)
2 boneless skinless chicken breasts
1 can (15 oz) Progresso™ black beans, drained, rinsed
1/3 cup Old El Paso™ Thick 'n Chunky salsa
2 tablespoons chopped fresh cilantro
8 Old El Paso™ flour tortillas for soft tacos & fajitas (6 inch; from 8.2-oz package)
Advertisement
Recipe Continues Below
Preparation
Heat gas or charcoal grill. In gallon-size resealable food-storage plastic bag, mix oil, lime juice and 1 tablespoon taco seasoning mix until smooth. Add chicken; seal bag. Shake until chicken is evenly coated.
Place chicken on grill over medium heat. Cover grill; cook 12 to 15 minutes, turning once, until juice of chicken is clear when center of thickest part is cut (at least 165°F). Let stand 5 minutes.
Meanwhile, in 2-quart saucepan, heat beans, salsa and cilantro over medium heat, stirring occasionally, until hot. Remove from heat; cover and keep warm.
Cut chicken crosswise into strips. Divide chicken on half of each tortilla; top with bean mixture. Fold other half of tortilla over filling.
Expert Tips
If you like, top these Easy Grilled Chicken Tacos with sour cream and shredded Cheddar cheese.
Save remaining taco seasoning mix for another use.
Broiling Directions: Set oven control to broil. Spray broiler rack with cooking spray. Place coated chicken on rack in broiler pan. Broil about 4 inches from heat, 6 to 9 minutes turning after 5 minutes, until juice of chicken is clear when center of thickest part is cut (at least 165°F). Let stand 5 minutes. Continue as directed in step 3.
Nutrition
Calories440(Calories from Fat90),Total Fat10g(Saturated Fat2g,Trans Fat1 1/2g),Cholesterol35mgSodium1110mgTotal Carbohydrate60g(Dietary Fiber13g Sugars0g),Protein25g;% Daily Value*:Vitamin A15%;Vitamin C0%;Calcium15%;Iron20%; Exchanges:4 Starch; 0 Fruit; 0 Other Carbohydrate; 0 Skim Milk; 0 Low-Fat Milk; 0 Milk; 1/2 Vegetable; 0 Very Lean Meat; 1 1/2 Lean Meat; 0 High-Fat Meat; 1/2 Fat; Carbohydrate Choices:4
*Percent Daily Values are based on a 2,000 calorie diet.