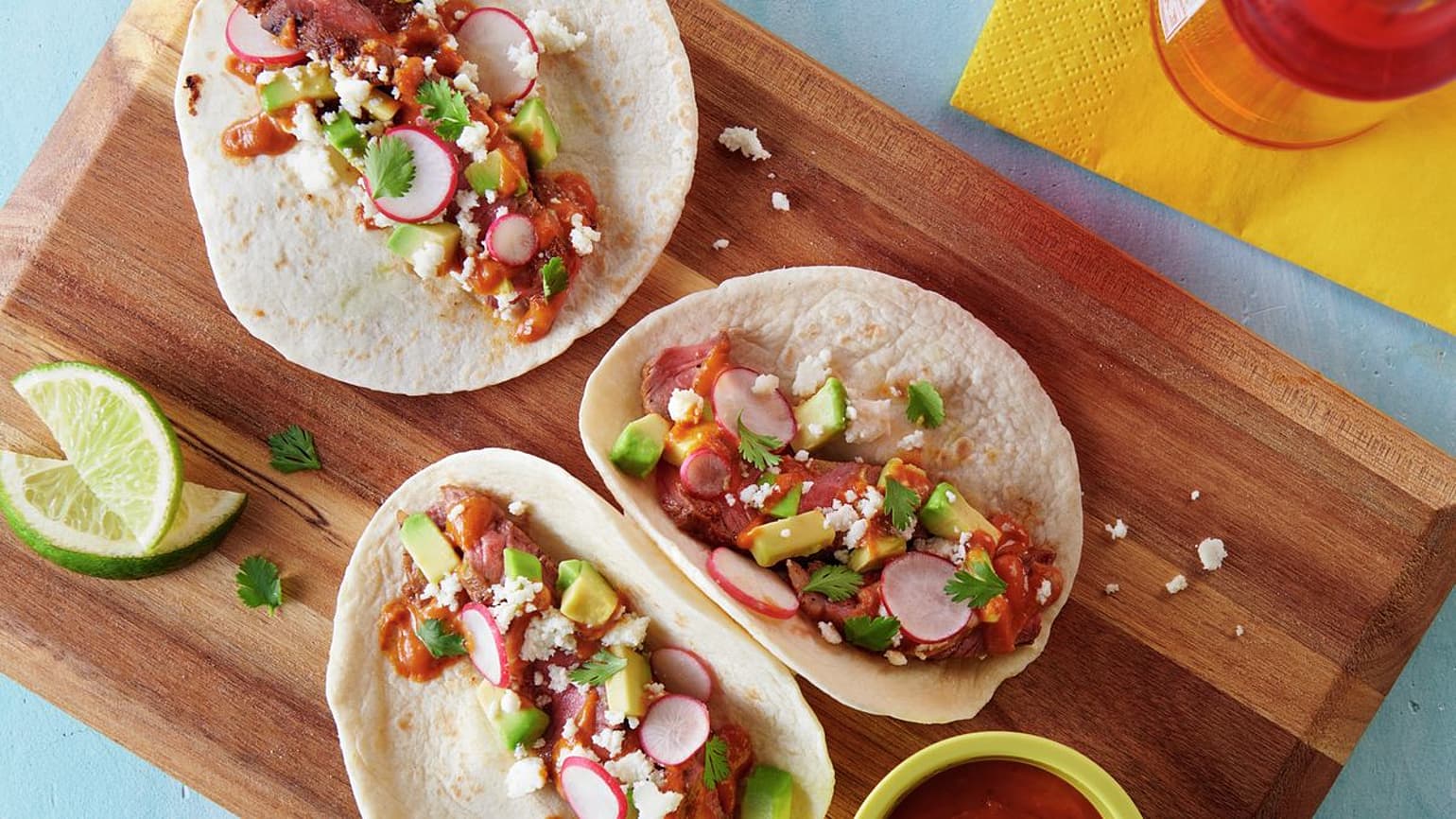 Grilled Carne Asada Steak Street Tacos
Beef up your weeknight dinner menu with these simple carne asada street tacos. Marinating the steaks in a gallon bag makes cleanup easy, and a few simple toppings make these tacos fresh and delicious. Whip up this 40-minute meal fast with our Old El Paso™ Carne Asada Steak Street Taco Kit. It comes with tortillas, seasoning mix and creamy chipotle sauce so you can focus on serving up the best steak for street tacos on your block. Take your steak street tacos to the backyard with this easy homemade recipe.
Ingredient List
2 tablespoons vegetable oil
1 package (11.3 oz) Old El Paso™ Carne Asada Steak Street Taco Kit
2 boneless beef sirloin steaks (about 8 oz each), 1 to 1 1/2 inches thick
1 medium avocado, peeled, pitted and diced
1/4 cup thinly sliced radishes
1/4 cup crumbled queso fresco (1 oz)
1/4 cup loosely packed fresh cilantro leaves
Advertisement
Recipe Continues Below
Preparation
Heat gas or charcoal grill. In gallon-size resealable food-storage plastic bag, mix oil and seasoning mix (from taco kit). Add steaks. Seal bag; turn to evenly coat.
Remove steaks from bag; discard any remaining oil and seasoning mixture. Place steaks on grill over medium heat (350°F to 400°F). Cover grill; cook 9 to 11 minutes, turning once, for medium-rare doneness (145°F internal temperature) or until desired doneness. Transfer steaks to cutting board, and cover loosely with foil; let rest 10 minutes. Cut steaks into thin strips across the grain.
Heat tortillas (from taco kit) as directed on package. Top with steak, avocado and radishes. Spoon creamy chipotle sauce (from taco kit) over tacos. Sprinkle with queso fresco and cilantro.
Expert Tips
You can heat the tortillas on the grill, too! Wrap 6 tortillas in a 12x12-inch piece of foil; repeat with the remaining 6 tortillas—place tortillas on grill over medium heat. Cover; cook 6 to 8 minutes, turning each foil pack once, until heated.
To dice avocado, cut in half, and remove the pit. Using a large spoon, scoop flesh from the skin. Place one half avocado cut side down on the cutting board. Make two horizontal cuts to make three planks, then cut lengthwise into strips. Turn 90 degrees, and cut again. Repeat with the other half of the avocado.
We tested with 2 (8-oz) boneless beef sirloin steaks, but steak sizes vary. If your steaks are thicker, you may want to reduce the grill temperature to medium-low (about 325°F) after turning. They will take longer to cook to desired doneness, but there's less risk of burning.
If you're not grilling your carne asada street tacos immediately, place sealed bag with steak, oil and seasoning in refrigerator up to 2 hours.
Nutrition
1 Serving (3 Tacos) Calories 480 (Calories from Fat 210); Total Fat 23g (Saturated Fat 7g ,Trans Fat 0g); Cholesterol 70mg; Sodium 870mg; Potassium 710mg; Total Carbohydrate 36g (Dietary Fiber 4g ,Sugars 2g); Protein 31g
% Daily Value: Vitamin A 4%; Vitamin C 4%; Calcium 15%; Iron 30%
Exchanges: 2 Starch; 1/2 Fruit; 3 1/2 Lean Meat; 2 1/2 Fat
Carbohydrate Choice: 2 1/2
*Percent Daily Values are based on a 2,000 calorie diet