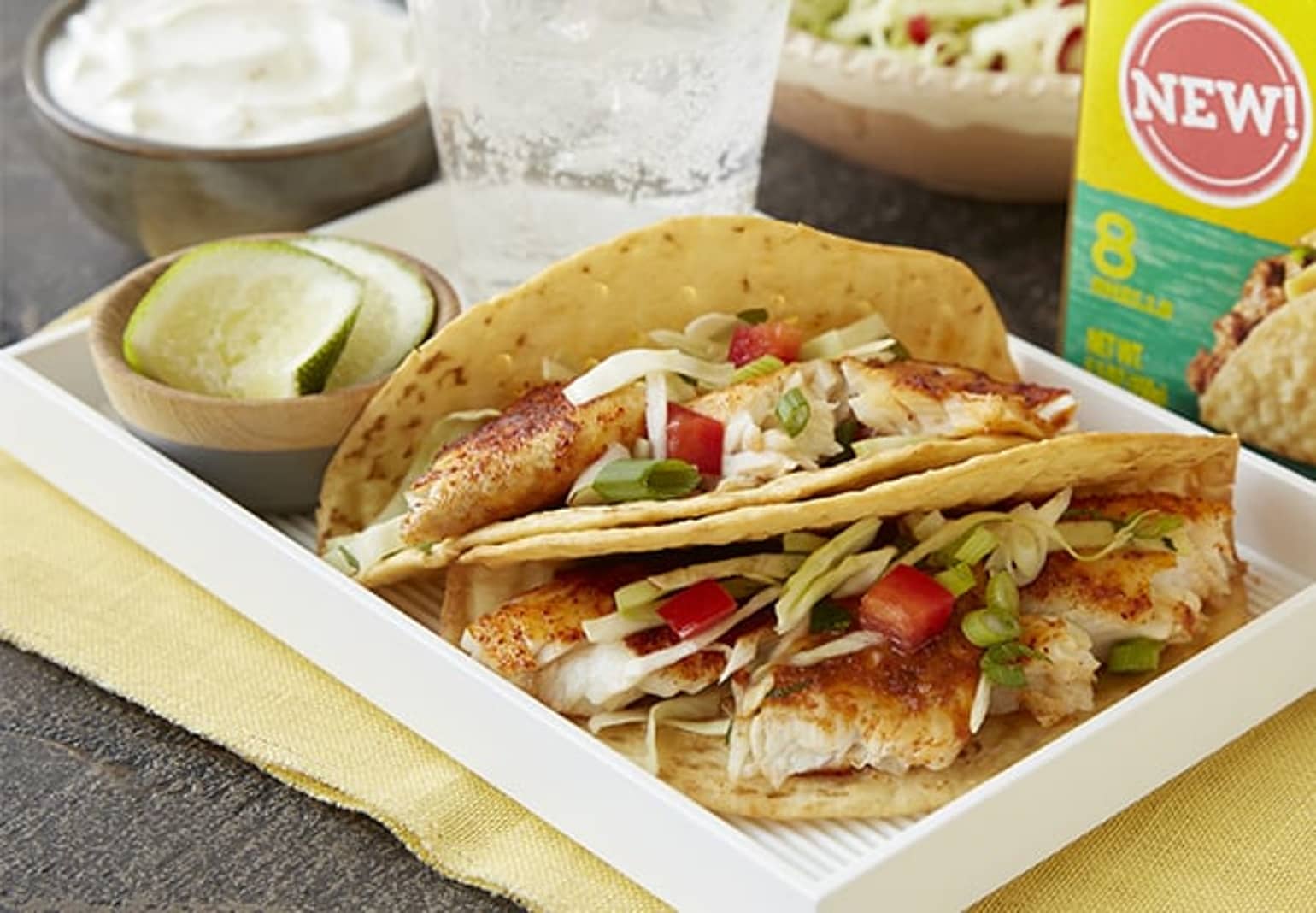 Grilled Fish Tacos in Crispy Shells
These grilled fish tacos will become a new taco night favorite. This weeknight fish taco recipe combines tilapia seasoned with Old El Paso™ Original Taco Seasoning Mix and Old El Paso™ Crispy Flour Tortilla Shells. What goes best with light fish and lime-seasoned slaw? A crunchy shell. The best taco shells for fish tacos are crunchy, and in this recipe, our shells are laid right on the grill in their foil packaging to warm up before you add your grilled fish, homemade slaw and favorite toppings. Try out these hard shell fish tacos for a grill night flavor change-up you'll come back to again and again.
50 Minutes Prep
50 Minutes Total
Ingredient List
1 lb tilapia fillets
1 tablespoon vegetable oil
1 package (1 oz) Old El Paso™ original taco seasoning mix
4 teaspoons lime juice
1/2 teaspoon honey
1/4 teaspoon salt
2 cups shredded cabbage
1/2 cup chopped red bell pepper
1 tablespoon finely chopped fresh cilantro leaves
1 box (8 ct) Old El Paso™ crispy flour tortilla shells, removed from box and carefully wrapped in heavy-duty foil
1/3 cup sour cream
1/2 cup diced tomato
3 tablespoons sliced green onions
Lime wedges
Advertisement
Recipe Continues Below
Preparation
Heat gas or charcoal grill. Cut 2 (18x12-inch) sheets of heavy-duty foil. Fold all four sides up on each sheet and pinch corners to form 2 foil trays. Spray with cooking spray.
Place fillets on foil trays, and brush each side with oil. Sprinkle taco seasoning mix on all sides until evenly coated.
In medium bowl, mix lime juice, honey and salt. Add cabbage, bell pepper and cilantro; stir to coat. Set aside.
Using large spatula, carefully place foil trays with fish on grill over medium heat (350°F to 400°F). Cover grill; cook 12 to 15 minutes or until fish flakes easily. Using large spatula, transfer foil tray with fish to sheet pan. Turn grill to low (250°F to 300°F).
Place wrapped shells on low grill; heat 6 minutes, carefully turning once halfway through.
Using fork, break fish into chunks, and divide among warm shells. Top fish with slaw, sour cream, tomato, green onions and desired fresh toppings.
Expert Tips
Try these additional fresh toppings on your grilled fish tacos: sliced radish, jalapeño or avocado.
Cooking on a foil tray makes grilling delicate fish much easier.
Instead of tilapia, you can use striped bass, red snapper or catfish fillets in your grilled fish tacos.
Nutrition
1 Serving: Calories 200 (Calories from Fat 70); Total Fat 8g (Saturated Fat 3g, Trans Fat 0g); Cholesterol 30mg; Sodium 460mg; Potassium 320mg; Total Carbohydrate 17g (Dietary Fiber 1g); Protein 13g % Daily Value: Vitamin A 10%; Vitamin C 20%; Calcium 4%; Iron 6% Exchanges: 1 Other Carbohydrate, 1/2 Vegetable, 2 Very Lean Meat, 1 1/2 Fat Carbohydrate Choices: 1