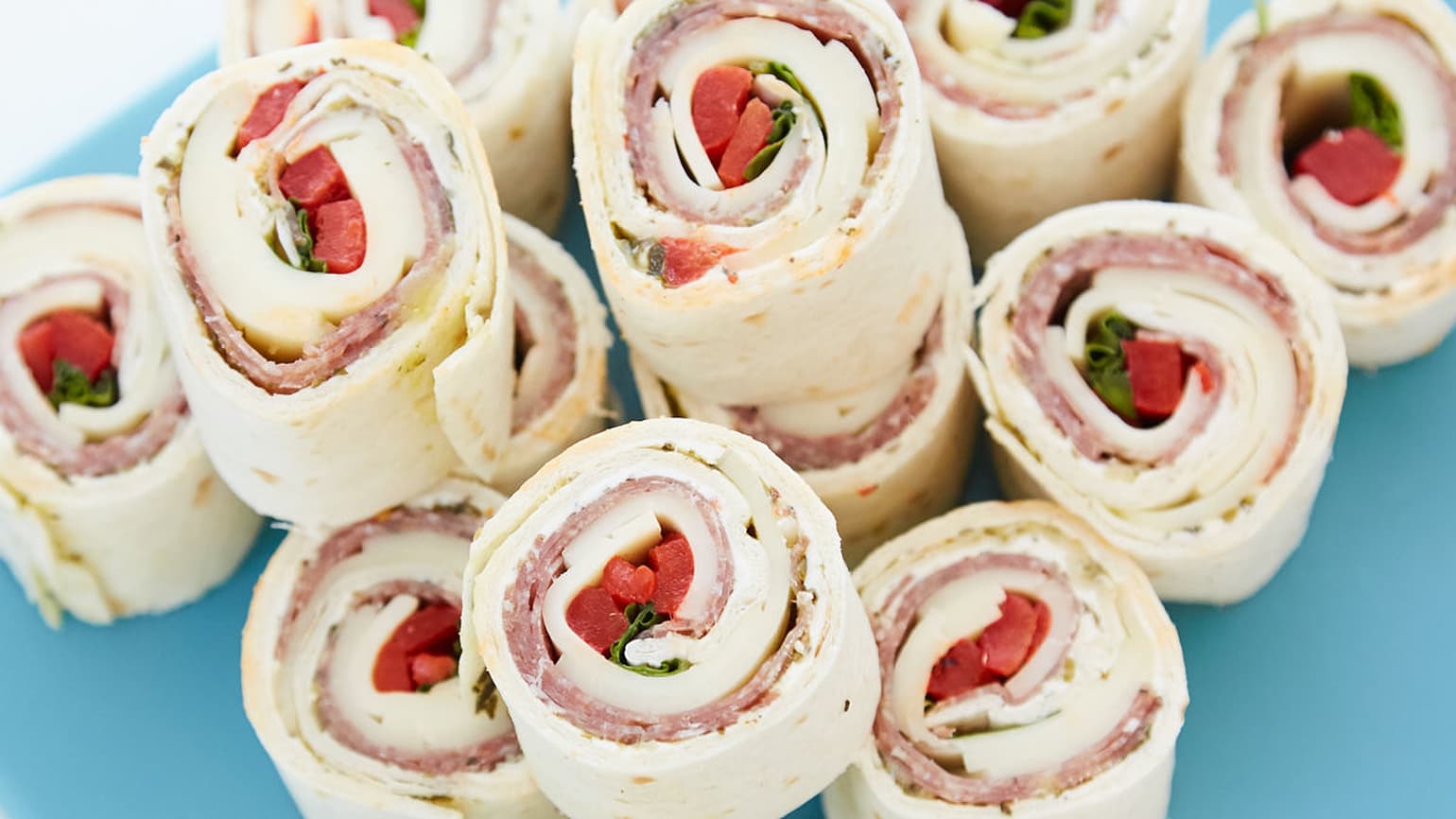 Italian Pesto Pinwheels
Need an easy app? Allow us to present...Italian pesto appetizers! Packed with meat, cheese, pesto and more, these satisfying Italian Pesto Pinwheels eat like bite-sized Italian sandwiches. Bonus: you can make them up to a full day ahead of time!
Total Time
2 Hours
25 Minutes
Ingredient List
1 container (8 oz) cream cheese spread, softened
1/2 teaspoon Italian seasoning
1/2 teaspoon finely chopped garlic (1 medium clove)
1/4 teaspoon crushed red pepper flakes
1/4 teaspoon salt
1 package (11 oz) Old El Paso™ flour tortillas for burritos (8 tortillas; 8 inch)
1/2 cup refrigerated basil pesto
48 thin slices salami (about 8 oz)
1 package (8 oz) sliced mozzarella cheese
8 slices provolone cheese (from 8-oz package)
3/4 cup jarred roasted red bell pepper strips, patted dry
1 package (0.75 oz) fresh basil leaves (1 cup)
Advertisement
Recipe Continues Below
Preparation
In small bowl, mix cream cheese spread, Italian seasoning, garlic, pepper flakes and salt. Divide mixture among tortillas, spreading evenly over tortillas, leaving 1/2-inch border. Divide pesto among tortillas, and spread evenly over cream cheese mixture. Top half of each tortilla with salami, mozzarella cheese, provolone cheese and roasted peppers. Place basil leaves evenly over roasted peppers.
Starting from side with toppings, roll up very tightly. Wrap with plastic wrap. Refrigerate at least 2 hours but no longer than 24 hours.
To serve, cut 1 inch from end of each roll, and discard. Cut each roll into 4 (1 1/2-inch) slices.
Expert Tips
One 8-oz package of cream cheese can be used instead of cream cheese spread for this Italian Pesto Pinwheels recipe. Soften cream cheese as directed on package.
Don't have fresh garlic? Substitute 1/8 teaspoon garlic powder for the finely chopped garlic.
Nutrition
1 Pinwheel Calories 150 (Calories from Fat 90); Total Fat 11g (Saturated Fat 4 1/2g ,Trans Fat 0g); Cholesterol 25mg; Sodium 430mg; Potassium 70mg; Total Carbohydrate 7g (Dietary Fiber 0g ,Sugars 1g); Protein 6g
% Daily Value: Vitamin A 10%; Vitamin C 8%; Calcium 15%; Iron 4%
Exchanges: 1/2 Other Carbohydrate; 1 High-Fat Meat; 1/2 Fat
Carbohydrate Choice: 1/2
*Percent Daily Values are based on a 2,000 calorie diet