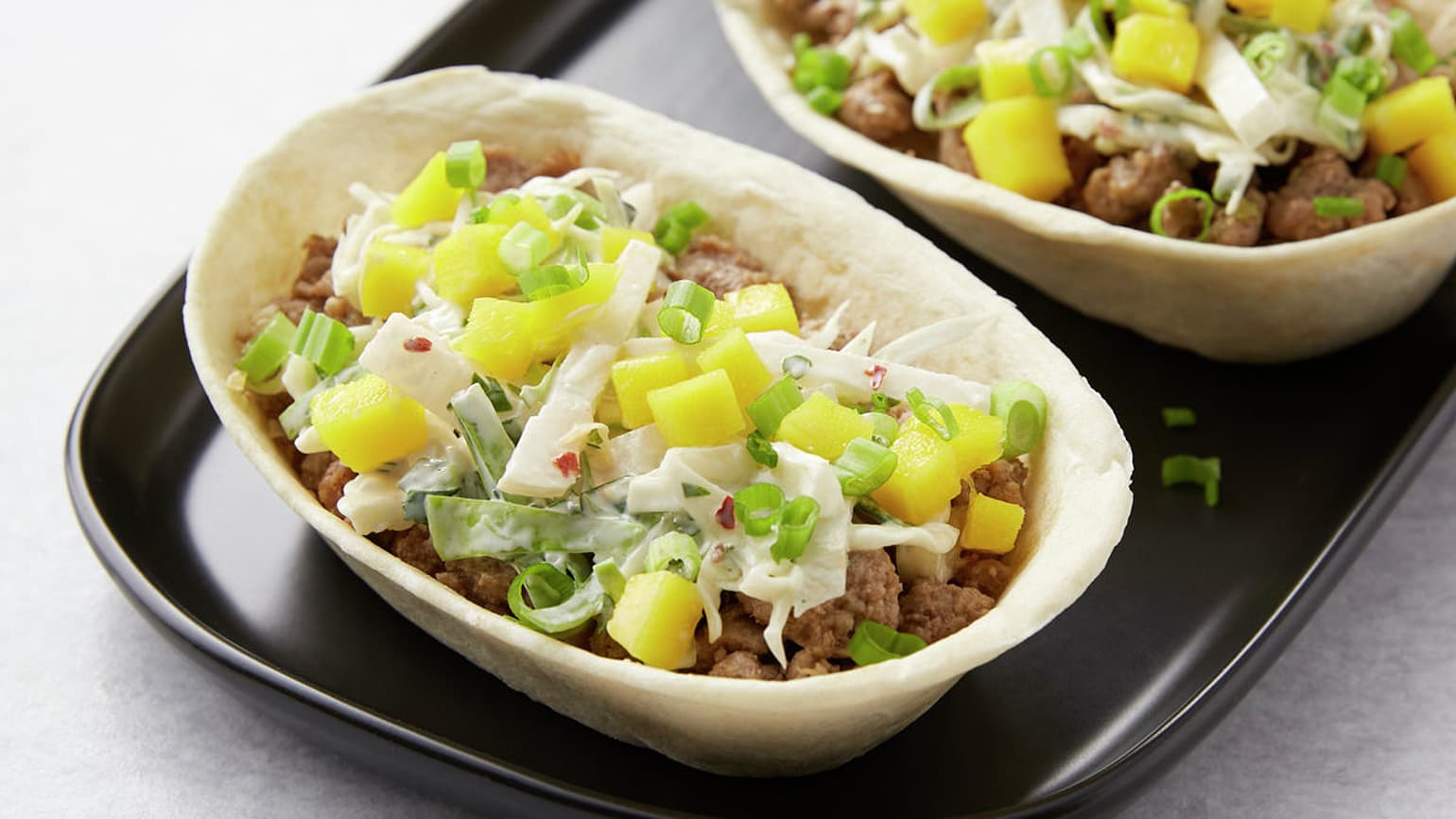 Jerk Turkey Tacos with Mango
Sweet, tangy and with just the right amount of crunch, this Caribbean-inspired taco dinner is just what weeknight-you is craving. Plus, all that Jamaican jerk flavor can be made from what you already have in your spice drawer. It's basically a beach vacation in a taco bowl.
Ingredient List
Slaw
1 1/2 cups shredded green cabbage
1/2 cup julienne jicama
2 tablespoons chopped fresh cilantro
2 tablespoons sour cream
1 tablespoon mayonnaise
1 tablespoon lime juice
1/2 teaspoon salt
1/4 teaspoon crushed red pepper flakes
Tacos
2 teaspoons vegetable or olive oil
1 lb lean ground turkey
3 green onions, white and green parts separated and chopped
1/2 teaspoon salt
1/2 teaspoon garlic powder
1/2 teaspoon dried thyme leaves
1/4 teaspoon sugar
1/8 teaspoon allspice
1/8 teaspoon ground red pepper (cayenne)
1 tablespoon lime juice
1 teaspoon soy sauce
1 package (6.7 oz) Old El Paso™ Flour Soft Tortilla Bowls (8 Count)
1 cup diced mango
Advertisement
Recipe Continues Below
Preparation
In small bowl, mix Slaw ingredients. Refrigerate 15 minutes; stir again.
Meanwhile, in 10-inch skillet, heat oil over medium-high heat. Add turkey, green onion whites, salt, garlic powder, thyme, sugar, allspice and red pepper; cook 6 to 7 minutes, stirring occasionally to break up large pieces, until no longer pink. Reduce heat to medium. Stir in lime juice and soy sauce; simmer 2 to 3 minutes.
Heat tortilla bowls as directed on package. Divide turkey mixture among bowls. Top each bowl with slaw mixture, mango and green onion greens.
Expert Tips
Want to know how to dice a mango like a pro? First, stand the mango stem-end down and hold in place. Look for two wide sides or "cheeks." Starting at top, place knife about 1/4 inch from widest center line and cut down through mango, cutting around flat seed in center of fruit. Repeat with opposite remaining wide side. Cut the flesh of the wide sides by slicing them in a cross-hatch pattern, making sure not to cut through to the skin. To remove your mango pieces, push the skin inside-out so the cut mango pieces fan out, then cut the pieces free from skin. Cut two remaining narrow sides from pit by cutting around pit. Peel and cut the mango pieces.
Save even more prep time by purchasing preshredded cabbage.
Nutrition
1 Taco Calories 220 (Calories from Fat 100); Total Fat 11g (Saturated Fat 3g ,Trans Fat 0g); Cholesterol 45mg; Sodium 540mg; Potassium 230mg; Total Carbohydrate 18g (Dietary Fiber 1g ,Sugars 4g); Protein 13g
% Daily Value: Vitamin A 8%; Vitamin C 15%; Calcium 6%; Iron 10%
Exchanges: 1 Starch; 1/2 Vegetable; 1 1/2 Lean Meat; 1 Fat
Carbohydrate Choice: 1
*Percent Daily Values are based on a 2,000 calorie diet