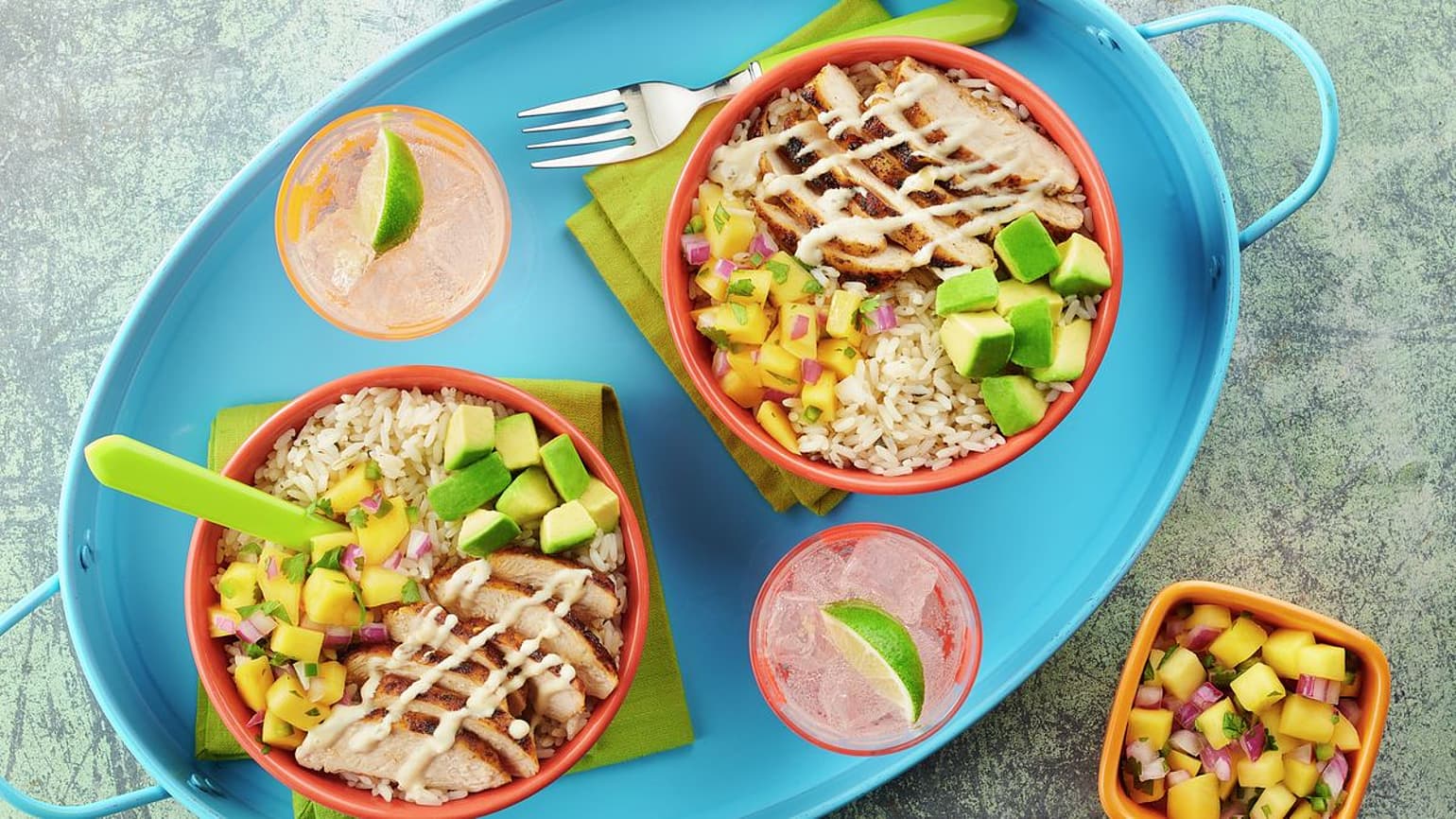 Mango Salsa Grilled Chicken Burrito Bowls
Burrito bowls are a delicious and hearty option when you want to serve up a family meal fast. Plus, with an Old El Paso™ Chipotle Chicken Burrito Bowl Kit, you can make a restaurant copycat burrito bowl without leaving the house (and for cheaper!). Cilantro lime white rice, chipotle seasoning mix and queso blanco sauce are included in the kit, helping you bring extra flavor to dinner hassle-free. Top with a colorful and fresh homemade mango salsa over the smoky grilled chipotle chicken. Dig in! This summer-ready bowl makes every bite delicious.
Ingredient List
Mango Salsa
1 medium mango, peeled and cubed 1/4-inch (about 1 cup)
1/4 cup chopped red onion
3 tablespoons chopped fresh cilantro leaves
1 medium jalapeño chile, seeded and finely chopped
2 teaspoons lime juice
Bowls
1 package (11 oz) Old El Paso™ Chipotle Chicken Burrito Bowl Kit
1 3/4 cups water
1 tablespoon butter
2 tablespoons vegetable oil
2 boneless skinless chicken breasts (8 oz each)
1 avocado, peeled, pitted and chopped
Lime wedges
Advertisement
Recipe Continues Below
Preparation
In medium bowl, stir together Mango Salsa ingredients. Cover and refrigerate until ready to use.
Heat gas or charcoal grill.
In 2-quart saucepan, add rice (from burrito bowl kit), water and butter. Heat to boiling, stirring frequently. Reduce heat; cover and simmer about 20 minutes or until rice is tender and liquid is absorbed. Remove from heat; let stand 5 minutes.
Meanwhile, in small bowl, mix seasoning mix (from burrito bowl kit) and oil. Brush seasoning mixture onto both sides of chicken breasts.
Place chicken on grill over medium heat. Cover grill; cook 10 to 14 minutes, turning once, until juice of chicken is clear when center of thickest part is cut (at least 165°F in center). Transfer to cutting board; let stand 5 minutes. Cut chicken into thin slices.
Divide rice among 4 serving bowls. Top with chicken, mango salsa, avocado and queso blanco sauce (from burrito bowl kit). Serve with lime wedges on the side.
Expert Tips
Want to know how to dice a mango like a pro? First, stand the mango stem-end down, and hold it in place. Look for two wide sides or "cheeks." Starting at the top, place knife about 1/4 inch from the widest center line, and cut down through mango, cutting around the flat seed in the center of the fruit. Repeat with opposite remaining wide side. Cut the flesh of wide sides by slicing them in a cross-hatch pattern, making sure not to cut through to the skin. To remove mango pieces, push skin inside out, cut mango pieces fan out, and then cut pieces free from the skin. Cut two remaining narrow sides from the pit by cutting around the pit. Peel and cut mango pieces.
When using raw red onions, rinsing chopped onions under cold water helps take the "bite" out of the otherwise strong flavor.
Nutrition
1 Bowl Calories 580 (Calories from Fat 190); Total Fat 21g (Saturated Fat 4g ,Trans Fat 0g); Cholesterol 75mg; Sodium 1100mg; Potassium 790mg; Total Carbohydrate 64g (Dietary Fiber 6g ,Sugars 16g); Protein 33g
% Daily Value: Vitamin A 20%; Vitamin C 35%; Calcium 10%; Iron 10%
Exchanges: 2 Starch; 1 Fruit; 1 Other Carbohydrate; 4 Lean Meat; 1 1/2 Fat
Carbohydrate Choice: 4
*Percent Daily Values are based on a 2,000 calorie diet