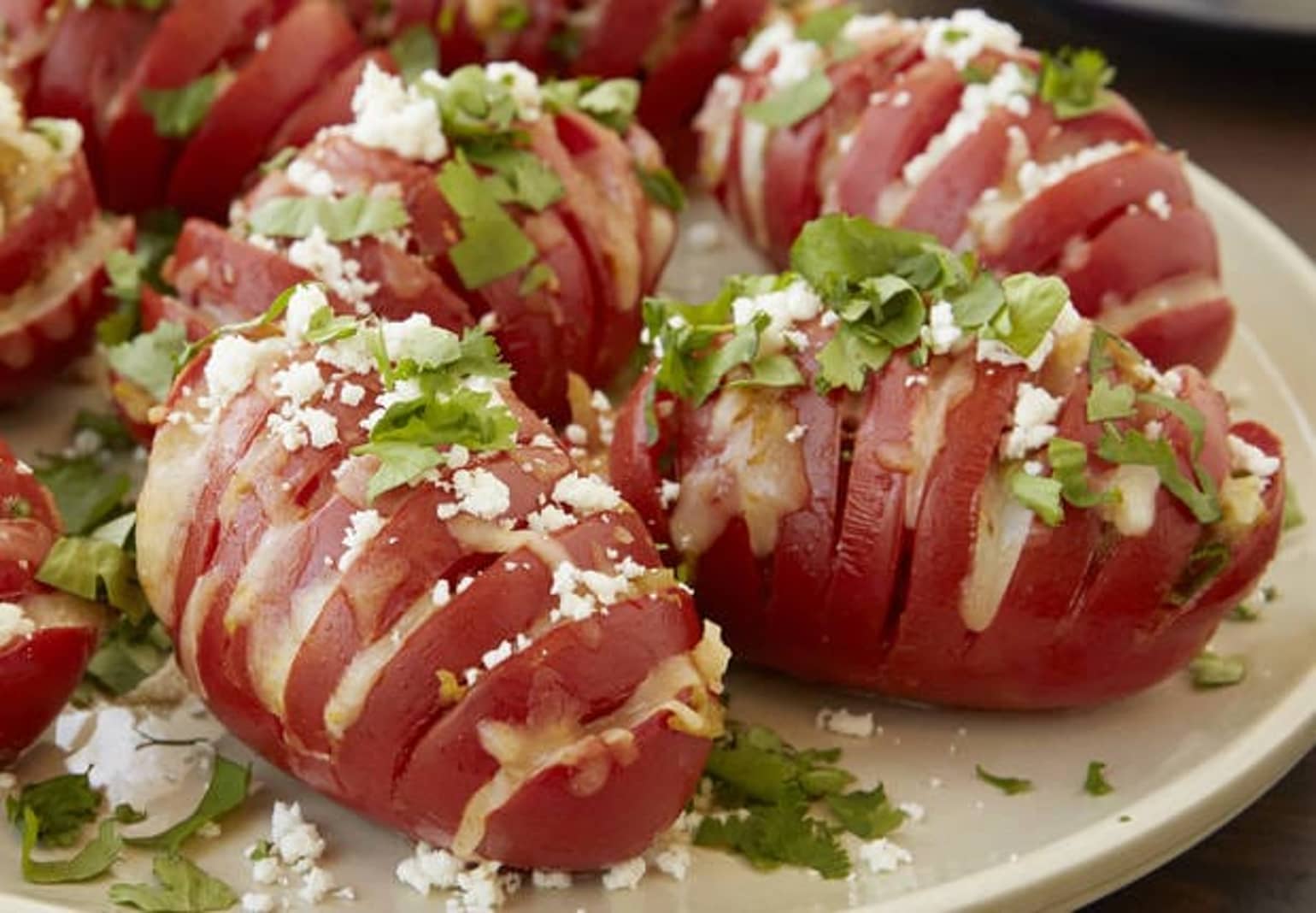 Mexican Hasselback Tomatoes
Get all the fun of Hasselback potatoes with cheesy, fresh flavor in these beautiful tomatoes stuffed with chiles and cheese.
Ingredient List
8 large plum (Roma) tomatoes
2 tablespoons olive oil
2 tablespoons olive oil
1 can (4.5 oz) Old El Paso™ chopped green chiles
3 green onions, thinly sliced
1 cup shredded Monterey Jack cheese (4 oz)
1/4 cup crumbled queso fresco cheese
1/4 cup chopped fresh cilantro leaves
Advertisement
Recipe Continues Below
Preparation
Heat oven to 425°F. Spray 13x9-inch (3-quart) glass baking dish with cooking spray. Being careful not to cut through the bottom, make 1/4-inch vertical slices in each tomato, leaving 1/2 inch base uncut.
In small bowl, mix oil and taco seasoning mix. Brush all over tomatoes. Stuff chiles and green onions into slices in tomatoes; top chiles and onions with Monterey Jack cheese. Place in baking dish. Bake 15 to 18 minutes or until cheese melts and tomatoes and filling are warmed through.
Top with queso fresco cheese and cilantro. Serve warm.
Expert Tips
Serve with cilantro lime rice for a great, summery vegetarian dinner option.
Most Roma tomatoes have a flatter side. To avoid rolling in the baking dish, try to turn the flatter side to the bottom. If some tomatoes still roll, make a ball of foil to prop up between the tomatoes.
Nutrition
Calories140( Calories from Fat80),% Daily ValueTotal Fat9g9%(Saturated Fat4g,4%Trans Fat0g0%), Cholesterol15mg15%;Sodium300mg300%;Total Carbohydrate10g10%(Dietary Fiber2g2% Sugars6g6%), Protein6g6%; % Daily Value*:Vitamin A35%;Vitamin C25%;Calcium15%;Iron4%;Exchanges:0 Starch; 0 Fruit; 0 Other Carbohydrate; 0 Skim Milk; 0 Low-Fat Milk; 0 Milk; 2 Vegetable; 0 Very Lean Meat; 0 Lean Meat; 1/2 High-Fat Meat; 1 Fat;
Carbohydrate Choices:1/2
*Percent Daily Values are based on a 2,000 calorie diet.