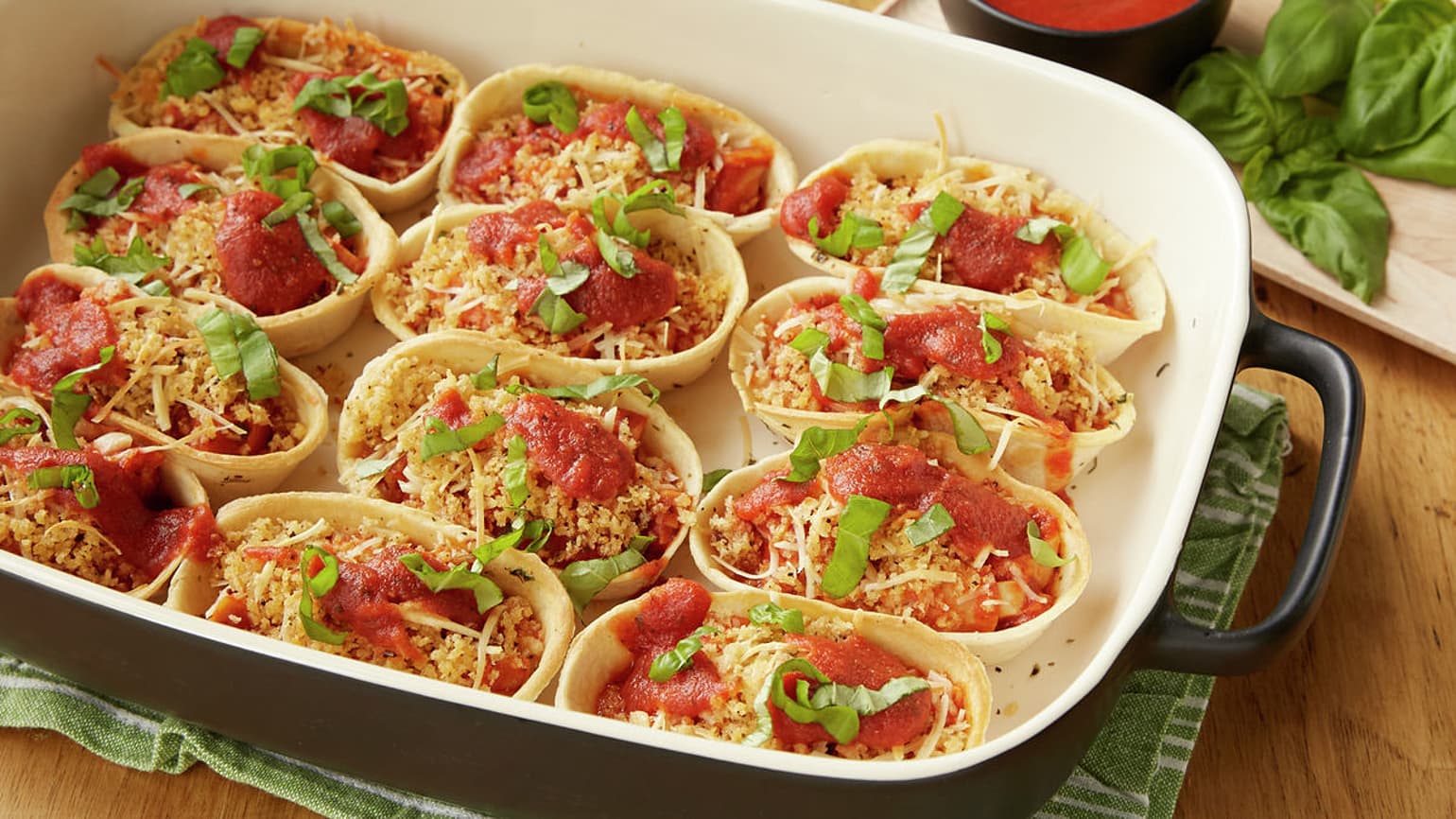 Mini Chicken Parmesan Lasagna Bowls
Whether you pick them up or use a fork to eat them, you'll love these little lasagna-inspired bowls. Add the cheese-spiked Italian flavors of chicken Parmesan, with a lot less hassle. Just add mozzarella, ricotta, rotisserie chicken in tomato sauce and crunchy buttered Parmesan breadcrumbs to the bowls, and bake!
Ingredient List
4 tablespoons butter, melted
1 teaspoon Italian seasoning
1 package Old El Paso™ Taco Bowls™ mini soft flour tortillas (12 bowls)
1 cup shredded mozzarella cheese (4 oz)
1/2 cup whole-milk ricotta cheese
2 cloves garlic, finely chopped
1/4 teaspoon crushed red pepper flakes
1/4 teaspoon salt
1 jar (14 oz) traditional Italian pasta sauce (1 1/2 cups)
1 cup chopped cooked chicken
1/2 cup Progresso™ Italian panko crispy bread crumbs
1/4 cup shredded Parmesan cheese (1 oz)
Thinly sliced fresh basil leaves, if desired
Advertisement
Recipe Continues Below
Preparation
Heat oven to 350°F. In small bowl, mix 2 tablespoons of the melted butter and the Italian seasoning; lightly brush mixture on all sides of bowls. Place in ungreased 13x9-inch (3-quart) baking dish. Bake 10 minutes.
Divide 1/2 cup of the mozzarella cheese evenly among bowls. In small bowl, mix ricotta cheese, garlic, pepper flakes and salt. Divide evenly among bowls.
In medium bowl, mix 1 cup of the pasta sauce and the chicken. Divide chicken mixture evenly over ricotta mixture in bowls. Top with remaining 1/2 cup mozzarella cheese.
In small bowl, mix bread crumbs, Parmesan cheese and remaining 2 tablespoons melted butter. Sprinkle evenly over bowls.
Bake 20 to 23 minutes or until center is hot (at least 165°F) and cheese is melted. Warm remaining 1/2 cup pasta sauce; spoon over baked bowls. Top with basil.
Expert Tips
Opt for a smooth pasta sauce instead of a chunky sauce. It will make it easier to drizzle over the finished bowls.
We used rotisserie chicken for this recipe, but any leftover cooked chicken will work just fine.
Nutrition
1 Serving Calories 190 (Calories from Fat 100); Total Fat 11g (Saturated Fat 6g ,Trans Fat 0g); Cholesterol 35mg; Sodium 470mg; Potassium 180mg; Total Carbohydrate 14g (Dietary Fiber 0g ,Sugars 3g); Protein 9g
% Daily Value: Vitamin A 10%; Vitamin C 4%; Calcium 15%; Iron 6%
Exchanges: 1 Starch; 1/2 Very Lean Meat; 1/2 Lean Meat
Carbohydrate Choice: 1
*Percent Daily Values are based on a 2,000 calorie diet