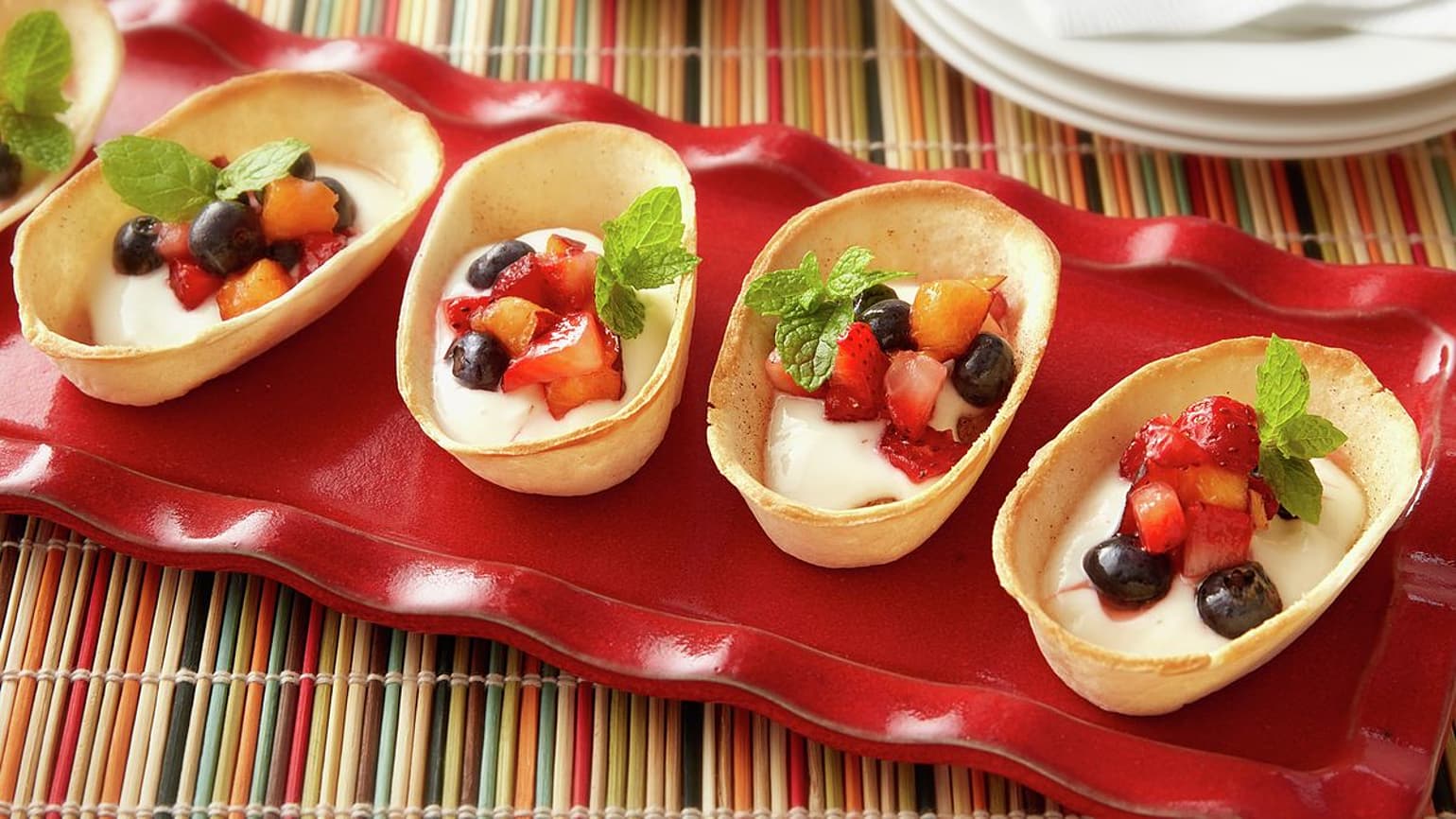 Mini Churro Taco Bowls
Try this spin on the classic cinnamon-and-sugar sprinkled Mexican pastry! Quick to assemble for a weeknight sweet, and pretty enough to serve for a fancy party.
Ingredient List
2 tablespoons butter, melted
1 package (5.1 oz) Old El Paso™ Flour Soft Tortilla Mini Bowls (12 Count)
1 tablespoon plus 2 teaspoons sugar
1/4 teaspoon ground cinnamon
1/2 cup chopped fresh strawberries
1/4 cup chopped fresh peaches
1/4 cup fresh blueberries
3/4 cup Yoplait® Greek 100 plain yogurt (from 2-lb container)
2 tablespoons honey
Fresh mint sprigs, if desired
Advertisement
Recipe Continues Below
Preparation
Heat oven to 400°F. Line cookie sheet with foil.
Lightly brush melted butter on each entire bowl to coat. In small bowl, mix 1 tablespoon of the sugar and the cinnamon; sprinkle inside and outside on bowls. Place bowls on cookie sheet. Bake 6 to 9 minutes or until browned on edges and firm to the touch. Bowls will crisp as cooled. Remove to cooling rack to cool 10 minutes.
Meanwhile, in small bowl, mix strawberries, peaches and blueberries; stir in remaining 2 teaspoons sugar. Let stand 5 minutes, stirring occasionally.
In another small bowl, mix Greek yogurt and honey. Fill each bowl with 1 tablespoon yogurt mixture; top with generous tablespoon of fruit. Garnish with mint sprigs. Serve immediately, or refrigerate until serving.
Expert Tips
Try a different flavor of yogurt for the filling.
Make sure to chop the fruit small enough to fit in the bowls.
For a cool treat, try freezing finished boats for 1 hour before serving.
Traditional Spanish and Mexican churros are sweet dough spirals that are deep-fried and coated with a cinnamon-sugar mixture.
Nutrition
1 Taco Bowl Calories 90 (Calories from Fat 30); Total Fat 3 1/2g (Saturated Fat 1 1/2g ,Trans Fat 0g); Cholesterol 5mg; Sodium 105mg; Potassium 20mg; Total Carbohydrate 13g (Dietary Fiber 0g ,Sugars 6g); Protein 2g
% Daily Value: Vitamin A 0%; Vitamin C 4%; Calcium 2%; Iron 0%
Exchanges: 1 Starch; 1/2 Fat
Carbohydrate Choice: 1
*Percent Daily Values are based on a 2,000 calorie diet