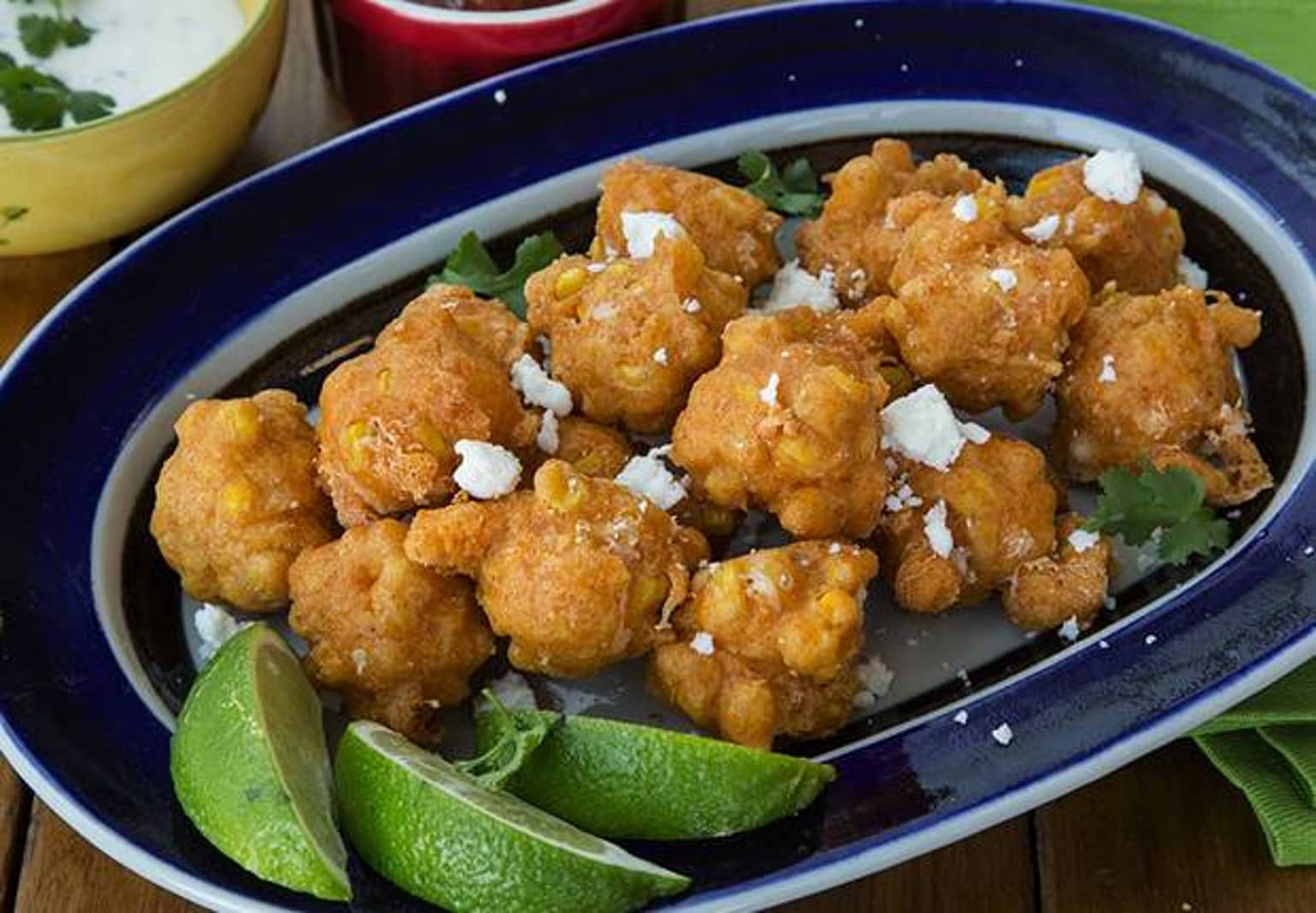 Old El Paso® Elote Poppers
A fun twist on elote (Mexican street corn)--frozen corn makes this fun for wintertime game day events--they will disappear quickly at your get-together!
Ingredient List
Oil for deep frying
1 cup Gold Medal™ all-purpose flour
2 tablespoons Old El Paso™ taco seasoning mix (from 1-oz package)
1 teaspoon baking powder
1 egg
2/3 cup milk
1 1/2 cups frozen corn, cooked as directed on bag
1 tablespoon butter, melted
1 cup crumbled queso fresco cheese
1 cup mayonnaise
1/4 cup fresh lime juice
2 tablespoons chopped fresh cilantro
Fresh cilantro leaves
Salsa
Additional crumbled queso fresco cheese
Advertisement
Recipe Continues Below
Preparation
In deep fat fryer or heavy saucepan, heat at least 2 inches oil to 350°F.
While oil is heating, mix Popper ingredients in large bowl, stirring well. Drop tablespoonful-size pieces of dough into hot oil. Fry 2 to 3 minutes or until deep golden brown. Drain on paper towels.
Mix Aioli ingredients. Serve with warm poppers and additional ingredients.
Nutrition
Calories140(Calories from Fat110),Total Fat12g(Saturated Fat2 1/2g,Trans Fat0g),Cholesterol15mgSodium150mgTotal Carbohydrate6g(Dietary Fiber0g Sugars0g),Protein1g;% Daily Value*:Vitamin A0%;Vitamin C0%;Calcium4%;Iron0%; Exchanges:1/2 Starch; 0 Fruit; 0 Other Carbohydrate; 0 Skim Milk; 0 Low-Fat Milk; 0 Milk; 0 Vegetable; 0 Very Lean Meat; 0 Lean Meat; 0 High-Fat Meat; 2 1/2 Fat; Carbohydrate Choices:1/2 *Percent Daily Values are based on a 2,000 calorie diet.