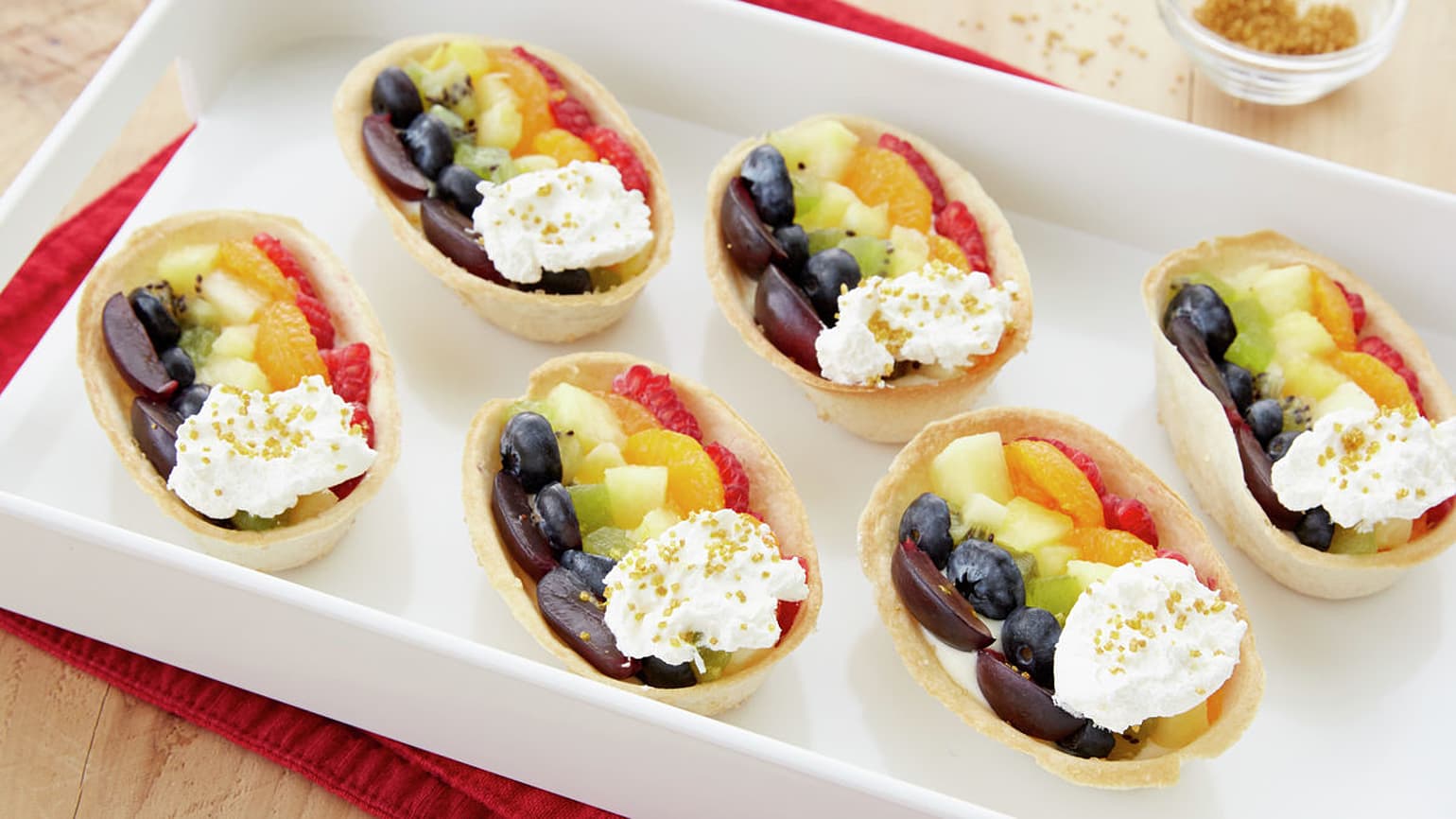 Rainbow Fruit Taco Bowls
Go ahead and rock the bowl—the taco bowl, that is—with these rainbow-studded treats! Refreshing and perfectly sweet, this dessert is sure to please. A platter of Mexican fruit taco bowls would be perfect for an outdoor gathering on a hot day or as a delicious dessert to top off a meal.
Ingredient List
1 package (8 oz) cream cheese, softened
3/4 cup Cool Whip frozen whipped topping (thawed)
1/3 cup canned sweetened condensed milk (not evaporated)
1 tablespoon butter, melted
1 package (5.1 oz) Old El Paso™ Flour Soft Tortilla Mini Bowls (12 Count)
2 tablespoons raw sugar
1/3 cup raspberries, quartered
1/3 cup mandarin orange segments, halved lengthwise
1/3 cup diced fresh pineapple
1/3 cup diced peeled kiwifruit
1/4 cup blueberries, halved
1/4 cup purple grapes, quartered
1 teaspoon gold candy sprinkles
Advertisement
Recipe Continues Below
Preparation
In medium bowl, beat cream cheese, 1/2 cup of the whipped topping and the condensed milk with electric mixer on medium speed until completely blended. Cover with plastic wrap; refrigerate about 1 hour or until chilled. Reserve remaining 1/4 cup whipped topping.
Meanwhile, heat oven to 375°F. Line rimmed cookie sheet with foil. Lightly brush melted butter on all sides of each bowl. Sprinkle raw sugar to cover entire boat. Place bowls on cookie sheet. Bake 5 to 8 minutes or until brown and firm to the touch. Bowls will crisp as they cool. Remove to cooling rack to cool.
Fill each cooled bowl with about 2 tablespoons cream cheese mixture; spread evenly. Top with fruit in rainbow design in order listed. Spoon remaining 1/4 cup whipped topping on one end of rainbow. Sprinkle with sprinkles. Serve immediately. Store any remaining bowls in refrigerator.
Expert Tips
For best results, pat fruit dry before placing in bowls.
If fresh mandarin oranges aren't available for your Mexican fruit bowls, opt for the canned version.
Turbinado or demerara sugar can be substituted for the raw sugar in this recipe.
Nutrition
1 Serving Calories 180 (Calories from Fat 100); Total Fat 11g (Saturated Fat 6g ,Trans Fat 0g); Cholesterol 25mg; Sodium 170mg; Potassium 100mg; Total Carbohydrate 19g (Dietary Fiber 0g ,Sugars 11g); Protein 3g
% Daily Value: Vitamin A 8%; Vitamin C 15%; Calcium 6%; Iron 2%
Exchanges: 1 Starch; 2 Fat
Carbohydrate Choice: 1
*Percent Daily Values are based on a 2,000 calorie diet