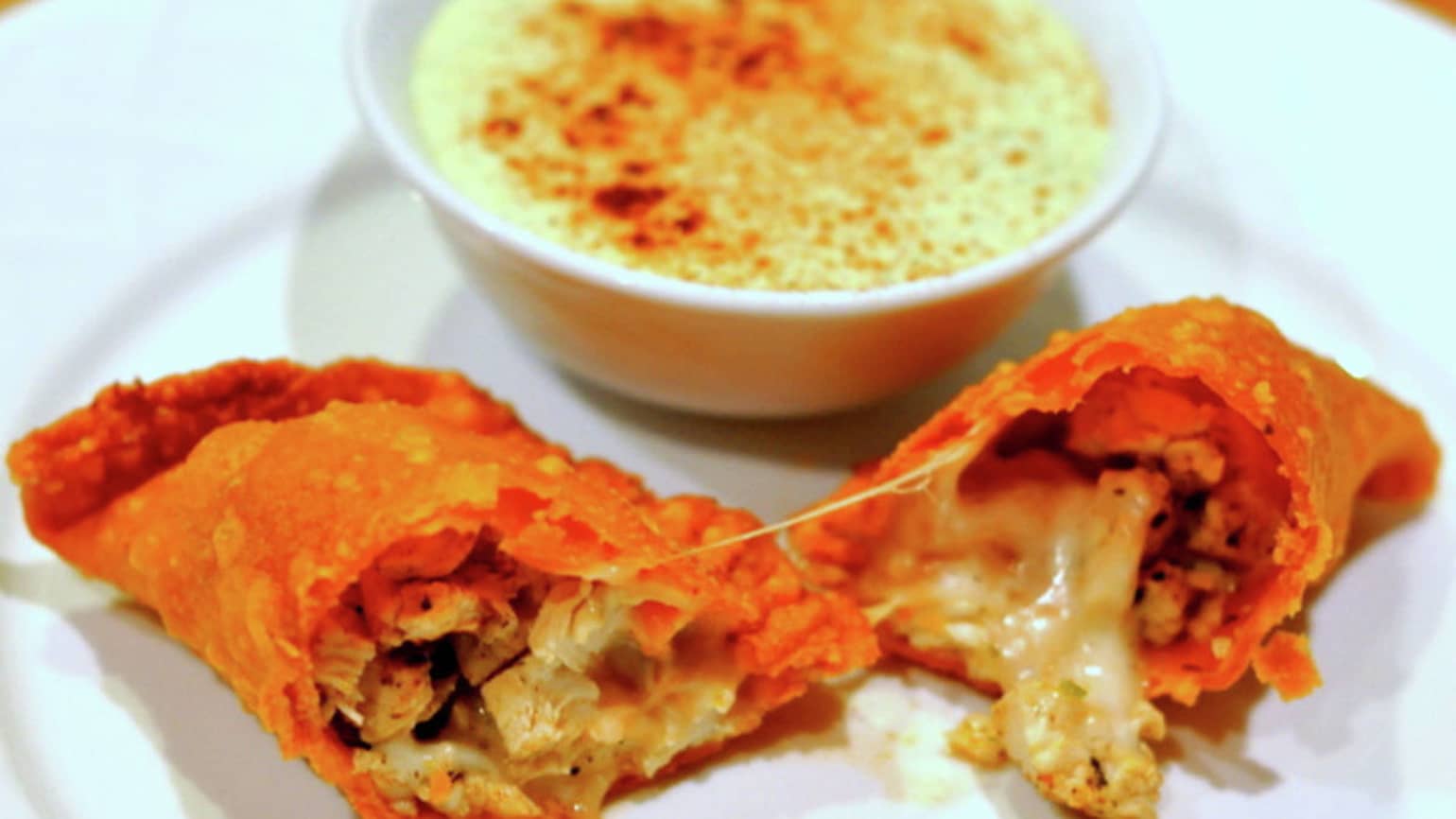 Refried Beans, Chicken, Cheese Empanadas with Creamy Lime Cilantro Dip
Blogger Courtney Nzeribe from
Coco Cooks
shares a favorite recipe. These Latin inspired hand pies can be filled with many sweet and savory fillings. Old El Paso® Traditional Refried Beans with chicken and cheese add an extra creaminess.
Ingredient List
Empanadas
10 premade empanada discs or readymade pie crusts cut into rounds (approximately 4 premade rolled crusts)
1 cup boiled chicken breast, diced or shredded
1 teaspoon chili powder
1/8 teaspoon black pepper
1/8 teaspoon kosher salt
1/8 teaspoon garlic powder
1/2 cup from 1 can (16 oz) Old El Paso™ Traditional Refried Beans
1/2 cup shredded mozzarella
Vegetable Oil for deep frying.( amount varies on size of deep fryer or skillet)
Creamy Cilantro Lime Dip
1 cup sour cream
Juice of 1 lime
3/4 cup cilantro chopped
1/2 small onion minced
Advertisement
Recipe Continues Below
Preparation
For Empanadas Heat deep fryer to 350°F.
In a small bowl mix diced chicken, chili powder, salt, pepper, and garlic.
Take a small rounded tablespoon of seasoned chicken and place atop disc.
Add a bit of cheese, and refried beans.
Do not overstuff.
Take each end of dough to fold over into half moon shape.
Seal edges shut by pressing dough together, and then laying down on flat surface and using a fork to press in edges to seal.
Fry empanadas a few at a time. Do not overcrowd fryer.
Drain on paper towel. Keep warm on a parchment lined baking sheet in a 200°F oven.
Creamy Cilantro Lime Dip In a small food processor or bowl/cup of immersion blender, add all sour cream, lime, cilantro, and onion.
Pulse to blend.
Refrigerate until ready to serve with empanadas.
Expert Tips
You can use pre made refrigerated pie crust.
If you make your own empanada dough, try coloring it with annatto.
You can vary size of discs, empanadas, just remember not to overfill.
You can use leftover rotisserie chicken, or other meats as a filling with Old El Paso® Traditional Refried Beans, and Cheese of your choice.
Nutrition
*Percent Daily Values are based on a 2,000 calorie diet