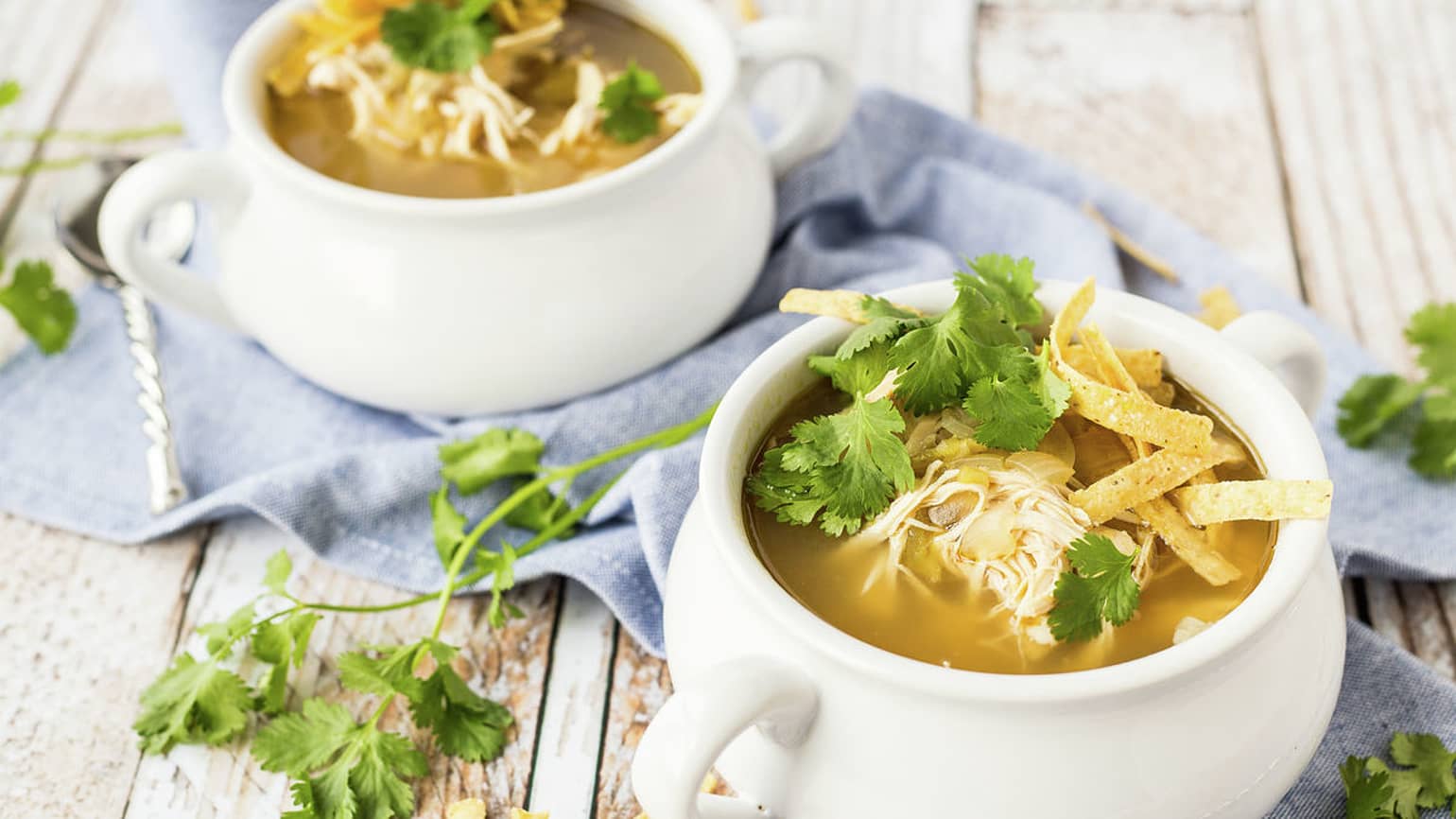 Slow-Cooker Green Enchilada Soup
Chicken tortilla soup just got an easy upgrade! This Slow-Cooker Green Enchilada Soup is the perfect no-hassle, craveable way to amp up a family-favorite comfort food. All it takes is 5 minutes of prep to add chicken, with Old El Paso™ Green Enchilada Sauce and Green Chiles, into your slow cooker with some diced onion. Set the timer, let it simmer, then just shred the chicken, top with your choice of cheese, cilantro, crispy tortilla strips, chopped avocado or hot sauce, and serve. Chicken noodle soup can get boring, right? This soup will remind you of chicken noodle soup in some ways but it will excite your taste buds in new and fun ways.
Ingredient List
1 1/2 - 2 pounds boneless skinless chicken breast
4 cups reduced sodium chicken broth
1 can (10 oz) Old El Paso™ Mild Green Chile Enchilada Sauce
1 can (4.5 oz) Old El Paso™ Chopped Green Chiles
1 cup diced yellow onion
Serve with, if desired
Shredded cheese
Chopped fresh cilantro
Crispy tortilla strips
Chopped avocado
Hot sauce
Advertisement
Recipe Continues Below
Preparation
Add chicken, chicken broth, Old El Paso™ Green Enchilada Sauce, Old El Paso Chopped Green Chiles, and diced onion to a slow cooker.
Cover and cook on high for 4 hours or low for 8 hours.
Remove chicken and shred using two forks. Return to slow cooker. Stir and serve garnished with desired toppings.
Expert Tips
Add more veggies to your green chile chicken enchilada soup by stirring in a can of rinsed, drained chickpeas or a can of corn.
Boneless, skinless chicken thighs can be used in place of the chicken breasts for this green chicken enchilada soup.
Make your slow-cooker green chile chicken soup creamy by topping with a bit of sour cream, or stir some in at the end of cooking.
Nutrition
*Percent Daily Values are based on a 2,000 calorie diet