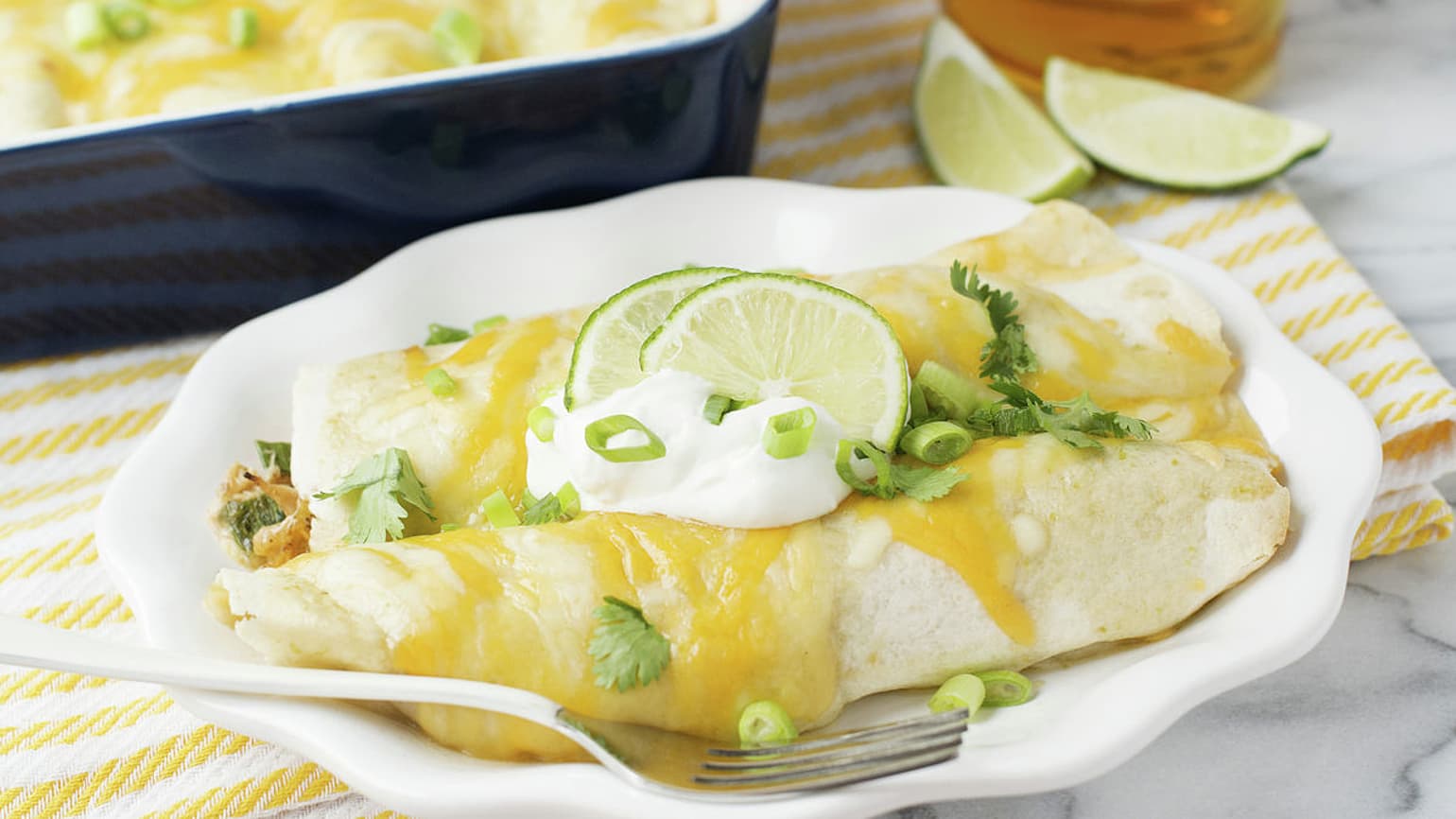 Slow-Cooker Honey Lime Chicken Enchiladas
Blogger Bree Hester of Baked Bree shares a favorite slow-cooker chicken enchilada recipe! These Slow-Cooker Honey Lime Chicken Enchiladas are started in the slow cooker and finished off in the oven. Sweet and tangy, flavorful and delicious, easy to make—what more could you ask for? These chicken enchiladas in the slow cooker are sure to be a hit.
Ingredient List
2 lbs. boneless skinless chicken breasts
2 cans (10 oz) Old El Paso™ Mild Green Chile Enchilada Sauce
1 can (4.5 oz) Old El Paso™ chopped green chiles
1 tablespoon chili powder
1 teaspoon garlic powder
1/2 teaspoon oregano
1 teaspoon salt
1/3 cup honey
1/4 cup lime juice
1 1 package (11 oz) Old El Paso™ Flour Tortillas for Burritos (8 Count)
2 cups shredded Mexican cheese blend
1/2 cup sour cream
1/4 cup cilantro, chopped
1/4 cup green onions, chopped
Advertisement
Recipe Continues Below
Preparation
Add chicken breasts, one can enchilada sauce, green chiles, chili powder, garlic powder, oregano and salt to the insert of a slow cooker. Cook on LOW for 3 to 5 hours, or until cooked through.
Preheat oven to 350°F. Remove chicken breast from slow cooker, leaving sauce in insert. Put chicken in a large bowl, shred with fork. Add honey and lime juice to reserved sauce, stir to combine. Pour over chicken. Add 1 cup cheese, sour cream, cilantro and green onions. Mix to combine.
On microwavable plate, stack tortillas and cover with paper towel; heat on High 1 minute to soften. Place 1/2 cup chicken mixture along middle of each tortilla. Roll up and place seam sides down in baking dish sprayed with cooking spray. Cover with the remaining can enchilada sauce and top with reserved cheese. Bake for 30 minutes or until cheese is melted and bubbly.
Garnish with additional sour cream, green onion, and cilantro if desired.
Expert Tips
You can substitute red enchilada sauce for green if you prefer.
You can make the chicken mixture for these slow-cooker chicken enchiladas one day ahead of time, and assemble the enchiladas when you are ready to serve.
These slow-cooker chicken enchiladas freeze well.
Nutrition
*Percent Daily Values are based on a 2,000 calorie diet