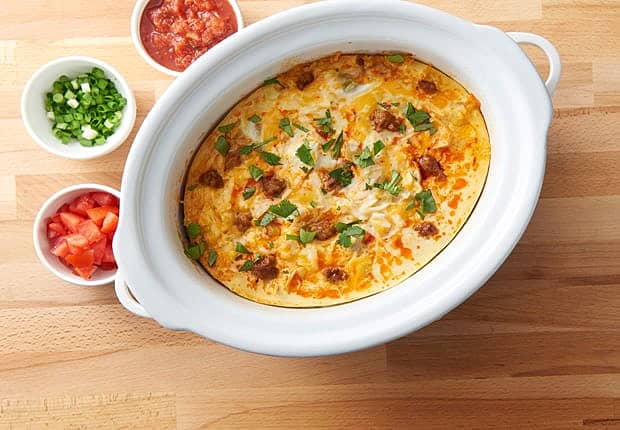 Slow-Cooker Tex-Mex Breakfast Casserole
Perfect for holiday entertaining or a lazy Saturday morning, this slow-cooker breakfast is no ordinary egg bake. The Tex-Mex flavors will kick-start your morning with a little heat from ingredients like taco seasoning mix, green chiles and salsa.
25 Minutes Prep
3 Hours 45 Minutes Total
Ingredient List
1 lb ground pork
1 package (1 oz) Old El Paso™ original taco seasoning mix
1/3 cup water
8 eggs
1 cup half-and-half
1 can (4.5 oz) Old El Paso™ chopped green chiles
2 cups shredded Cheddar cheese (8 oz)
1 cup shredded Monterey Jack cheese (4 oz)
5 cups frozen shredded hash brown potatoes, thawed (from 30-oz bag)
1 package (8 oz) cream cheese, cut into 1/2-inch cubes
Chopped tomatoes, sliced green onions, Old El Paso™ salsa, chopped fresh cilantro and sour cream, if desired
Advertisement
Recipe Continues Below
Preparation
Spray 5- to 6-quart oval slow cooker with cooking spray. In 10-inch nonstick skillet, cook pork over medium-high heat 5 to 7 minutes, stirring frequently, until no longer pink; drain. Stir in taco seasoning mix and water. Cook over medium heat 1 minute, stirring constantly to coat.
In large bowl, beat eggs and half-and-half with whisk. Stir in green chiles, shredded cheeses, hash brown potatoes and seasoned cooked pork. Carefully stir in cream cheese cubes. Transfer mixture to slow cooker.
Cover insert with large kitchen towel. Place slow-cooker lid on top of towel. (This will prevent condensation from dripping during cooking.)
Cook on High heat setting 3 to 3 1/2 hours, rotating insert after 1 1/2 hours. Cook until casserole is set and temperature in center is 165°F. Top with remaining ingredients.
Expert Tips
Rotating your slow cooker insert halfway through cook time helps prevent casserole from getting too brown around edges.
Take it up a notch by adding 1/4 teaspoon ground red pepper (cayenne) to the taco seasoning mix.
Serve with freshly diced jalapeño chiles for additional spicy heat.
Nutrition
1 Serving: Calories 500 (Calories from Fat 290); Total Fat 32g (Saturated Fat 16g, Trans Fat 1/2g); Cholesterol 245mg; Sodium 630mg; Potassium 580mg; Total Carbohydrate 27g (Dietary Fiber 2g; Sugars 4g); Protein 25g % Daily Value: Vitamin A 20%; Vitamin C 10%; Calcium 35%; Iron 8% Exchanges: 1 Starch, 0 Fruit, 1 Other Carbohydrate, 0 Skim Milk, 0 Low-Fat Milk, 0 Milk, 0 Vegetable, 0 Very Lean Meat, 1 Lean Meat, 2 High-Fat Meat, 2 1/2 Fat