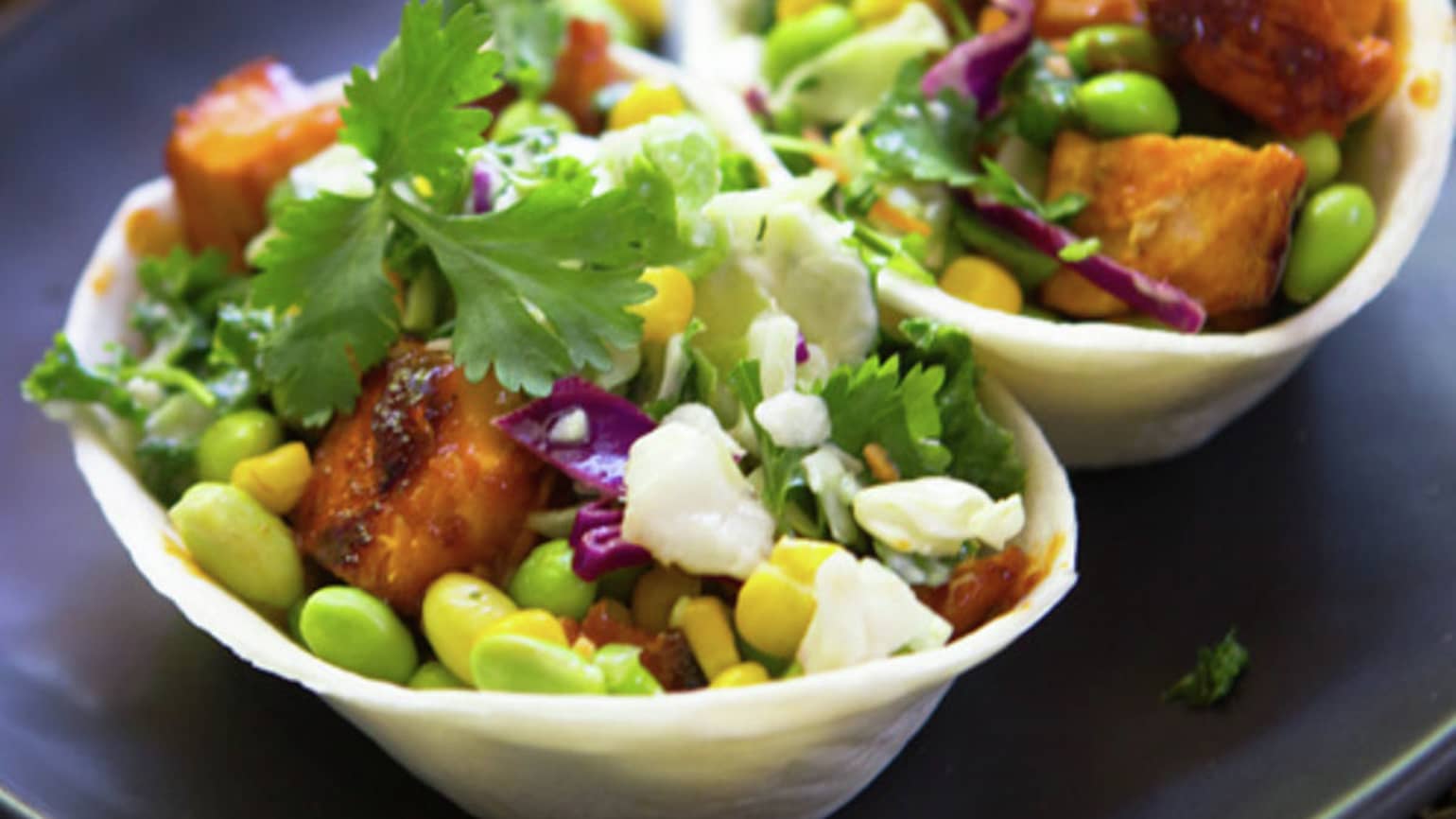 Spicy Grilled Salmon Tacos
Brooke McLay from
cheekykitchen
shares a favorite recipe. These simple salmon tacos are utterly scrumptious! Cook them on top of a grill pan to keep them from sticking the hot tines of the grill. Takes just a few minutes to prep and serve. Double or triple to feed a crowd!
Ingredient List
1 1/2 pound salmon, cubed
3/4 cup barbecue sauce
1/4 cup sriracha
1/3 cup frozen corn, thawed
1/3 cup shelled edamame
1/4 cup purple onions, finely chopped
1 lime, juiced and zested
2 cups Asian coleslaw mix
1/4 cup fresh cilantro
1/4 cup mayonnaise
2 tablespoons rice vinegar
2 tablespoons honey
1 Old El Paso™ Soft Tortilla Bowls
Advertisement
Recipe Continues Below
Preparation
In a large bowl, stir together salmon, barbecue sauce, and Sriracha. Set aside.
In a medium bowl, stir together corn, edamame, purple onions, lime zest, and lime juice. Set aside.
In a medium bowl, stir together coleslaw mix, cilantro, mayonnaise, rice vinegar, and honey.
Heat grill over to medium-high heat. Spray a grill tray with nonstick olive oil spray. Toss salmon cubes into the grill pan. Place on grill, cook for 5 minutes, then use a spatula to gently turn the salmon. Cook until cubes are cooked through, about 10-12 minutes.
Serve salmon in Old El Paso™ Stand 'N Stuff Soft Flour Tortillas, topped with corn salsa, and coleslaw.
Expert Tips
Don't have a grill pan? Thread the salmon cubes onto a wooden skewer and cook kabob style, instead!
Turn Down the Heat. For a more mild flavor, reduce the amount of Sriracha or omit it completely, if desire.
Nutrition
*Percent Daily Values are based on a 2,000 calorie diet