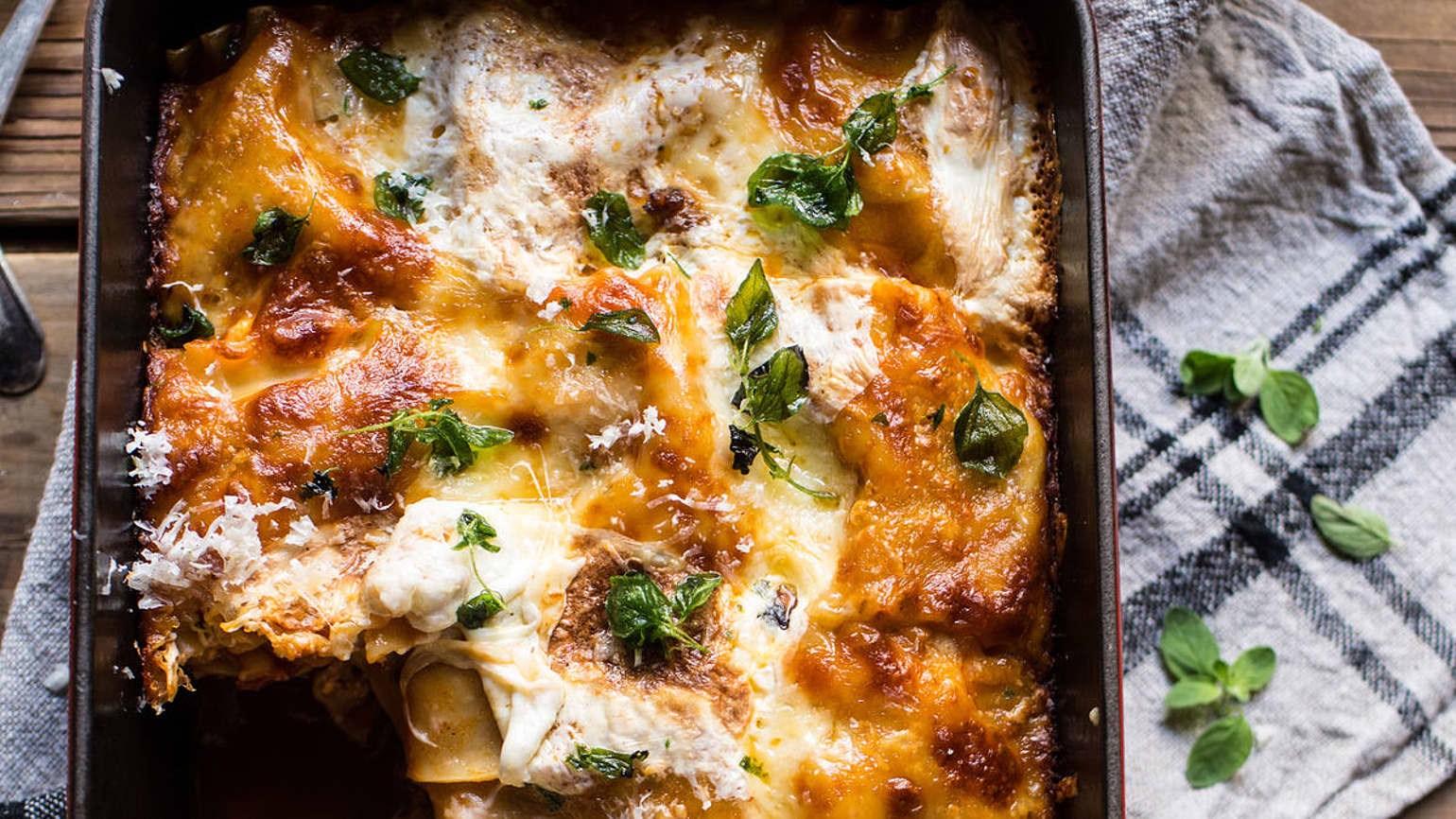 Spicy Mexican Lasagna Rolls
Get ready for a delicious dish full of spicy lasagna rolls: a yummy variation on classic lasagna that's all but guaranteed to be a crowd-pleaser. Our Spicy Mexican Lasagna Rolls are savory, flavorful and oh-so-cheesy, and we literally will never get tired of them. That's dinner, done!
Total Time
1 Hours
5 Minutes
Ingredient List
1 pound ground chorizo
1 (28 ounce) can crushed tomatoes
1 teaspoon cumin
1 teaspoon smoked paprika
1 teaspoon chipotle chili powder
1/2 cup whole milk
pinch of salt + pepper, to taste
1 pound lasagna noodles
6 ounces cream cheese, softened
2 cans (10 oz) Old El Paso™ Medium Red Enchilada Sauce
6 ounces fontina cheese, shredded
4 ounces sharp white cheddar cheese, shredded
1 bunch fresh oregano
2 tablespoons olive oil
Advertisement
Recipe Continues Below
Preparation
In a large, high-sided skillet, brown the chorizo all over, breaking up the meat as it cooks. Once the chorizo is browned all over, add the tomatoes, cumin, smoked paprika and chipotle chili powder stirring to combine. Slowly pour in the milk and bring the sauce to a bubble. Reduce the heat and simmer 15-20 minutes or until the sauce has thickened.
Meanwhile, bring a large pot of salted water to a boil and boil the pasta until al dente. Drain and run under cold water to stop the cooking.
Preheat the oven to 375°F.
Pour one can of enchilada sauce in the bottom of a lasagna pan or a 9 x 13 inch baking dish.
Lay the lasagna sheets flat on a clean surface and spread each with cream cheese. Once the chorizo sauce has thickened, spoon a little sauce onto each lasagna sheet and then roll it up into a cute little pasta roll. Place the pasta in the baking dish with the enchilada sauce and repeat with the remaining lasagna sheets + filling. Spoon any extra filling over the pasta and then pour the remaining can of enchilada sauce over the lasagna rolls. Sprinkle the cheese over the rolls. Cover the dish and place on a large cookie sheet with sides. Bake covered, for 30 minutes. Remove the foil and bake another 15 minutes or until the cheese is golden and browned.
Meanwhile, heat the olive oil in a skillet, once hot add the oregano leaves and fry the leaves 30 seconds. Drain on paper towels.
Garnish the lasagna rolls with the fried oregano. EAT!
Expert Tips
If you do not like chorizo, feel free to swap equal amounts ground beef, chicken or turkey. I personally love the flavor the chorizo adds.
To spice this up even more, add 1 (4 ounce) can Old El Paso™ diced green chilies.
Nutrition
1 Serving Calories 1050 (Calories from Fat 550); Total Fat 61g (Saturated Fat 27g ,Trans Fat 1g); Cholesterol 150mg; Sodium 2050mg; Potassium 770mg; Total Carbohydrate 80g (Dietary Fiber 6g ,Sugars 10g); Protein 45g
% Daily Value: Vitamin A 35%; Vitamin C 15%; Calcium 40%; Iron 30%
Exchanges: 4 Starch; 1 Other Carbohydrate; 1/2 Vegetable; 4 1/2 High-Fat Meat; 4 1/2 Fat
Carbohydrate Choice: 5
*Percent Daily Values are based on a 2,000 calorie diet