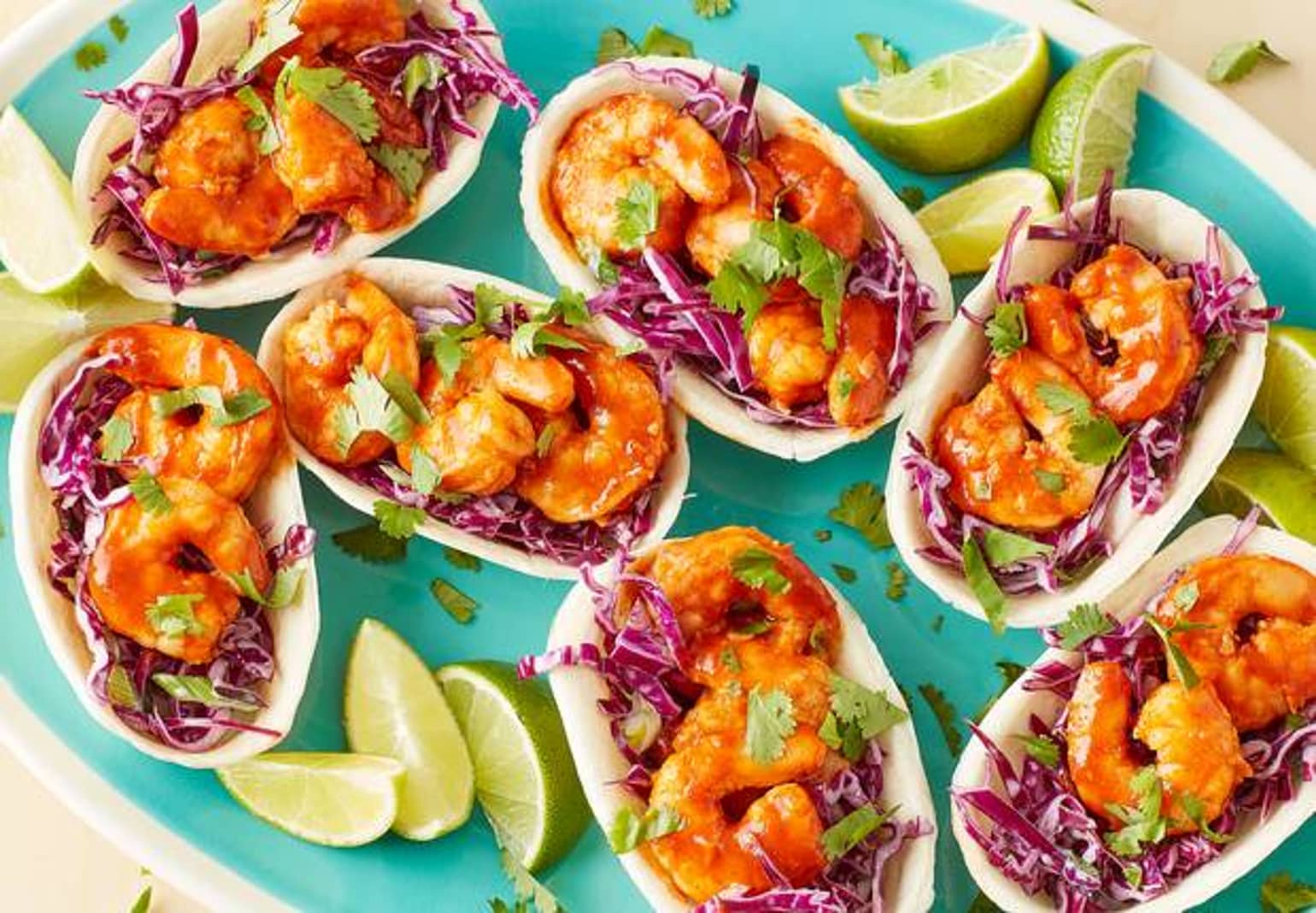 Spicy Mexican Shrimp Taco Bowls
Fresh, bright, sweet and hot—this meal packs everything you love about summer into one (mini) taco bowl! Just 30 minutes of prep time gets you a batch of spicy shrimp taco bowls ready to be plated up alongside some fresh lime wedges and cilantro garnishes. Perfect game watch appetizer or light meal? You decide!
Ingredient List
1/3 cup mayonnaise
1 tablespoon honey
1 teaspoon lime juice
1/4 teaspoon salt
3 cups coarsely shredded purple cabbage
1/2 cup thinly sliced green onions, cut on the bias
1 tablespoon butter
1 lb uncooked deveined peeled large shrimp, tail shells removed
2 cloves garlic, very finely chopped
1 tablespoon hot sauce
1 package (1 oz) Old El Paso™ original taco seasoning mix
12 Old El Paso™ Mini Taco Bowls™ soft flour tortillas
1/4 cup chopped fresh cilantro leaves
Lime wedges, if desired
Advertisement
Recipe Continues Below
Preparation
In medium bowl, mix mayonnaise, honey, lime juice and salt. Stir in cabbage and green onions; set aside.
In 12-inch skillet, melt butter over medium-high heat. Add shrimp; cook 2 to 3 minutes, turning once, until pink. Stir in garlic, hot sauce and taco seasoning mix. Heat to simmering. Reduce heat; simmer uncovered 1 to 2 minutes, stirring frequently, until thickened.
Heat bowls as directed on package. Divide cabbage mixture among bowls; divide shrimp mixture among bowls; top with cilantro, and serve with lime wedges.
Expert Tips
A nonstick skillet is great for many things, but it's not great for searing shrimp. In fact, it tends to make them water out a bit. If possible, use a regular skillet for this shrimp taco bowl recipe.
To save a few minutes of prep time when making your shrimp taco bowls, look for bagged pre-shredded purple cabbage.
Hate chopping garlic? Leave it out and use chili garlic sauce instead of regular hot sauce.
Nutrition
Calories140(Calories from Fat60),Total Fat7g(Saturated Fat2g,Trans Fat0g),Cholesterol55mgSodium370mgTotal Carbohydrate11g(Dietary Fiber0g Sugars2g),Protein7g;% Daily Value*:Vitamin A8%;Vitamin C10%;Calcium4%;Iron4%; Exchanges:0 Starch; 0 Fruit; 1/2 Other Carbohydrate; 0 Skim Milk; 0 Low-Fat Milk; 0 Milk; 0 Vegetable; 1 Very Lean Meat; 0 Lean Meat; 0 High-Fat Meat; 1 1/2 Fat; Carbohydrate Choices:1
*Percent Daily Values are based on a 2,000 calorie diet.