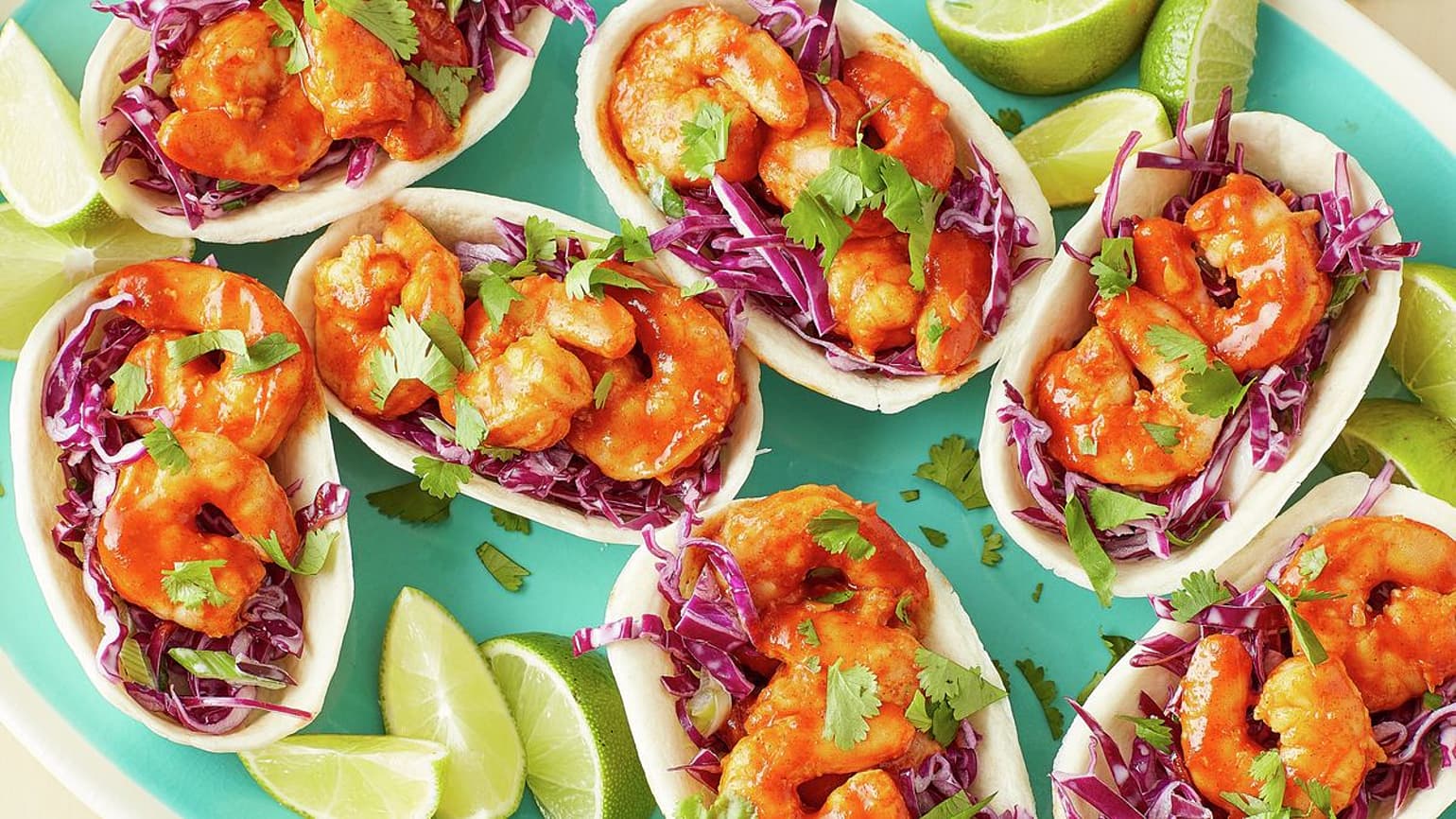 Spicy Mexican Shrimp Taco Bowls
Fresh, bright, sweet and hot—this meal packs everything you love about summer into one (mini) taco bowl! Just 30 minutes of prep time gets you a batch of spicy shrimp taco bowls ready to be plated up alongside some fresh lime wedges and cilantro garnishes. Perfect game watch appetizer or light meal? You decide!
Ingredient List
Slaw
1/3 cup mayonnaise
1 tablespoon honey
1 teaspoon lime juice
1/4 teaspoon salt
3 cups coarsely shredded purple cabbage
1/2 cup thinly sliced green onions, cut on the bias
Shrimp
1 tablespoon butter
1 lb uncooked deveined peeled large shrimp, tail shells removed
2 cloves garlic, very finely chopped
1 tablespoon hot sauce
1 package (1 oz) Old El Paso™ original taco seasoning mix
1 package (5.1 oz) Old El Paso™ Flour Soft Tortilla Mini Bowls (12 Count)
1/4 cup chopped fresh cilantro leaves
Lime wedges, if desired
Advertisement
Recipe Continues Below
Preparation
In medium bowl, mix mayonnaise, honey, lime juice and salt. Stir in cabbage and green onions; set aside.
In 12-inch skillet, melt butter over medium-high heat. Add shrimp; cook 2 to 3 minutes, turning once, until pink. Stir in garlic, hot sauce and taco seasoning mix. Heat to simmering. Reduce heat; simmer uncovered 1 to 2 minutes, stirring frequently, until thickened.
Heat bowls as directed on package. Divide cabbage mixture among bowls; divide shrimp mixture among bowls; top with cilantro, and serve with lime wedges.
Expert Tips
A nonstick skillet is great for many things, but it's not great for searing shrimp. In fact, it tends to make them water out a bit. If possible, use a regular skillet for this shrimp taco bowl recipe.
To save a few minutes of prep time when making your shrimp taco bowls, look for bagged pre-shredded purple cabbage.
Hate chopping garlic? Leave it out and use chili garlic sauce instead of regular hot sauce.
Nutrition
1 Taco Bowl Calories 140 (Calories from Fat 60); Total Fat 7g (Saturated Fat 2g ,Trans Fat 0g); Cholesterol 55mg; Sodium 370mg; Potassium 135mg; Total Carbohydrate 11g (Dietary Fiber 0g ,Sugars 2g); Protein 7g
% Daily Value: Vitamin A 8%; Vitamin C 10%; Calcium 4%; Iron 4%
Exchanges: 1/2 Other Carbohydrate; 1 Very Lean Meat; 1 1/2 Fat
Carbohydrate Choice: 1
*Percent Daily Values are based on a 2,000 calorie diet