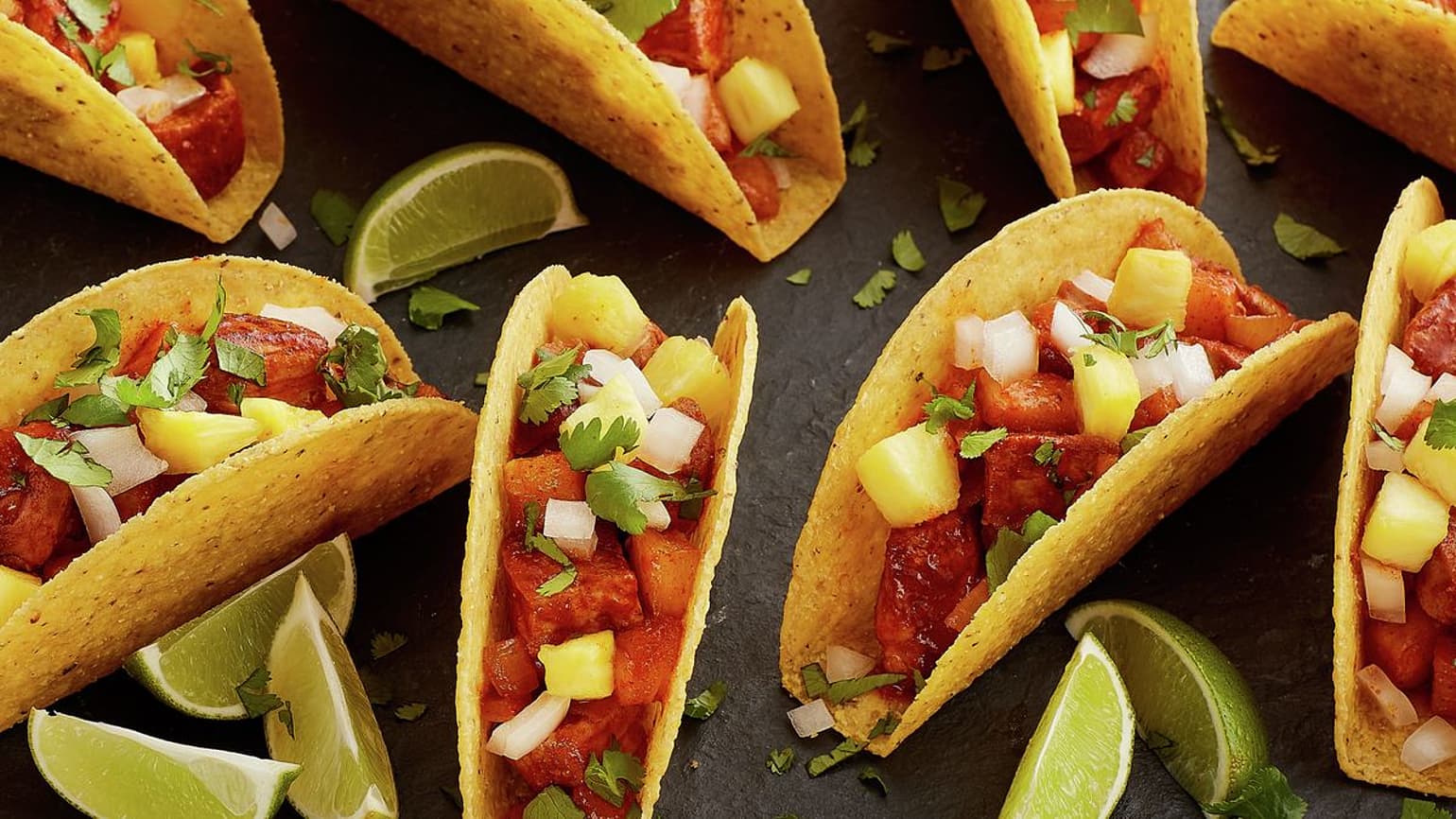 Stand 'N Stuff™ Tacos al Pastor
The classic pineapple, onion and rotisserie pork flavors of al pastor come together quickly and easily in this skillet riff on the original, using pork tenderloin and Stand 'N Stuff™ taco shells.
Ingredient List
2 tablespoons vegetable oil
1 1/4 lb pork tenderloin, cut into 1-inch pieces
2 1/2 cups diced fresh pineapple
1 1/4 cups diced white onions
1/2 cup water
1 package (1 oz) Old El Paso™ original taco seasoning mix
10 Old El Paso™ Stand 'N Stuff™ taco shells
2 tablespoons chopped fresh cilantro leaves
Lime wedges
Old El Paso™ Thick 'n Chunky salsa, as desired
Advertisement
Recipe Continues Below
Preparation
In 12-inch nonstick skillet, heat oil over medium-high heat. Add pork; cook 4 minutes without moving. Cook 2 to 3 minutes longer, stirring occasionally, until no longer pink in center. Stir in 1 1/2 cups of the pineapple and 1 cup of the onions; cook 6 to 7 minutes longer, stirring occasionally, until onions soften and pineapple begins to brown. Stir in water and taco seasoning mix; heat to simmering. Reduce heat; simmer uncovered 2 to 3 minutes, stirring frequently, until thickened.
While pork is cooking, heat taco shells as directed on package. Divide pork mixture among shells; sprinkle with remaining 1 cup pineapple, 1/4 cup onions and the cilantro. Serve with lime wedges and salsa.
Expert Tips
Don't skip the step of trimming the pork tenderloin. That membrane doesn't cook away, and it prevents flavors and seasonings from getting to the meat. To remove slippery silverskin, run a knife underneath the shiny membrane, and slice to remove the silverskin while removing as little meat as possible.
To cut a pineapple, slice off the top (crown end) and bottom, then stand up on cut bottom side. Use knife to cut off the skin side from top to bottom, removing eyes as much as possible while leaving flesh intact. Slice pineapple top to bottom around core in several pieces; discard core. Dice remaining flesh.
Nutrition
1 Serving Calories 200 (Calories from Fat 70); Total Fat 8g (Saturated Fat 3 1/2g ,Trans Fat 0g); Cholesterol 35mg; Sodium 270mg; Potassium 270mg; Total Carbohydrate 17g (Dietary Fiber 1g ,Sugars 5g); Protein 14g
% Daily Value: Vitamin A 4%; Vitamin C 20%; Calcium 2%; Iron 6%
Exchanges: 1/2 Starch; 1/2 Fruit; 2 Lean Meat; 1/2 Fat
Carbohydrate Choice: 1
*Percent Daily Values are based on a 2,000 calorie diet