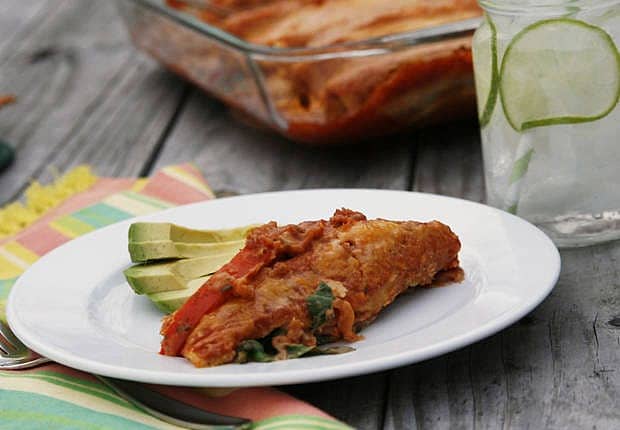 Veggie and Bean Enchiladas
Blogger Sarah W. Caron from Sarah's Cucina Bella shares a favorite recipe for Veggie and Bean Enchiladas. Bake up a creamy veggie and refried bean-filled masterpiece tonight for a delicious, easy, crave worthy dinner.
10 Minutes Prep
35 Minutes Total
Ingredient List
1 jar (16-oz) medium salsa
1/2 cup vegetable stock
2 tablespoon all-purpose flour
1 tablespoon canola oil
1 red bell pepper, seeded and sliced
1 onion, halved and sliced very thin
Salt and pepper, to taste
1/4 cup minced fresh cilantro
1 can Old El Paso™ Traditional Refried Beans
1 cup packed baby spinach
8 corn tortillas, warmed per package directions
1 cup shredded sharp cheddar cheese
1 ripe avocado, pitted, peeled and sliced
Preparation
Preheat the oven to 375°F.
Combine the salsa, vegetable stock and flour in a blender and blend until it's completely smooth.
Scrape down the sides as needed to get it just right.
Heat the canola oil in a large skillet over medium heat. Add the red peppers and onions to the skillet. Season well with salt and pepper. Saute, stirring occasionally, for 5-7 minutes, until softened. The onions should be translucent. Transfer to a bowl and stir in the cilantro.
Meanwhile, pour half of the salsa-based sauce into an oven-safe rectangle pan. Tilt the pan to spread the sauce all around so that it's in one even layer. Lay the warmed tortillas out on a work surface and divide the refried beans evenly among them. Top each with 1/8 of the spinach and 1/8 of the peppers and onions mixture. Roll up and place seam-side down in the pan. Repeat until all the tortillas are in the pan. Pour the remaining sauce over, taking care to cover each tortilla.
Sprinkle with cheddar cheese.
Bake for 15-20 minutes, until the cheese is melted and the sauce is bubbling.
Serve immediately with sliced avocado.
Expert Tips
Substitute vegetarian refried beans for the original, if desired, to make this a vegetarian meal. Like a lot of heat? Then use hot salsa instead of medium!
Made With