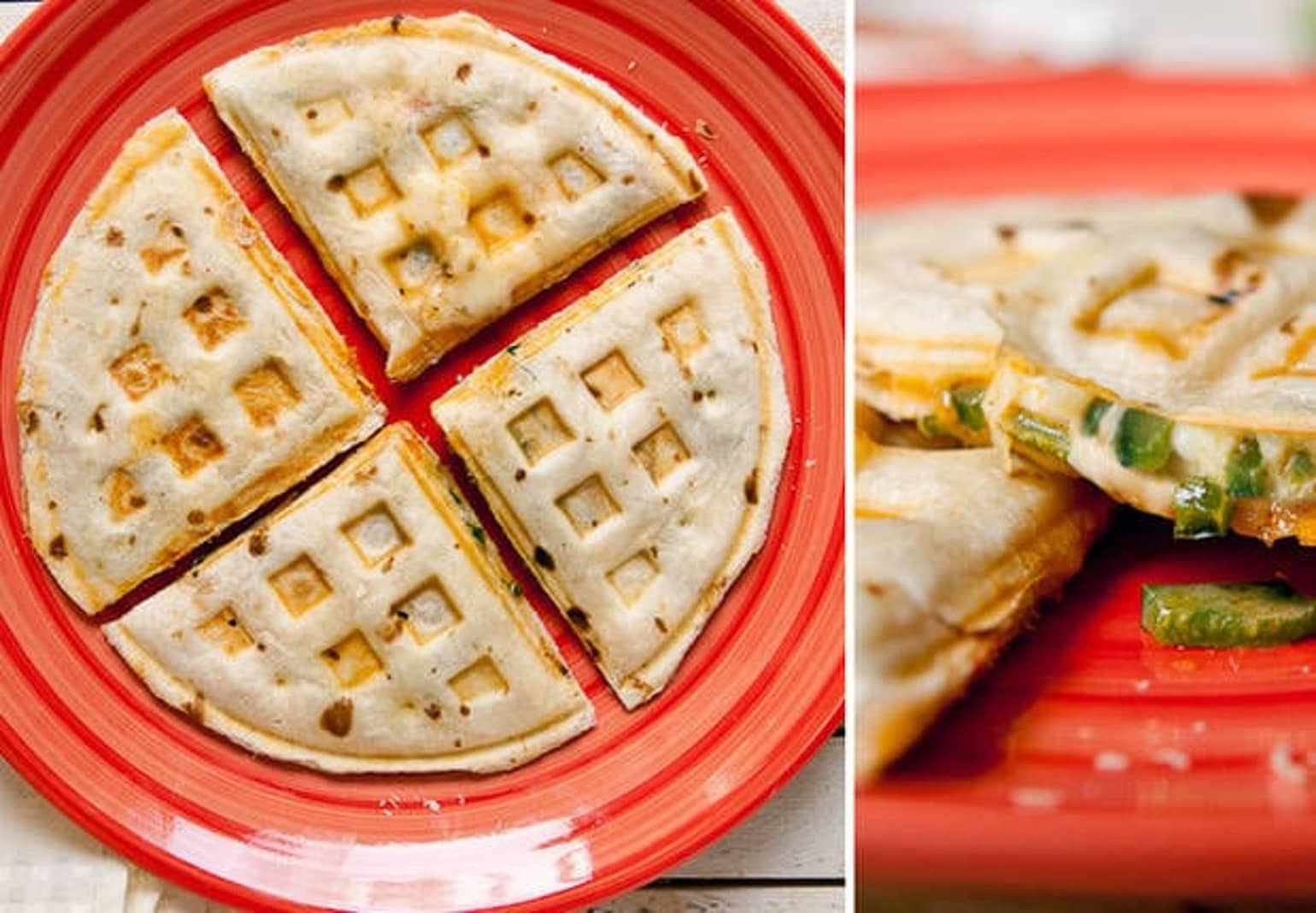 Waffle Iron Quesadillas Recipe
A quick way to make a quesadilla in your waffle maker! By Tablespoon Kitchens
Ingredient List
1 tablespoon olive oil
1 poblano pepper, thinly sliced
1 jalapeño, seeded and diced
4 medium Old El Paso™ flour tortillas
1 –to 1-1/2 cups pepper jack cheese, grated
2 teaspoons Old El Paso™ taco seasoning mix
Sour cream, for garnish
Salsa, for garnish
Cilantro, for garnish
Advertisement
Recipe Continues Below
Preparation
1 In a small skillet over medium heat, add a drizzle of oil followed by the poblano and jalapeno peppers. Cook for a minute or two until they just start to soften. Season the peppers with a small pinch of salt.
Heat your waffle iron and cut tortillas to fit the waffle iron if necessary.
Place a tortilla on the waffle iron and add a small amount of grated cheese, followed by about half of the pepper mix. Sprinkle on some Old El Paso™ taco seasoning mix and another good handful of cheese. Top with a second tortilla and close the waffle iron.
Cook the quesadilla until the cheese is melted and bubbling out and the tortilla is lightly browned. Remove quesadilla using a fork or knife, and cut into quarters for easy serving. Garnish with extra salsa, cilantro and sour cream as desired.
Expert Tips
Dab a paper towel in a neutral oil and wipe the plates of your waffle iron before cooking to make sure the quesadilla doesn't stick!