Your Comprehensive Guide to Margarita Mixing
Margaritas are a staple of quality Tex-Mex and a great way to bring flavor and fun to your night. In fact, a good marg can complete the meal. Luckily, we have all the tips and tricks you need to become a master margarita mixologist.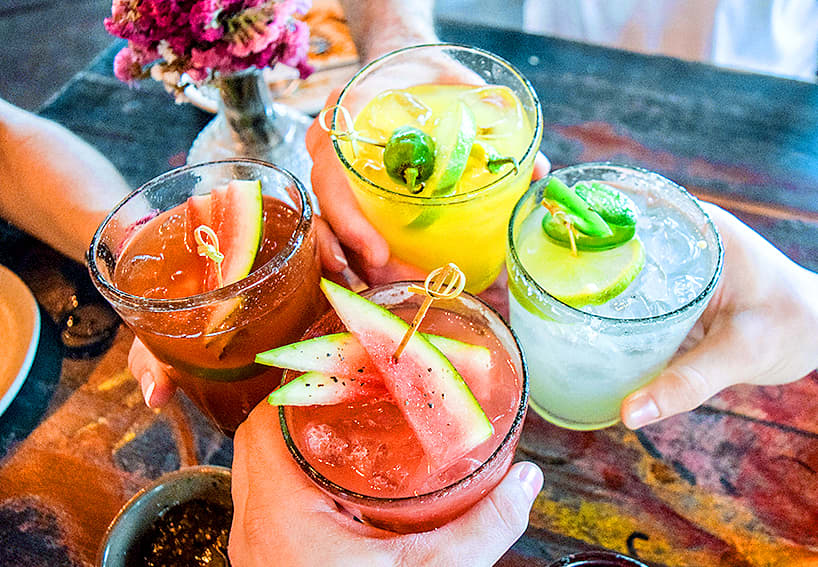 Gather the Goods
There are a few necessities you need on hand to make a masterful margarita. Before you start mixing, ensure that you have the following:
Tequila blanco or tequila reposado (Margaritas are traditionally made with tequila, but for a nontraditional marg, vodka is a delicious substitute.)
Orange Liqueur
Limes
Salt or sugar
Mixer
Mix the Marg
Step 1: Salt or sugar your glass by pouring some onto a plate. Run a lime wedge around the rim and dip the rim of the glass into the salt or sugar and give it a twist.
Step 2: Add your ingredients to your mixer.
4 oz liquor
2 oz liqueur
Fresh lime juice to taste
Step 3: Pour over the rocks (over ice) and serve or add to a blender for a frozen marg.
Feeling Classic or Creative?
Celebrate margarita day in a creative way. Margaritas are a deliciously versatile drink that can be made with so many flavor combos. Looking to venture out? Check out some of our favorite margarita flavors:
Cucumber & Cilantro
Strawberry & Basil
Blueberry & Mint
A Meal to Match
Make your marg with a meal to match. While a Margarita is great on its own, it's even better when paired with delicious Tex-Mex. Check out these perfect Old El Paso recipes: