How To Choose Between Corn Tortillas and Flour Tortillas
It's hard not to love tortillas. From the soft pillowy texture of a flour tortilla to the earthy, complex flavor and texture of a corn tortilla, they're a must with any Tex-Mex meal. But, there are a lot of questions that swirl around the two, mainly: what is the difference between corn and flour tortillas? We've got the answer to that and more. Let's talk tacos… or should we say tortillas.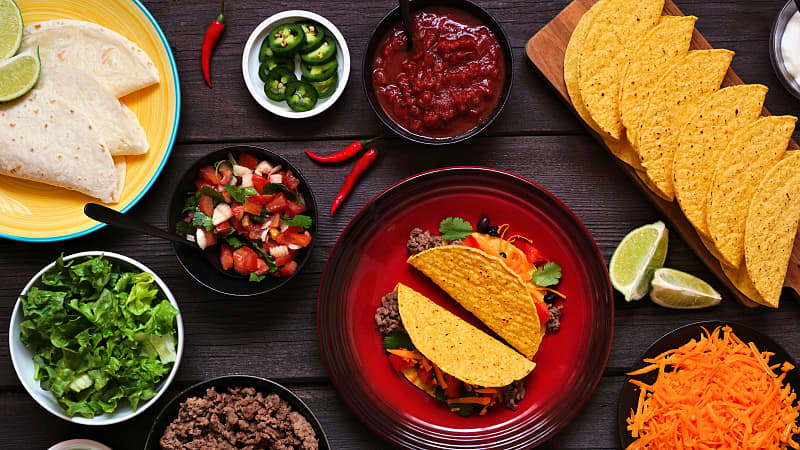 THE GREAT TORTILLA DEBATE: CORN VS. FLOUR
There is no denying they are both tasty, and for many occasions, they work equally as well. When it comes to choosing, you can go off what you have on hand or what you prefer. But we did round up a few tips to help decide when to use each tortilla.
HOW ARE CORN TORTILLAS MADE? AND WHAT MAKES THEM SO GOOD?
There's more behind corn tortillas than just the delicious taste. The process of making corn tortillas is called nixtamalization. It involves cooking corn (also called maize) in an alkaline solution of calcium hydroxide, or limewater. Next, corn kernels are stone-ground to create corn dough (called a masa). Next, it's shaped, flattened into thin disks, and baked to create a tortilla!
If you're carb-conscious, corn tortillas tend to have fewer carbs, less fat, and more fiber than flour tortillas. They are also a whole-grain food that's gluten-free and celiac-friendly. We love an inclusive meal moment!
WHAT'S SO SPECIAL ABOUT CORN TORTILLAS?
While corn tortillas are less sturdy than flour tortillas, they don't absorb liquids from meats, sauces, and condiments like flour tortillas do. That's why corn tortillas are more commonly used to hold taco fillings. They are also found in hard and soft shell varieties.
WHAT ARE THE BEST USES?
If you're looking for that epic crunch, this is 'crispy corn tortillas' time to shine. They also offer a sturdy base for shredded meats, taco-seasoned ground beef, grilled fish, and shrimp. For tostadas and variations (like huevos rancheros), a fried corn tortilla is crispy enough to stand up to heavy toppings and sauces and is always delicious. Or, if you're feeling a soft corn shell moment, this variation works great for street tacos, enchiladas, and more!
HOW ARE FLOUR TORTILLAS MADE? AND WHAT MAKES THEM SO GOOD?
Typically made from wheat, flour tortillas contain gluten and feature a soft pillowy texture. Traditionally, flour tortillas are made with lard; however, Old El Paso's flour tortillas are made with vegetable-based fats! That's what gives them their flexible nature and makes flour tortillas perfect for wraps, roll-up, and so much more.
Old El Paso flour tortillas come in several different sizes, but don't sleep on the convenient bowl shapes, which make filling and eating easy (not to mention delicious). The regular-sized bowls are a nice size for Tex-Mex meals, while the mini bowls are great for apps, light bites, and the perfect addition to kids' lunchboxes!
WHAT'S SO SPECIAL ABOUT FLOUR TORTILLAS?
Versatile is the name of the game with flour tortillas, and they work with almost any flavor profile. They can also hold their own when faced with large quantities of meat and vegetables. We love to see it.
WHAT ARE THE BEST USES?
When a burrito craving strikes, flour tortillas are the way to go. They're flexible and don't tear or crack easily, even when loaded up with Tex-Mex goodness. We also love a flour tortilla for quesadillas! They offer a soft and pliable texture that toasts up nicely on a griddle or in a skillet.
Flour tortillas are also a great neutral base for fusion fillings such as classic American foods or even elevated Asian appetizers thanks to the mild flavor. Or, for a fun twist that's also super portable, grab your Old El Paso's Soft Tortilla Taco Bowls. As you know, our bowls also come in the mini-size and are a lunchtime must-try for the kiddos. Why? Good question. Not only are they delicious, but they contain all the ingredients, so the meal stays contained. Easy, portable, and delicious? That's what we're talking about!