Your Guide to Incorporating More Fish Into Your Tex-Mex Meals
Whether your family is full of seafood lovers or you're looking to switch up your go-to menu, this handy guide breaks down our best tips on adding seafood flavors to your Tex-Mex cooking. These recipes are sure to make a splash at the dinner table.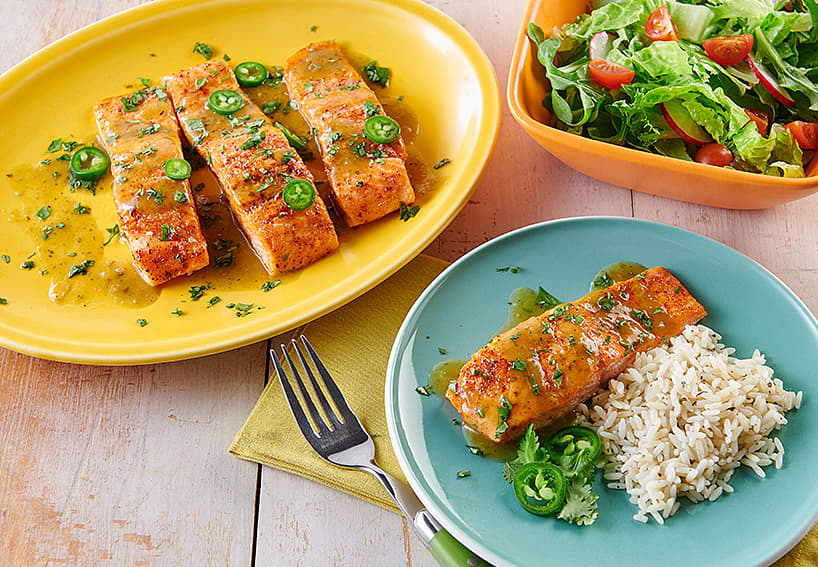 What Types of Fish Work Well in Tex-Mex Meals?
Almost any type of fish or seafood can work well in Tex-Mex meals! From family-friendly breaded cod to more elevated fare like shrimp and mahi-mahi, there's a place for a wide variety of seafood in tacos, salads, fajitas, burrito bowls and more.
How to Cook Fish in Mexican and Hispanic Meals
Finding the right cooking method for Tex-Mex fish meals depends on the type of fish and the type of meal. Here are some tasty ways to prepare seafood for Tex-Mex cooking.
Thinner whitefish fillets like tilapia or catfish are good fits for pan-frying to use in tacos, fajitas and burrito bowls.
Baked or broiled salmon fillets topped with fruit salsa and served with rice or mixed greens make for an easy, fresh and tasty dinner.
Thick fish fillets and steaks like sturdy red snapper, halibut, or mahi-mahi fillets are ideal fish for grilling. Pair with boiled, grilled, fried, or sautéed shrimp for even more Tex-Mex flavor.
Pre-breaded frozen fish such as cod or haddock works well for crispy fish tacos.
Delicate fish and seafood like flounder or tilapia can be marinated with a light oil coating, taco seasoning and lime juice for added flavor, though most Tex-Mex fish recipes don't require a long time in a marinade.
What to Serve With Mexican-Inspired Fish?
Guacamole, fruit salsas and pico de gallo are natural pairings for fish. For fried fish, a squeeze of citrus before serving can brighten the meal, so consider serving with lime wedges. Sour cream also adds a slight acidity while providing pleasant creaminess for fish tacos and fajitas.
For grilled seafood dinners, consider adding fresh veggies like corn on the cob and bell peppers to the grill. A simple slaw or a lightly-dressed mixed green salad (with a drizzle of olive oil, a squeeze of lime and a sprinkle of salt and pepper) also works well with most seafood meals.
While rice is an excellent side for Tex-Mex meals, don't feel locked in. Other sides like quinoa, lentils, potatoes and sweet potatoes also pair well with fish and seafood.
Flavorful Finishing Touches
Lastly, the classic Tex-Mex toppings of sliced green onions, chopped fresh cilantro and sliced jalapeños add bright, fresh flavor to fish dishes.
Easy Tex-Mex Seafood Recipes
Now that you're equipped with our tips and tricks for cooking up Tex-Mex-inspired seafood dishes, explore some simple and delicious recipes for a satisfying family meal.