5 Ways to Spice Up Guacamole
Do you prefer your guacamole smooth or chunky? Does your family prefer it as a dip or as a tasty way to liven up tacos, wraps and eggs? However you like it, guacamole is a fan favorite for almost any occasion. The best part is, that personalizing this popular dish couldn't be easier.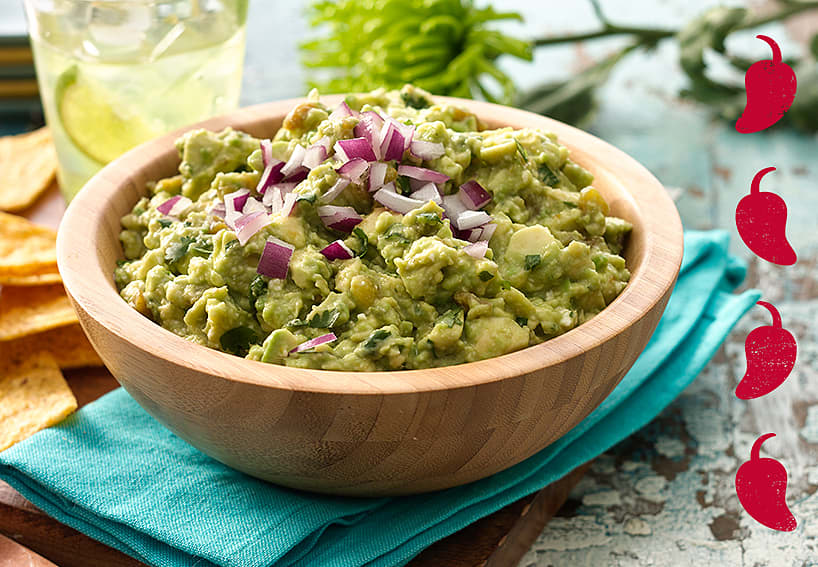 When it comes to what to put in homemade guacamole, you may be familiar with the classic ingredients like smashed avocados, fresh lime juice, cilantro, red onion and salt, but if you're looking to kick things up a notch, these tasty ingredients are just what you need to spice up guacamole.
Add-Ins to Perk Up Your Guacamole
There's a fun guacamole recipe for every taste. Once you get the basic creamy, tangy and texture elements of a great guac, the sky's the limit for customization. Here are some of our favorite ways to spice up guacamole.
What to Put in Homemade Guacamole
Jalapeños: The heat from jalapeños comes from the pith and ribs of the pepper. If you like a little kick in your food, dice up some spicy jalapeño flavor and mix it into your guac to your family's preference.
Roasted Tomatoes: Add some sweet summer-inspired flavor to your favorite guacamole recipe with roasted tomatoes. They brighten up the guac and taste delicious when used as an ingredient for avocado toast. Be sure to drain your roasted tomatoes as much as possible so they don't add too much liquid to the guacamole.
Fire-Roasted Corn: You can make your own fire-roasted corn by sauteing fresh or thawed frozen corn kernels in a hot skillet until they are charred in spots. This creative use of corn in guacamole brings loads of flavor that's perfect for parties and family dinners on the patio.
Queso Fresco: Guacamole and cheese are a perfect combination. Queso fresco in guac makes for a delicious dip that's perfect for the appetizer table. Instead of tortilla chips, give vegetables like baby carrots and celery a try.
Poblano Peppers: For mild to medium heat, add some poblano peppers to your guacamole. If you love the charred, subtly smoky flavor of smoked poblanos, throw some peppers on the grill, then steam in a bowl covered in plastic wrap, peel, seed and chop, for an all-new flavor profile.
Creative Guacamole Recipes