Make St. Patrick's Day extra special this year with a fun craft! Grab the family, gather around the table and put your creativity to the test. We've got everything you need to make lasting memories, from a craft worth its weight in gold to a super tasty meal. Let's dive in!
Let's Make A Pot Of Gold!
Start by deciding on a theme. Do you want your pot of gold to look like a traditional black cauldron, or are you going to switch it up and use St. Patrick's Day colors and images? Just remember, when it comes to creativity, the sky is the limit.
Next, gather your materials. Grab an old tissue box, a small box, or even a paper bowl.
After you have your theme and materials, get to decorating! Consider painting your box or paper bowl, using markers to decorate, or even cutting out shamrocks from construction paper and gluing them on. Now, it's time for the best part, the gold coins. Grab an Old El Paso box and cut out a few circles. Then add your coins to the pot.
How It Works
Don't sweat it; this is easier than you think!
Gather your materials: Round up what you're using for your pot of gold, as well as your Old El Paso box to make your gold coins.
Get creative: Start decorating! From sparkles to paint, let the creativity soar. Consider even using construction paper to make a handle for your pot of gold.
Keep it fun: When you're finished, proudly show each other your final product! Parents, consider hiding the pots and letting your kids find them.
Make For Dinner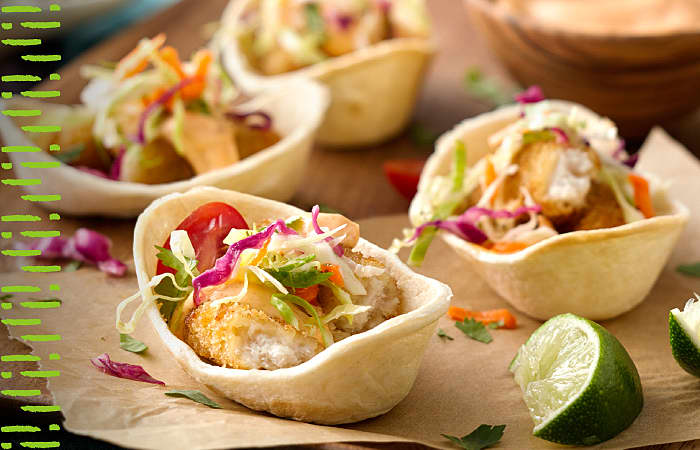 There's a reward at the end of every rainbow, and in this case, it's a flavor-packed meal! Give our Mini Fish Taco Bowls a try for a meal the whole family will love.
About Our Partnership
Old El Paso is proud to continue our ongoing partnership with the LeBron James Family Foundation. Together we share a passion and a mission to bring families together and inspire the next generation of community leaders. We believe family time should be celebrated and moments shared around family meals have the power to create real positive change.