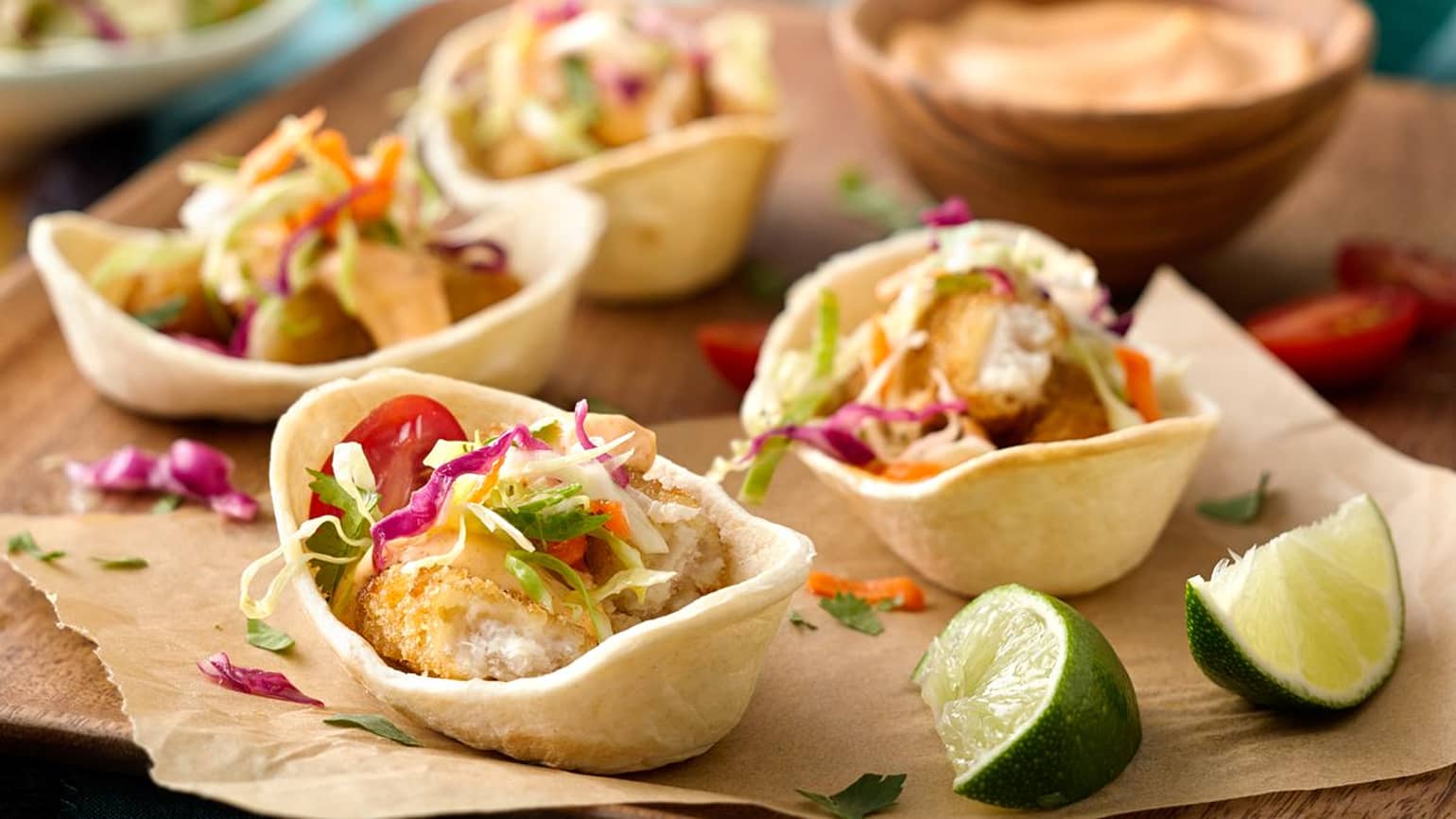 Mini Fish Taco Bowls
These Mini Fish Taco Bowls are crispy, fresh and just plain fun to make and eat. Serve them up as an appetizer before a game watch or as a light snack. Taco seasoning adds just a little kick to keep things interesting.
Ingredient List
12 frozen fully cooked breaded fish tenders
1 1/2 cups coleslaw mix
2 tablespoons lime-cilantro dressing
1 tablespoon chopped fresh cilantro
1/2 cup mayonnaise
1 teaspoon Old El Paso™ taco seasoning mix (from 1-oz package)
1 teaspoon fresh lime juice
1 package (5.1 oz) Old El Paso™ Flour Soft Tortilla Mini Bowls (12 Count)
Make it FRESH toppings, as desired (see below)
Advertisement
Recipe Continues Below
Preparation
Bake fish tenders as directed on package.
Meanwhile, in medium bowl, stir together coleslaw mix, dressing and cilantro. In small bowl, mix mayonnaise, taco seasoning mix and lime juice.
Heat taco bowls as directed on package.
Fill each warmed taco bowl with cooked fish tender and a heaping tablespoon coleslaw. Top with taco mayonnaise. Serve with Make it FRESH toppings.
Expert Tips
Ideas for Make it FRESH toppings: halved cherry tomatoes, fresh cilantro leaves, lime wedges.
Lime-Cilantro dressing is available at most grocery stores. If you can't find it, substitute your favorite vinaigrette to give your Mini Fish Taco Bowls a slightly different flavor.
Like it hot? Serve with your favorite hot sauce or sliced fresh jalapeños.
Nutrition
2 Bowls Calories 350 (Calories from Fat 220); Total Fat 24g (Saturated Fat 4g ,Trans Fat 0g); Cholesterol 25mg; Sodium 710mg; Potassium 95mg; Total Carbohydrate 26g (Dietary Fiber 1g ,Sugars 3g); Protein 7g
% Daily Value: Vitamin A 8%; Vitamin C 6%; Calcium 4%; Iron 8%
Exchanges: 1/2 Starch; 1 Other Carbohydrate; 1/2 Vegetable; 1/2 Very Lean Meat; 4 1/2 Fat
Carbohydrate Choice: 2
*Percent Daily Values are based on a 2,000 calorie diet