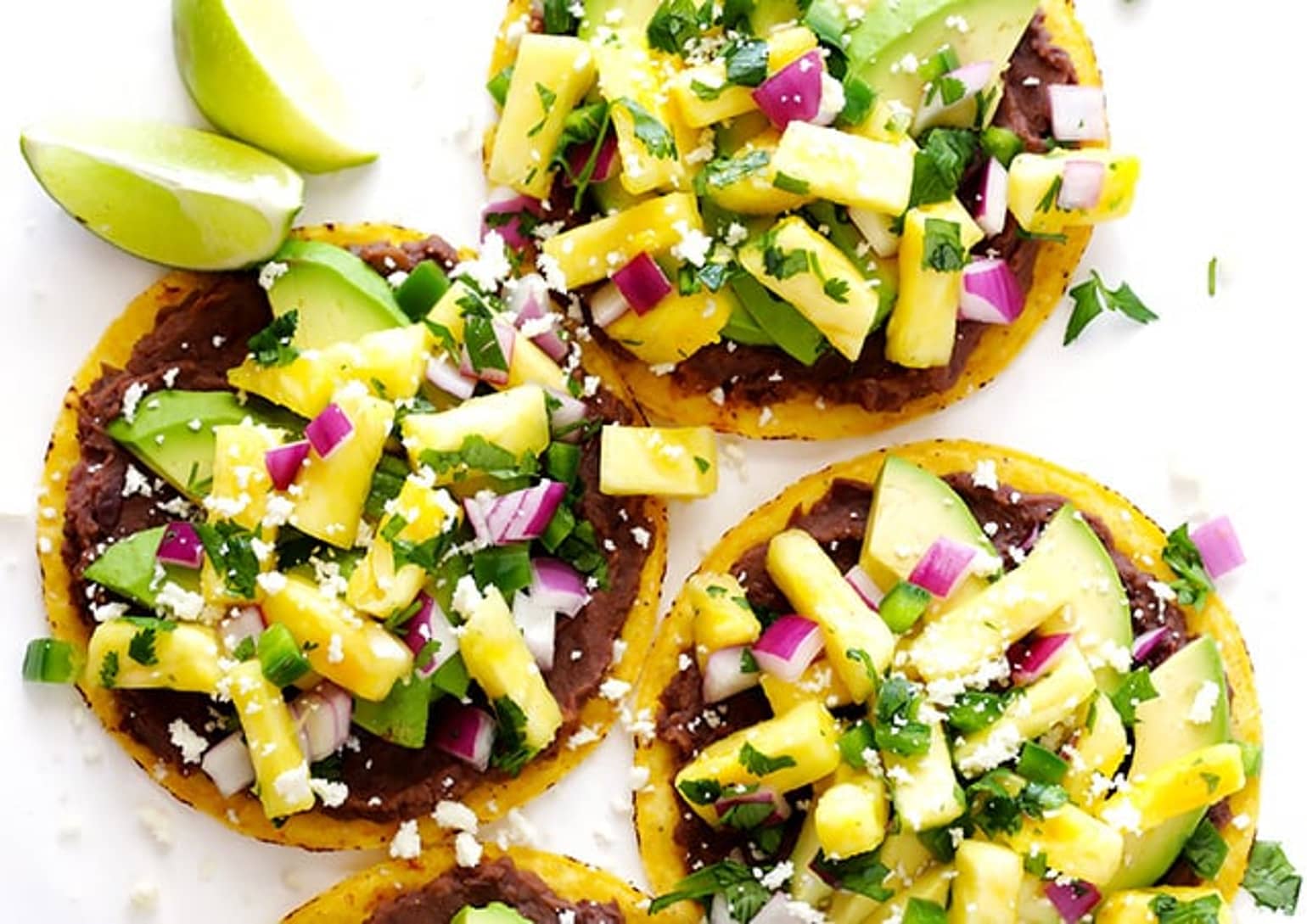 10-Minute Pineapple Black Bean Tostadas
Craving a delicious meal or snack and don't want to spend time cooking? Black bean tostadas are the tasty answer. Ready in just 10 minutes, you can build this pineapple and black bean tostadas recipe with Old El Paso™ Tostada Shells and Old El Paso™ Black Bean Refried Beans. Mix up a homemade salsa using pineapple, cilantro, red onion, jalapeño, lime juice and cumin. Every bite of this vegetarian tostada recipe is a blast of juicy fresh flavors on a crispy shell. Plus, this recipe is great for summer meals because it will keep your kitchen cool and is easy to prep ahead of time and build at a picnic.
Ingredient List
1 (12-count) package Old El Paso™ Tostada Shells
2 (16-ounce) cans Old El Paso™ Black Bean Refried Beans
2 avocados, peeled, pitted and sliced
1 batch pineapple salsa (see below)
crumbled queso fresco
2 cups diced fresh pineapple
⅔ cup loosely-packed chopped fresh cilantro
½ cup diced red onion
1 small jalapeño, seeded and finely-chopped
2 tablespoons fresh lime juice
¼ teaspoon ground cumin
¼ teaspoon salt
⅛ teaspoon black pepper
Advertisement
Recipe Continues Below
Preparation
To Make The Pineapple Salsa: Toss all ingredients together until combined.
To Make The Tostadas: Place a tostada shell on a flat work surface. Carefully spread a large spoonful of the refried beans evenly on top of the tostada.
Top with a few slices of avocado, then add on a large spoonful of pineapple salsa. Sprinkle with a pinch of queso fresco. Serve immediately.
Expert Tips
Feeling adventurous? Try hotter peppers, such as serrano or even habanero, instead of the jalapeño in your black bean tostadas.
The best bean tostadas have perfect avocado slices. Here's how: opt for just-ripe avocados so that the slices keep their shape after cutting. Cut avocado lengthwise through skin and flesh around the pit. With hands, slowly twist both sides of the avocado to separate. Gently slide large spoon under pit to remove. Use a spoon to scoop out each half of the avocado. With a knife, thinly slice each half.
For an even easier version, skip the homemade salsa and top with your favorite jarred salsa.