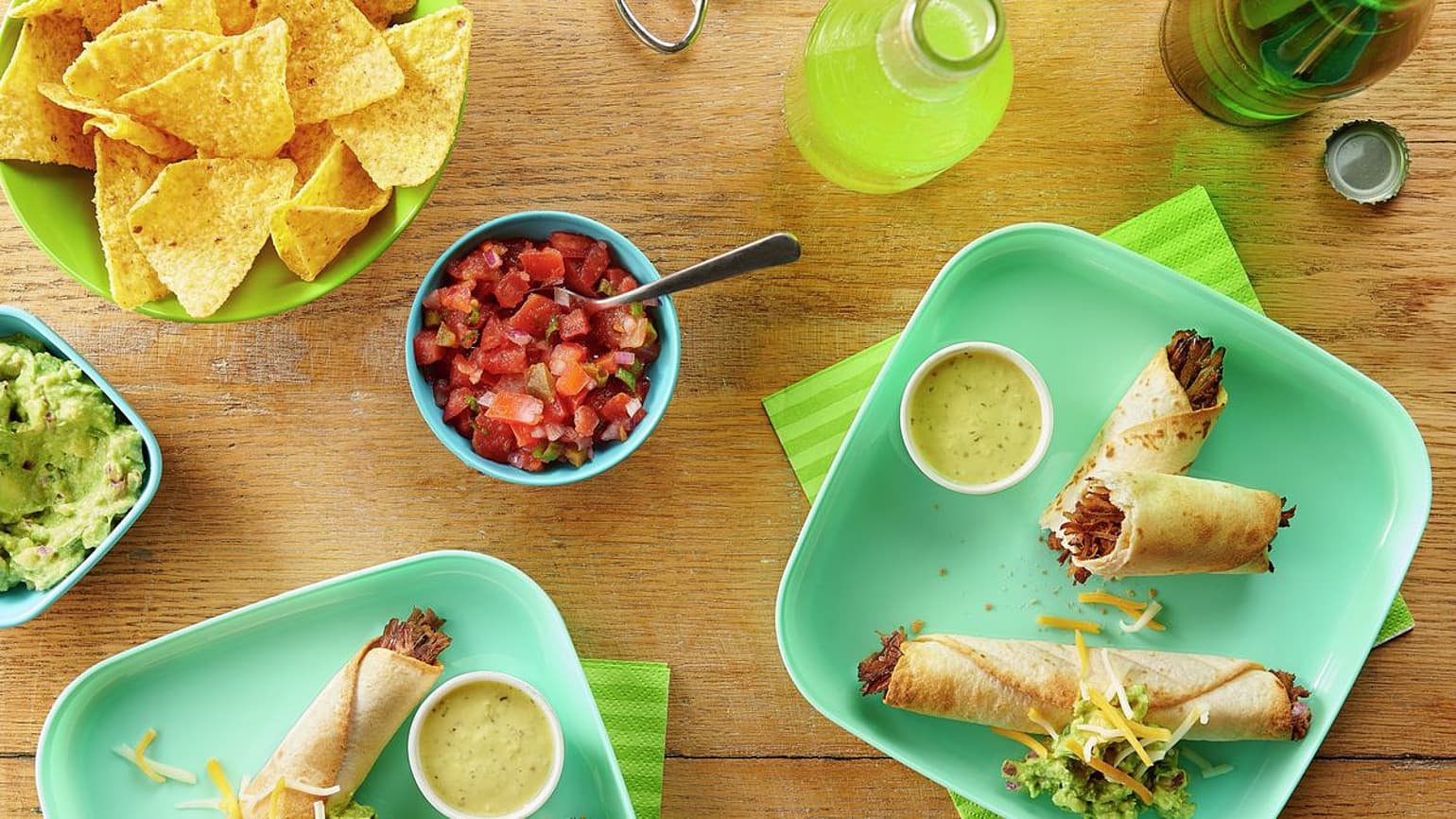 Air Fryer Beef Taquitos
Let's talk taquitos. If you've been serving up a frozen version, check out our recipe for homemade beef taquitos. This air fryer taquito recipe keeps it easy by rolling up shredded, fully cooked roast beef or brisket in Old El Paso™ Flour Tortillas for Soft Tacos & Fajitas. Air fryer taquitos come out golden brown, crispy and perfect for enjoying with guacamole and Old El Paso™ Creamy Salsa Verde Sauce on top or on the side for dipping.
Ingredient List
Taquitos
2 tablespoons vegetable oil
1/2 cup finely chopped red onion
2 cups shredded fully cooked beef brisket or roast, drained of excess liquid
2 tablespoons Old El Paso™ Original Taco Seasoning Mix (from 1-oz package)
1/4 cup water
8 Old El Paso™ Flour Tortillas For Soft Tacos & Fajitas (6 inch)
Guacamole
2 ripe medium avocados, pitted, peeled and mashed
1 medium jalapeño chile, seeded and finely chopped
1/4 cup finely chopped red onion
2 tablespoons finely chopped fresh cilantro
1 teaspoon fresh lime juice
1/4 teaspoon salt
Serve-Withs
1/4 cup Old El Paso™ Shredded Mexican Style 4 Cheese Blend
1/2 cup Old El Paso™ Creamy Salsa Verde Sauce
Advertisement
Recipe Continues Below
Preparation
In 10-inch skillet, heat 1 tablespoon of the oil over medium heat. Add 1/2 cup red onion; cook and stir 3 to 4 minutes or until softened. Add beef, taco seasoning mix and water; cook and stir 2 to 3 minutes or until mixture is hot and sauce is thickened.
Brush one side of tortillas with remaining 1 tablespoon oil. Turn over to unoiled side; place about 3 tablespoons beef mixture on bottom third of each tortilla. Roll up tightly.
Set air fryer to 375°F. Working in two batches, place 4 taquitos seam-side down in air fryer basket, making sure they are not touching. Cook 4 to 6 minutes or until golden brown and crispy on top. Turn taquitos over, and cook 2 to 4 minutes or until golden brown and crispy. Repeat with remaining taquitos.
Meanwhile, in small bowl, stir together Guacamole ingredients.
For each serving, place 2 taquitos on a plate, and spoon a dollop of the guacamole on top. Sprinkle with cheese; serve with creamy salsa verde sauce for dipping.
Expert Tips
We think these air fryer taquitos are delicious with our homemade guacamole, but you can substitute the guacamole with Old El Paso™ Crema Mexicana.
If you're having trouble finding fully cooked brisket at the grocery store, look for refrigerated, fully cooked beef roast.
If you like your guacamole spicy, just substitute serrano chile for the jalapeño in this recipe. If you like it even spicier, don't seed the chile before chopping.
Air fryer temperature control settings vary according to brand and model. If your air fryer does not have the exact temperature setting called for in the recipe, consult your manual for suggested temperature settings.
Want to keep talkin' taquitos? Check out our recipes for Baked Mini Cheesy Chicken Taquitos and Beef, Bean & Cheese Taquitos.
Nutrition
2 Taquitos Calories 590 (Calories from Fat 330); Total Fat 37g (Saturated Fat 8g ,Trans Fat 0g); Cholesterol 70mg; Sodium 950mg; Potassium 580mg; Total Carbohydrate 38g (Dietary Fiber 6g ,Sugars 2g); Protein 26g
% Daily Value: Vitamin A 4%; Vitamin C 10%; Calcium 10%; Iron 25%
Exchanges: 2 Starch; 1/2 Fruit; 2 High-Fat Meat; 3 Fat
Carbohydrate Choice: 2 1/2
*Percent Daily Values are based on a 2,000 calorie diet