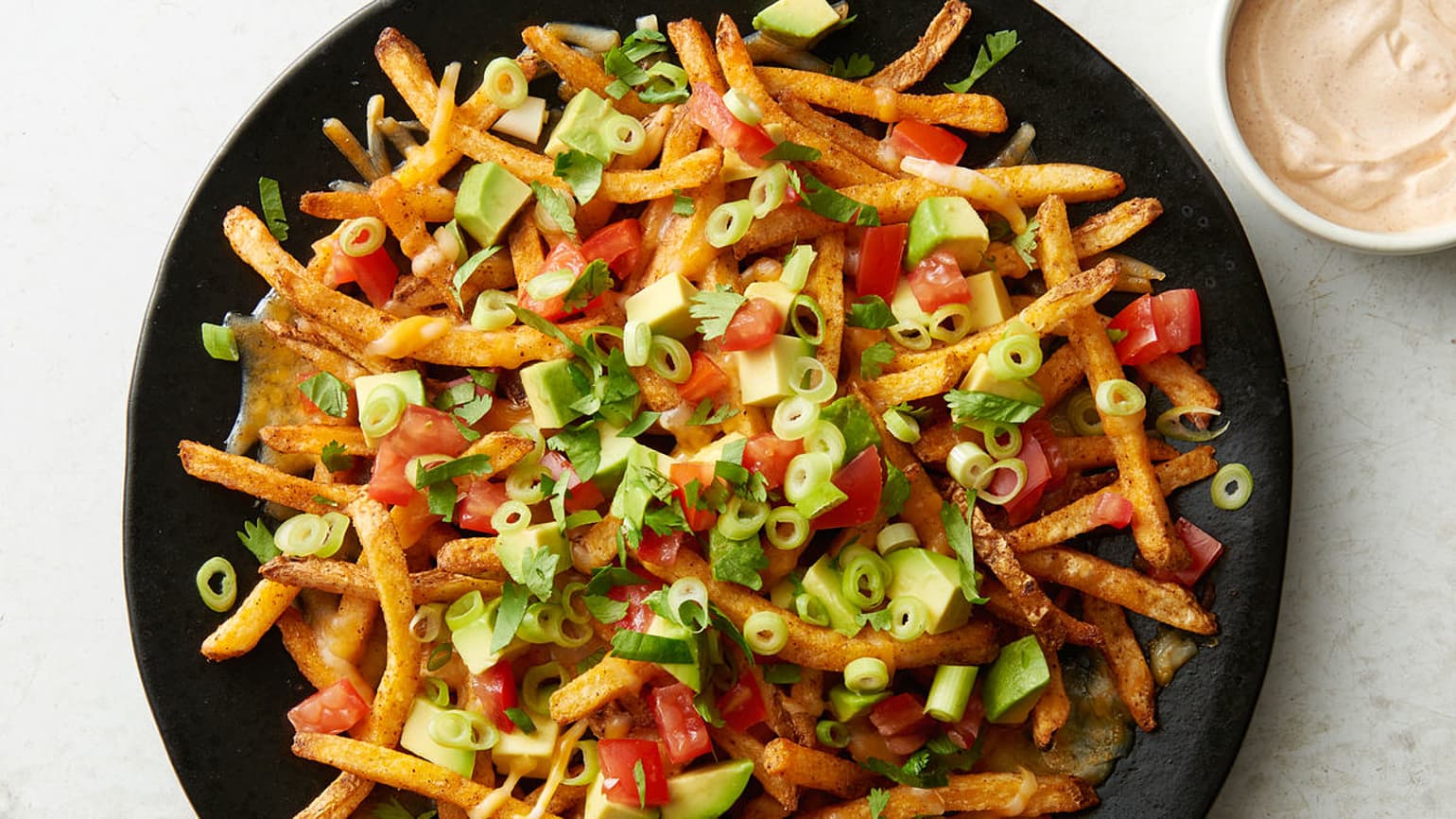 Air Fryer Loaded Taco Fries
While this recipe for air fryer taco fries was initially inspired by Taco Bell's™ Nacho Fries, we got a little carried away and ended up creating something even better! Sure, these taco fries are different than the original recipe thanks to the air fryer, but they are definitely packed with Mexican spices and piled high with loads of delicious and savory nacho toppings. Top it all with our genius hack for amazingly simple spiced sour cream–don't worry it's delicious but not complicated, just add Old El Paso™ Original Taco Seasoning to sour cream and pour it on everything. These air fryer taco fries are instant crowd-favorites, so be prepared to make this recipe a second time soon!
Ingredient List
Seasoned Sour Cream
1/3 cup sour cream
1 teaspoon from 1 container (6.25 oz) Old El Paso™ Original Taco Seasoning Mix
Taco Fries
2 tablespoons vegetable oil
1 tablespoon Old El Paso™ original taco seasoning mix (from 1-oz package)
16 oz (4 cups) frozen French-fried potatoes (from 32-oz bag)
1 cup shredded Colby-Monterey Jack cheese (4 oz)
1/2 medium avocado, pitted, peeled and diced (1/2 cup)
1/4 cup diced tomato
2 tablespoons sliced green onions (2 green onions)
2 tablespoon chopped fresh cilantro leaves
Advertisement
Recipe Continues Below
Preparation
In small bowl, mix Seasoned Sour Cream ingredients. Cover and refrigerate until ready to serve.
In large bowl, mix oil and 1 tablespoon taco seasoning mix. Add frozen potatoes; toss to coat. Pour mixture into air fryer basket. Set to 400°F; cook 22 to 26 minutes or until crispy, shaking basket every 5 minutes.
Transfer to microwavable serving plate. Top with cheese. Microwave uncovered on High 30 to 90 seconds or until cheese melts. Top with avocado, tomato, green onions and cilantro. Serve with seasoned sour cream.
Expert Tips
Air fryer temperature control settings vary according to brand and model. If your air fryer does not have the exact temperature setting called for in the recipe, consult your manual for suggested temperature settings.
Make it your own! Use different taco toppings, or be lazy and skip the cheese and toppings entirely. The plain taco fries make a perfect side for tacos, burritos and more.
Shaking is essential to crispy fries. When food touches in the air fryer basket, it cannot crisp fully, so it must be shaken or turned often.
Our recipes do not call for preheating your air fryer. Just set the temperature, and start. Never preheat with parchment paper alone.
Nutrition
1 Serving Calories 220 (Calories from Fat 130); Total Fat 14g (Saturated Fat 5g ,Trans Fat 0g); Cholesterol 20mg; Sodium 170mg; Potassium 360mg; Total Carbohydrate 17g (Dietary Fiber 2g ,Sugars 1g); Protein 5g
% Daily Value: Vitamin A 4%; Vitamin C 6%; Calcium 10%; Iron 2%
Exchanges: 1/2 Starch; 1/2 Other Carbohydrate; 1/2 High-Fat Meat; 2 Fat
Carbohydrate Choice: 1
*Percent Daily Values are based on a 2,000 calorie diet