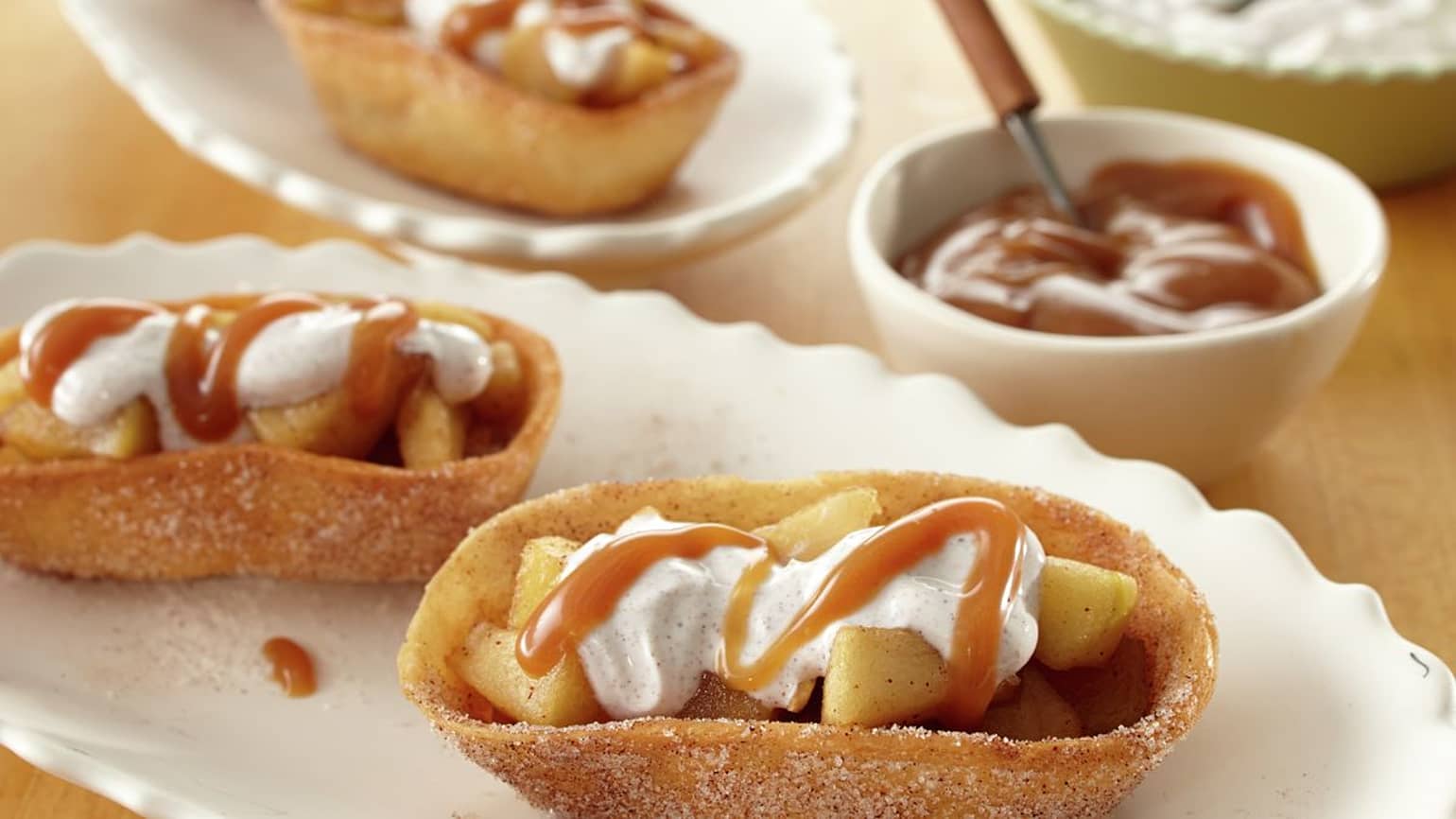 Apple Empanadas Mini Tortilla Bowls
Old El Paso™ brings our Tex Mex take on the perfect fall apple cinnamon taco dessert with these Apple Empanadas Mini Tortilla Bowls. This recipe deep fries our Old El Paso™ Soft Tortilla Mini Bowls to make them warm and crispy and then dusts them with cinnamon sugar for an easy to fill, easy to eat apple pie taco dessert. Delicious Granny Smith apples are spiced and served up with cinnamon sour cream and caramel sauce to make for a warm, delicious end to any taco night.
Total Time
1 Hours
25 Minutes
Ingredient List
Vegetable oil for deep frying
1/4 cup granulated sugar
1 1/2 teaspoons ground cinnamon
20 tortilla bowls from 2 packages (5.1 oz) Old El Paso™ Flour Soft Tortilla Mini Bowls (12 Count)
3/4 cup sour cream
6 medium Granny Smith apples, cored, peeled, cut into 1/2-inch cubes (about 6 cups)
1 cup packed brown sugar
2 tablespoons lemon juice
1/4 teaspoon salt
1/3 cup caramel topping
Advertisement
Recipe Continues Below
Preparation
In deep fat fryer or heavy-bottomed saucepan, heat at least 2 inches oil to 350°F. Add 3 tablespoons of the granulated sugar and 1/4 teaspoon of the cinnamon to a 1-gallon resealable food-storage plastic bag.
Place boats in batches in preheated oil; fry 1 minute on each side, using tongs to turn boats halfway through, until lightly brown all over. Drain boats upside down on paper towel-lined cookie sheet until slightly cool; toss 4 boats at a time in cinnamon sugar to coat. Remove to cooling rack to cool completely.
In small bowl, beat sour cream, remaining 1 tablespoon granulated sugar and 1/4 teaspoon of the cinnamon with whisk. Set aside.
In 12-inch nonstick skillet, mix apples, brown sugar, lemon juice, remaining 1 teaspoon cinnamon and the salt over medium-high heat. Cook 15 to 20 minutes, stirring occasionally, until liquid evaporates and apples are tender.
Divide apple mixture among fried boats; top with cinnamon sour cream, and drizzle with caramel topping.
Expert Tips
Pears can be substituted for apples in this recipe.
Using a candy thermometer/deep frying thermometer helps to ensure correct temperature when frying to give best results.
Nutrition
1 Serving Calories 190 (Calories from Fat 70); Total Fat 7g (Saturated Fat 2g ,Trans Fat 0g); Cholesterol 0mg; Sodium 135mg; Potassium 75mg; Total Carbohydrate 30g (Dietary Fiber 1g ,Sugars 21g); Protein 1g
% Daily Value: Vitamin A 0%; Vitamin C 2%; Calcium 4%; Iron 0%
Exchanges: 1/2 Starch; 1 1/2 Other Carbohydrate; 1 1/2 Fat
Carbohydrate Choice: 2
*Percent Daily Values are based on a 2,000 calorie diet