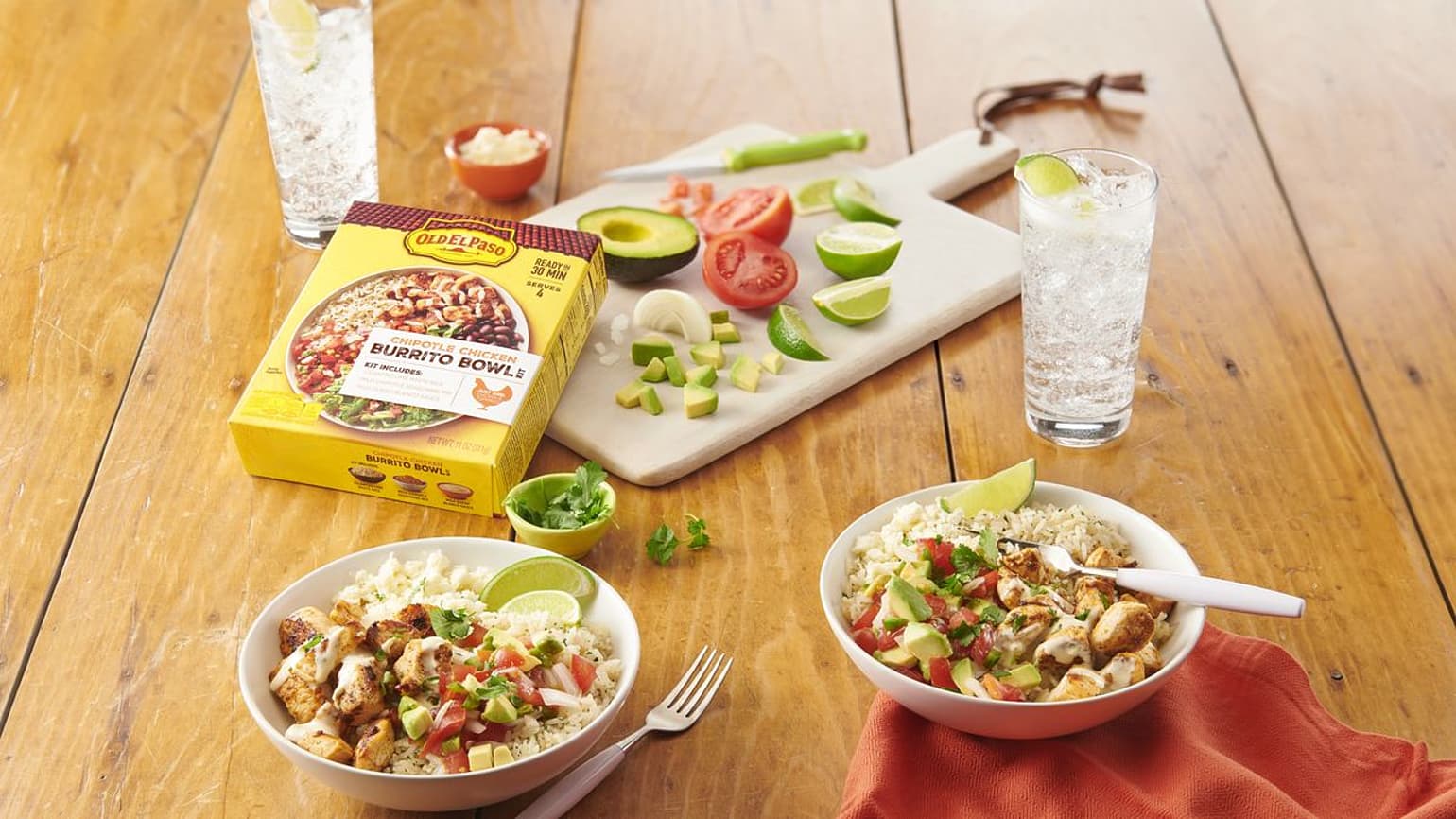 Avocado Salsa Chicken Burrito Bowls
A colorful salsa, made with creamy avocado, tomatoes, jalapeño and a splash of lime not only makes this hearty chicken burrito bowl beautiful, but it also delivers big flavor in every bite.
Ingredient List
Avocado Salsa
1 medium ripe avocado, peeled, pitted and cut into 1/4-inch cubes
1/3 cup tomato, cut into 1/4-inch cubes
1/4 cup finely chopped white onion
1 medium jalapeño chile, seeded and finely chopped
1 teaspoon fresh lime juice
1/4 teaspoon salt
Bowls
1 package (11 oz) Old El Paso™ Chipotle Chicken Burrito Bowl Kit
Oil, water and butter called for on package
1 lb boneless skinless chicken breasts, cut into 1/2-inch cubes
1 cup crumbled queso fresco
1/4 cup cilantro leaves
Lime wedges
Advertisement
Recipe Continues Below
Preparation
In medium bowl, stir together Avocado Salsa ingredients. Cover; refrigerate until ready to use.
Add rice (from burrito bowl kit), 1 3/4 cups water and butter to 2-quart saucepan. Heat to boiling, stirring frequently. Reduce heat; cover and simmer about 20 minutes or until rice is tender and liquid is absorbed. Remove from heat; let stand 5 minutes.
Meanwhile, in 10-inch nonstick skillet, stir chicken, 2 tablespoons vegetable oil and seasoning mix (from burrito bowl kit) until well coated. Cook over medium-high heat 10 to 12 minutes, stirring occasionally, until very little liquid remains and chicken is cooked through and begins to brown.
Divide rice among 4 serving bowls. Top with chicken, avocado salsa, queso fresco, cilantro and queso blanco sauce (from burrito bowl kit). Serve with lime wedges on the side.
Expert Tips
If you'd like your avocado salsa spicy, just substitute serrano chile for the jalapeño in this recipe. If you like it even spicier, don't seed the chile before chopping.
If full-sized tomatoes are not in season, try substituting chopped cherry tomatoes to get the best flavor.
Relax responsibly®. Corona® Hard Seltzer Spiked Sparkling Water with Natural Flavors. Imported by Crown Imports, Chicago, IL
Nutrition
1 Bowl Calories 650 (Calories from Fat 290); Total Fat 32g (Saturated Fat 10g ,Trans Fat 1/2g); Cholesterol 105mg; Sodium 1520mg; Potassium 730mg; Total Carbohydrate 53g (Dietary Fiber 5g ,Sugars 6g); Protein 38g
% Daily Value: Vitamin A 15%; Vitamin C 8%; Calcium 30%; Iron 10%
Exchanges: 2 1/2 Starch; 1/2 Other Carbohydrate; 1 Vegetable; 3 Very Lean Meat; 5 Fat
Carbohydrate Choice: 3 1/2
*Percent Daily Values are based on a 2,000 calorie diet