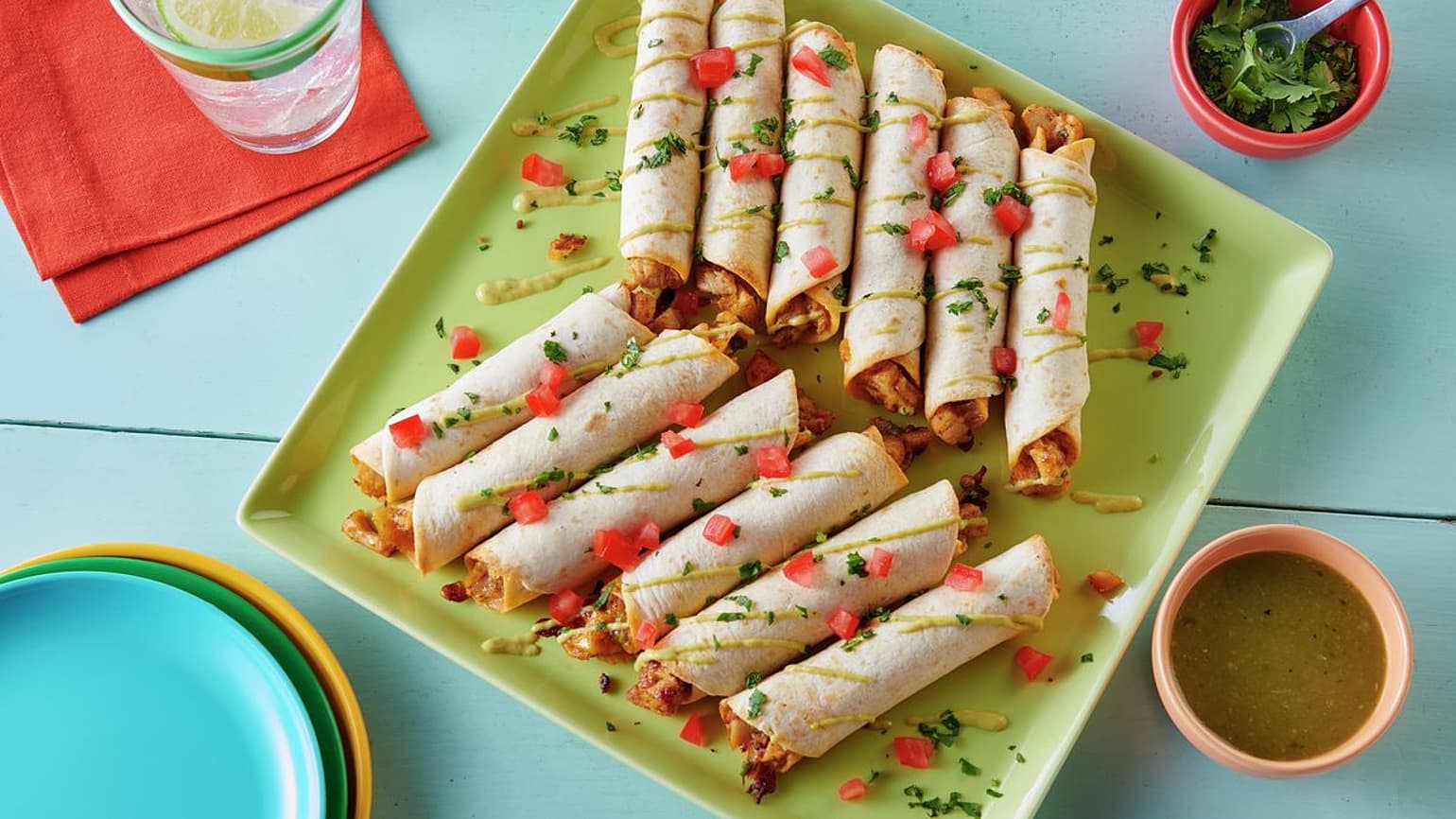 Baked Mini Cheesy Chicken Taquitos
Roll up to taco night with chicken taquitos! A taquito is a Mexican dish, usually made from a small rolled-up tortilla filled with beef, cheese or chicken. Traditionally, deep-frying is how to make homemade taquitos, but we think this baked chicken taquitos version is just as delicious. These mini taquitos are a great appetizer, ready in 30 minutes. Use Old El Paso™ Asado Chicken Street Taco Kits to make it even easier with a seasoning mix, tortillas and creamy jalapeño sauce all in one package. Skip the mess and hassle of the deep-fryer, and make these crispy oven-baked taquitos instead!
Ingredient List
1 cup chopped cooked chicken
1 cup Old El Paso™ Shredded 4 Cheese Mexican Blend (4 oz)
1/4 cup sliced green onions (4 medium)
2 tablespoons vegetable oil
1 package Old El Paso™ Asado Chicken Street Taco Kit
1/4 cup diced tomatoes
2 tablespoons chopped fresh cilantro leaves
Lime wedges
Advertisement
Recipe Continues Below
Preparation
Heat oven to 425°F. Line sheet pan with cooking parchment paper. In medium bowl, mix chicken, cheese, onions, vegetable oil and seasoning mix (from taco kit).
Place about 2 tablespoons chicken mixture on bottom third of each tortilla (from taco kit). Roll up tightly; place seam-side down in pan. Bake 9 to 11 minutes or until filling is hot (at least 165°F) and taquitos are crispy.
Drizzle with creamy jalapeño sauce (from taco kit). Top with tomatoes and cilantro. Serve with lime wedges.
Expert Tips
For extra-spicy mini chicken taquitos, substitute Old El Paso™ Shredded 3 Pepper Cheese Blend for the Old El Paso™ Shredded 4 Cheese Mexican Blend.
For best results, roll up tortillas as tightly as possible.
We tested this mini taquitos recipe using deli shredded rotisserie chicken, but any leftover cooked chicken will work well.
Nutrition
3 Taquitos Calories 460 (Calories from Fat 240); Total Fat 26g (Saturated Fat 9g ,Trans Fat 0g); Cholesterol 60mg; Sodium 1080mg; Potassium 310mg; Total Carbohydrate 36g (Dietary Fiber 2g ,Sugars 3g); Protein 21g
% Daily Value: Vitamin A 4%; Vitamin C 2%; Calcium 25%; Iron 20%
Exchanges: 2 Starch; 1/2 Other Carbohydrate; 1 Lean Meat; 1 High-Fat Meat; 3 Fat
Carbohydrate Choice: 2 1/2
*Percent Daily Values are based on a 2,000 calorie diet