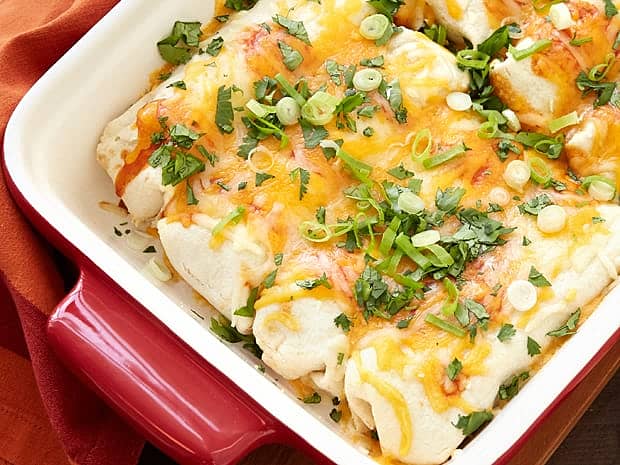 Baked Smothered Chicken Burritos
These Baked Smothered Chicken Burritos are the perfect combination of two Tex-Mex favorites; burritos and enchiladas. Create your burritos, with chicken seasoned with Old El Paso™ Chicken Seasoning Mix, layered with Old El Paso™ Refried Beans, and roll them up in flour tortillas. Smother each burrito in Old El Paso™ Enchilada Sauce for irresistible flavor in every bite. Bake and serve these hearty burritos that will soon be a new family favorite.
25 Minutes Prep
1 Hours 5 Minutes Total
Ingredient List
2 cups shredded cooked chicken
1 can (10 oz) Old El Paso™ enchilada sauce
1 tablespoon Old El Paso™ chicken taco seasoning mix (from 0.85-oz package)
1 package (11 oz) Old El Paso™ flour tortillas for burritos (8 inch)
1 cup Old El Paso™ refried beans (from 16-oz can)
1 1/2 cups cooked rice
2 cups shredded Colby-Monterey Jack cheese blend (8 oz)
2 green onions, thinly sliced
2 tablespoons chopped fresh cilantro leaves
Lime wedges, if desired
Advertisement
Recipe Continues Below
Preparation
Heat oven to 350°F. Spray 13x9-inch (3-quart) glass baking dish with cooking spray. In large bowl, mix chicken, 1 cup of the enchilada sauce and the taco seasoning mix.
Place tortillas on work surface. Divide refried beans, rice and chicken mixture among center of each tortilla in 4-inch long strip. Top with 1 cup of the cheese.
Roll up into burritos, and place seam side down in baking dish.
Bake 35 minutes. Drizzle with remaining 1/4 cup enchilada sauce; sprinkle with remaining 1 cup cheese. Bake 5 to 10 minutes longer or until cheese is melted and burritos are heated through (165°F). Top with green onions and cilantro. Serve with lime wedges.
To freeze: Spray 13x9-inch disposable foil cake pan with cooking spray. Assemble burritos as directed in steps 1 through 3; do not bake. Drizzle with remaining 1/4 cup enchilada sauce and sprinkle with remaining 1 cup cheese. Cover pan with sprayed foil, and wrap in double layer of plastic wrap. Label and freeze. To bake: Thaw overnight in refrigerator. Heat oven to 350°F. Remove plastic, and place foil-covered pan on baking sheet. Bake 1 hour to 1 hour 10 minutes or until thermometer inserted in center reads 165°F.
Expert Tips
To roll burritos, fold one edge of tortilla over length of filling, tucking filling in slightly. Then fold two short edges over. Roll filled tortilla over toward remaining unfolded edge.
Leftover rice is perfect for this recipe, but packaged frozen cooked rice works well in a pinch.
Nutrition
Calories 370 (Calories from Fat 140); Total Fat 16g (Saturated Fat 8g, Trans Fat 1.5g); Cholesterol 55mg; Sodium 1030mg; Potassium 135mg; Total Carbohydrate 36g (Dietary Fiber 2g); Protein 22g % Daily Value: Vitamin A 10%; Vitamin C 0%; Calcium 30%; Iron 15% Exchanges: 1 1/2 Starch, 1 Other Carbohydrate, 2 Very Lean Meat, 1/2 High-Fat Meat, 2 Fat Carbohydrate Choices: 2 1/2