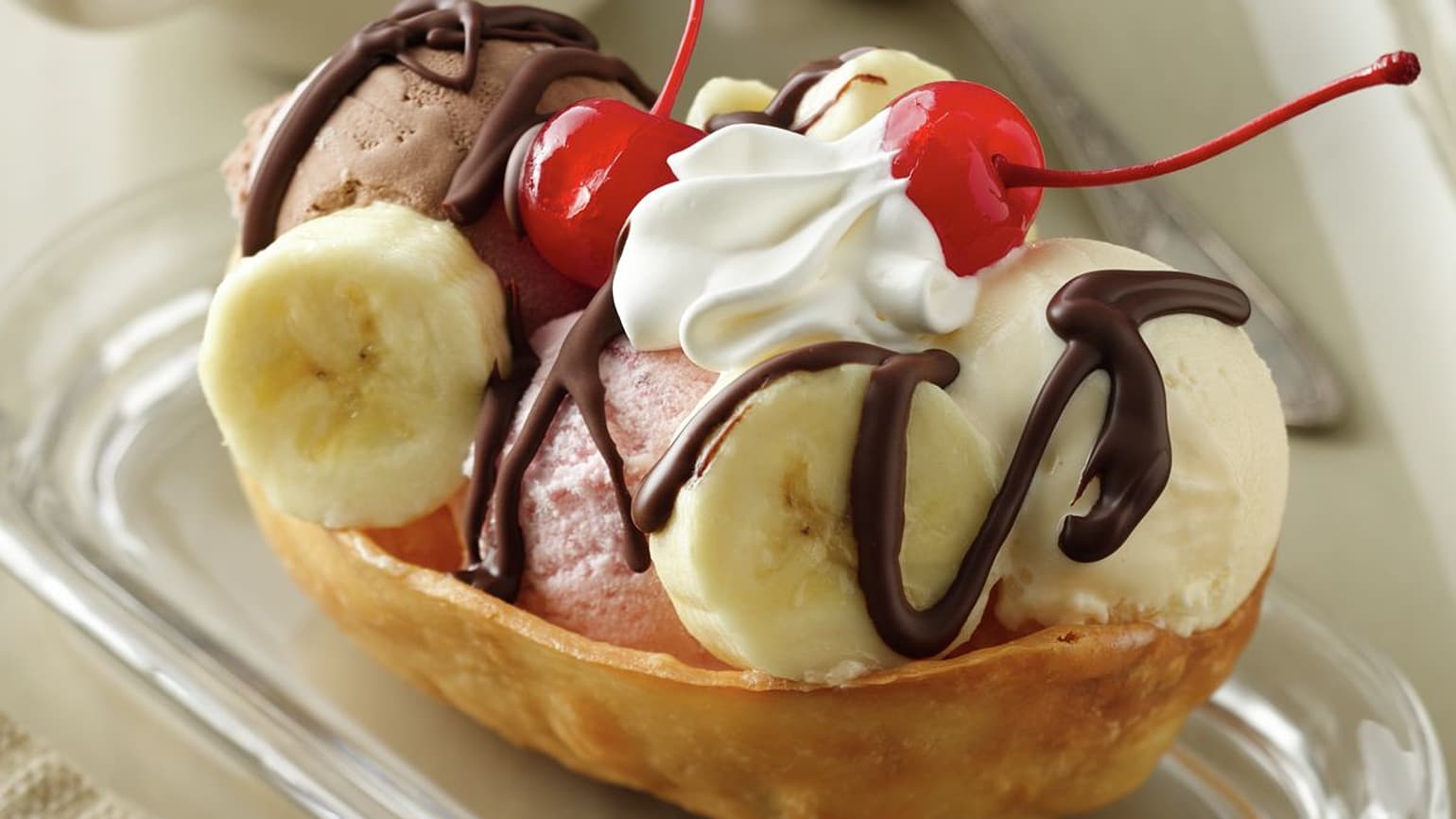 Banana Split Dessert Tacos
Tacos get a makeover and move to dessert. These tortillas make a fantastic shell for a banana split when quickly fried.
Ingredient List
Banana Split
Vegetable oil, for frying
1 package (6.7 oz) Old El Paso™ Flour Soft Tortilla Bowls (8 Count)
8 small scoops chocolate ice cream
8 small scoops strawberry ice cream
8 small scoops vanilla ice cream
2 bananas, cut in half lengthwise and split
Toppings
16 maraschino cherries
1/2 cup semisweet chocolate chips and 1 tablespoon vegetable oil, heated together until melted
1 can whipped cream topping in aerosol can, if desired
Advertisement
Recipe Continues Below
Preparation
In 3-quart saucepan, heat 2 to 3 inches oil to 375°F. Fry 1 tortilla at a time in oil, 1 to 2 minutes on each side, until golden brown and puffed. Drain on paper towels.
Just before serving, in each fried tortilla, place 1 scoop of each of the ice creams, then one-fourth of a banana. Top with 2 cherries. Drizzle with chocolate. Spray whipped cream on top.
Expert Tips
Make it your own! Don't like bananas? Try these shells with your favorite flavors of ice cream and toppings.
Nutrition
1 Taco Calories 510 (Calories from Fat 230); Total Fat 26g (Saturated Fat 13g ,Trans Fat 1/2g); Cholesterol 55mg; Sodium 260mg; Potassium 430mg; Total Carbohydrate 62g (Dietary Fiber 3g ,Sugars 42g); Protein 7g
% Daily Value: Vitamin A 10%; Vitamin C 2%; Calcium 20%; Iron 8%
Exchanges: 2 Starch; 2 Other Carbohydrate; 5 Fat
Carbohydrate Choice: 4
*Percent Daily Values are based on a 2,000 calorie diet