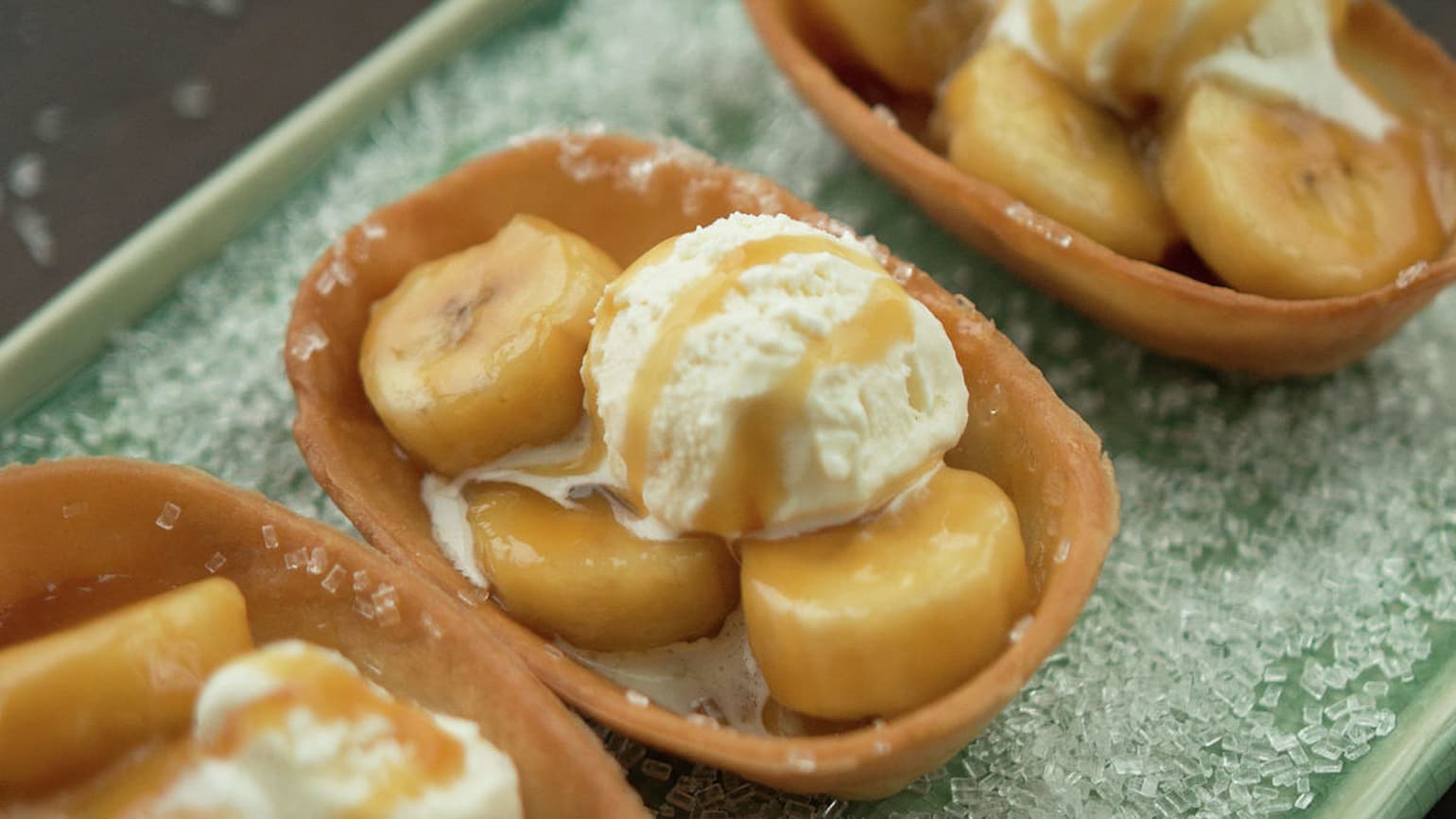 Bananas Foster Mini Taco Bowls
Bananas Foster—one of the many iconic dishes of Louisiana—just got easier for a crowd. These crispy Bananas Foster Mini Taco Bowls™ are sure to please.
Ingredient List
1/2 cup caramel sauce
2 teaspoons dark rum
Vegetable oil for deep frying
2 tablespoons coarse white sugar
1 package Old El Paso™ Taco Bowls™ mini soft flour tortillas
2 tablespoons butter
3 bananas, each cut into 12 slices
3/4 cup vanilla ice cream
Advertisement
Recipe Continues Below
Preparation
In small bowl, mix caramel sauce and rum; stir until blended.
In deep fat fryer or heavy saucepan, heat 2 inches oil to 350°F. Add sugar to gallon-size resealable food-storage plastic bag.
Fry bowls in batches in hot oil 1 minute on each side, using tongs to turn bowls halfway through, until lightly brown all over. Drain bowls upside down on paper towel-lined cookie sheet until slightly cool. If middles of bowls are puffed, gently press down with back of spoon. Toss 4 bowls at a time in sugar to coat. Remove to cooling rack to cool completely.
In 10-inch nonstick skillet, melt butter over medium-high heat. Add banana slices, and cook 1 minute while gently stirring. Add 1/4 cup of the rum caramel; stir to coat, and remove from heat.
Divide bananas mixture among fried bowls; top with small scoop (about 1 tablespoon) ice cream, and drizzle with remaining caramel.
Expert Tips
Granulated sugar can be substituted for coarse sugar in this recipe.
For best results, use candy thermometer/deep frying thermometer to ensure correct temperature when frying.
Nutrition
1 Bowl Calories 190 (Calories from Fat 80); Total Fat 9g (Saturated Fat 3g ,Trans Fat 0g); Cholesterol 10mg; Sodium 150mg; Potassium 135mg; Total Carbohydrate 26g (Dietary Fiber 1g ,Sugars 14g); Protein 1g
% Daily Value: Vitamin A 2%; Vitamin C 2%; Calcium 2%; Iron 2%
Carbohydrate Choice: 2
*Percent Daily Values are based on a 2,000 calorie diet