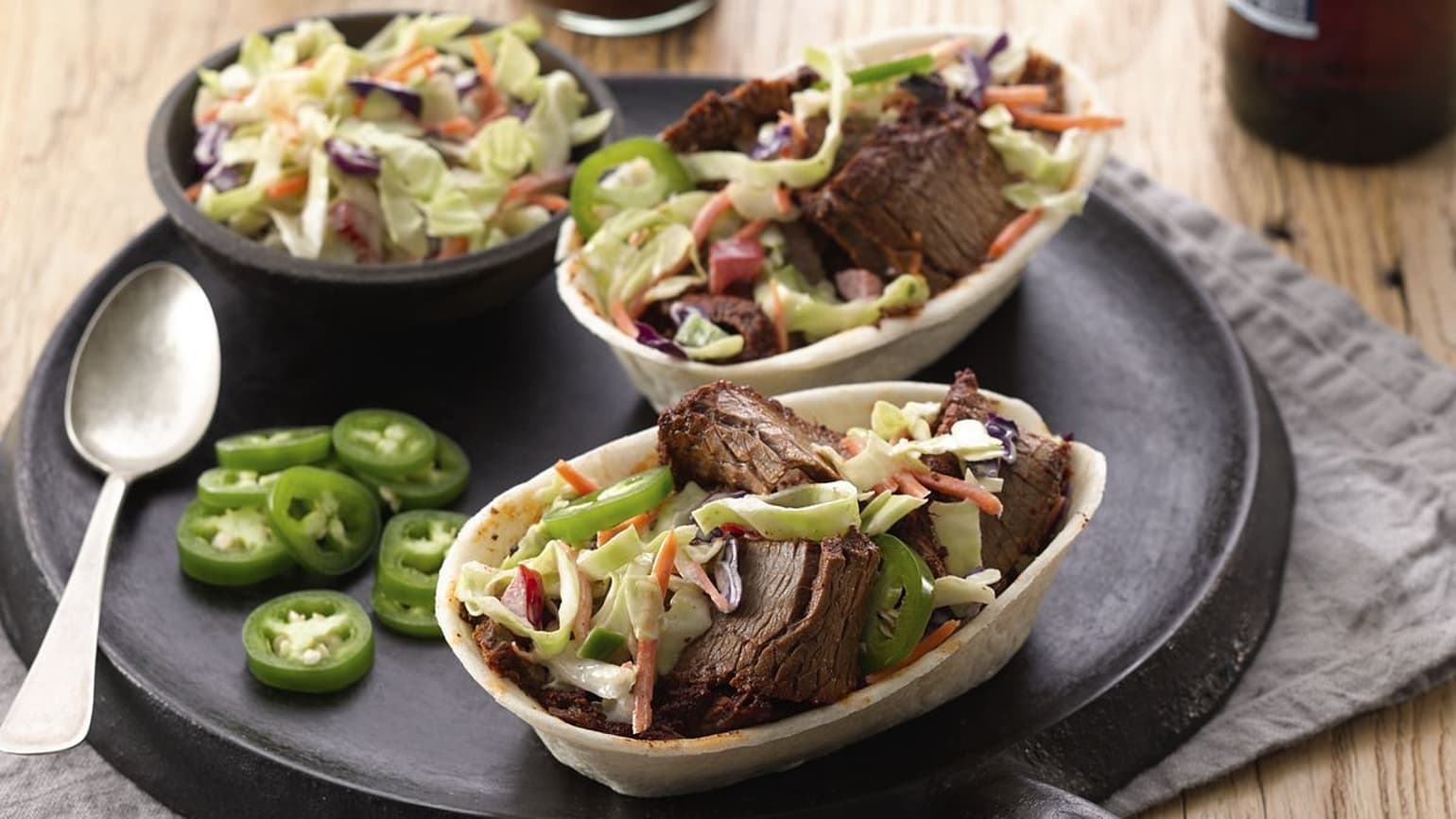 Beef Brisket Taco Bowls
Everything is bigger in Texas…and once you sink your teeth into this bad boy, you will know your Taco Bowls™ are overflowing with classic beef brisket.
Total Time
6 Hours
35 Minutes
Ingredient List
Brisket
1 onion, halved, sliced thick
2 tablespoons chili powder
1 teaspoon ground cumin
2 teaspoons smoked paprika
1 tablespoon salt
2 teaspoons pepper
3 lb fresh beef brisket (not corned beef), trimmed of fat
2 tablespoons packed brown sugar
1/4 cup ketchup
1/4 cup water
1 tablespoon apple cider vinegar
Coleslaw
1/2 cup mayonnaise
1 tablespoon fresh lime juice
1/2 teaspoon ground cumin
1/4 teaspoon salt
3 cups coleslaw mix (from 14-oz bag)
1/2 cup chopped red bell pepper
1 tablespoon finely chopped jalapeño chile, halved and seeded
1 package (6.7 oz) Old El Paso™ Flour Soft Tortilla Bowls (8 Count)
Sliced jalapeños, if desired
Advertisement
Recipe Continues Below
Preparation
Spray 6-quart slow cooker with cooking spray. Layer onion slices in slow cooker. In small bowl, stir chili powder, 1 teaspoon cumin, the paprika, 1 tablespoon salt and the pepper until blended. Rub into brisket; place in slow cooker. Sprinkle any remaining rub on top of meat. In small bowl, stir brown sugar, ketchup, water and cider vinegar until blended. Pour over brisket.
Cover and cook on Low heat setting 6 to 8 hours or until meat is tender and can easily be sliced.
Meanwhile, in medium bowl, stir together mayonnaise, lime juice, 1/2 teaspoon cumin and 1/4 teaspoon salt. Add coleslaw mix, red pepper and chopped jalapeño chile. Cover; reserve in refrigerator until needed.
Transfer brisket to cutting board; let stand 10 minutes. Discard sauce, or heat as directed in tip. Heat boats as directed on package. Thinly slice brisket into small slices to fit into boats; divide among warmed boats, and top with coleslaw. Garnish with sliced jalapeños.
Expert Tips
Short of time? Use prepared coleslaw to top these bowls.
Texas brisket is typically served dry, but if a sauce is desired, take remaining liquid from slow cooker after beef is removed, and skim off the fat. In 2-quart saucepan, cook liquid over high heat until reduced to sauce consistency.
Nutrition
1 Serving Calories 490 (Calories from Fat 230); Total Fat 25g (Saturated Fat 7g ,Trans Fat 1/2g); Cholesterol 115mg; Sodium 1390mg; Potassium 530mg; Total Carbohydrate 25g (Dietary Fiber 3g ,Sugars 7g); Protein 39g
% Daily Value: Vitamin A 70%; Vitamin C 15%; Calcium 6%; Iron 25%
Exchanges: 1 Starch; 1/2 Other Carbohydrate
Carbohydrate Choice: 1 1/2
*Percent Daily Values are based on a 2,000 calorie diet