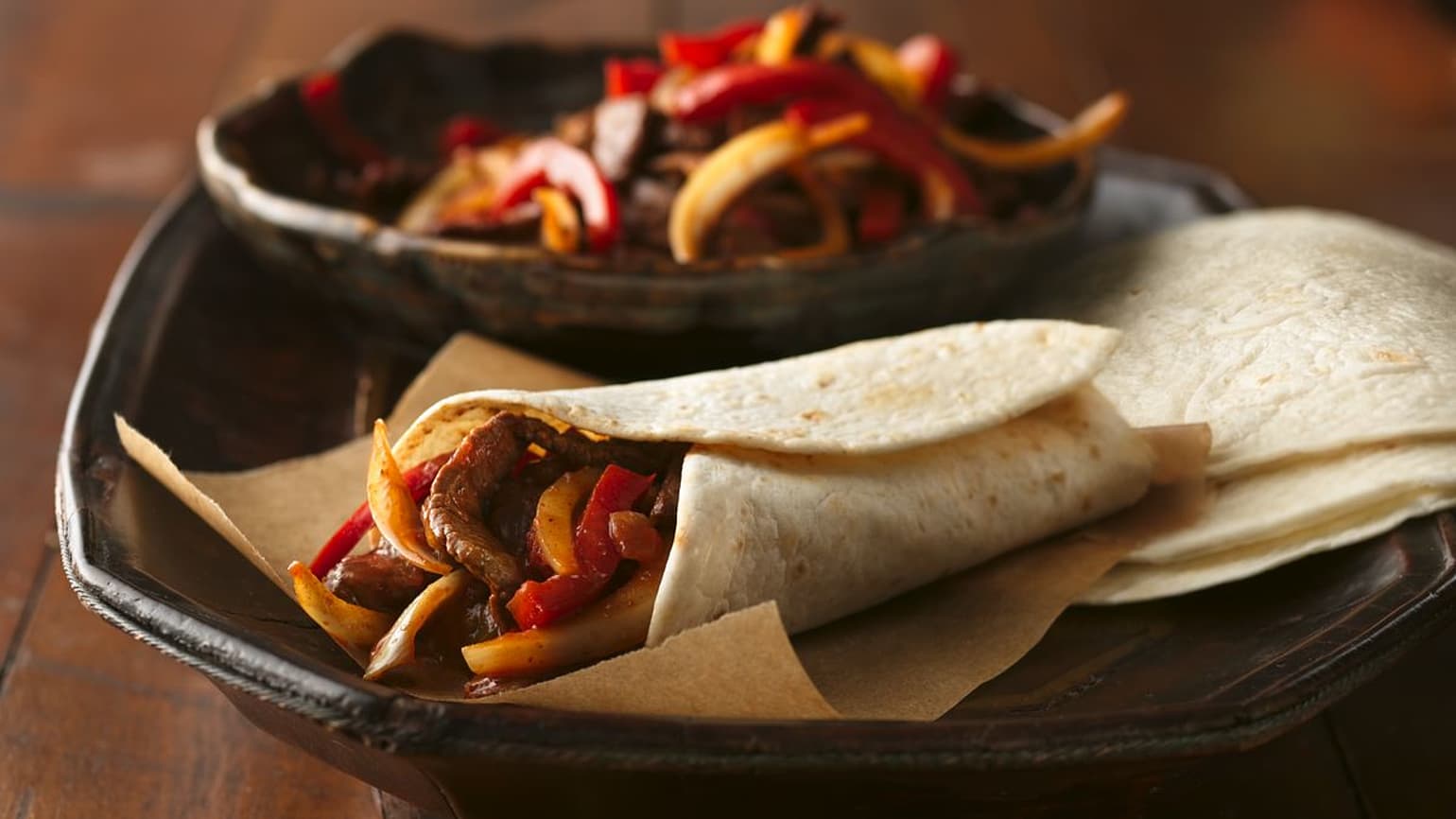 Beef Fajitas
Old El Paso® Favorite Recipe!
Marinate beef steak strips in a kicky lime mixture before cooking. Then serve in warm tortillas with onions, peppers, salsa and guacamole.
Ingredient List
Marinade
2 tablespoons lime juice
1 tablespoon honey
1 tablespoon vegetable oil
2 teaspoons chili powder
2 cloves garlic, finely chopped
Fajitas
3/4 lb lean boneless beef top round steak, slightly frozen, cut into thin strips
1 onion, thinly sliced
1 red or green bell pepper, cut into strips
1 teaspoon cornstarch
1/4 cup cold water
1/3 cup guacamole
4 Old El Paso™ flour tortillas for burritos (8 inch; from 11-oz package), heated
1/3 cup Old El Paso™ salsa (any variety)
Advertisement
Recipe Continues Below
Preparation
In medium nonmetal bowl, stir together all marinade ingredients. Add beef strips; stir to coat. Cover; refrigerate 30 minutes to marinate, stirring occasionally.
Spray 12-inch nonstick skillet with cooking spray. Heat over medium-high heat until hot. Add beef and marinade; cook and stir 2 minutes. Add onion and bell pepper; cook and stir 3 to 4 minutes or until vegetables are crisp-tender and beef is no longer pink. In small bowl, stir cornstarch and cold water until smooth. Add to beef mixture; cook and stir 1 to 2 minutes or until thickened.
To serve, spoon 1/4 of guacamole down center of each tortilla. Top each with 1/4 of beef mixture. Top with salsa. Fold bottom edge of tortilla toward center; fold 2 sides toward center, slightly overlapping.
Expert Tips
Serve fajitas with fresh pineapple or mango slices.
Nutrition
1 Fajita Calories 360 (Calories from Fat 120); Total Fat 13g (Saturated Fat 3g ,Trans Fat 0g); Cholesterol 50mg; Sodium 600mg; Potassium 430mg; Total Carbohydrate 37g (Dietary Fiber 3g ,Sugars 8g); Protein 24g
% Daily Value: Vitamin A 30%; Vitamin C 60%; Calcium 8%; Iron 20%
Exchanges: 1 1/2 Starch; 1 Other Carbohydrate; 3 Lean Meat
Carbohydrate Choice: 2 1/2
*Percent Daily Values are based on a 2,000 calorie diet