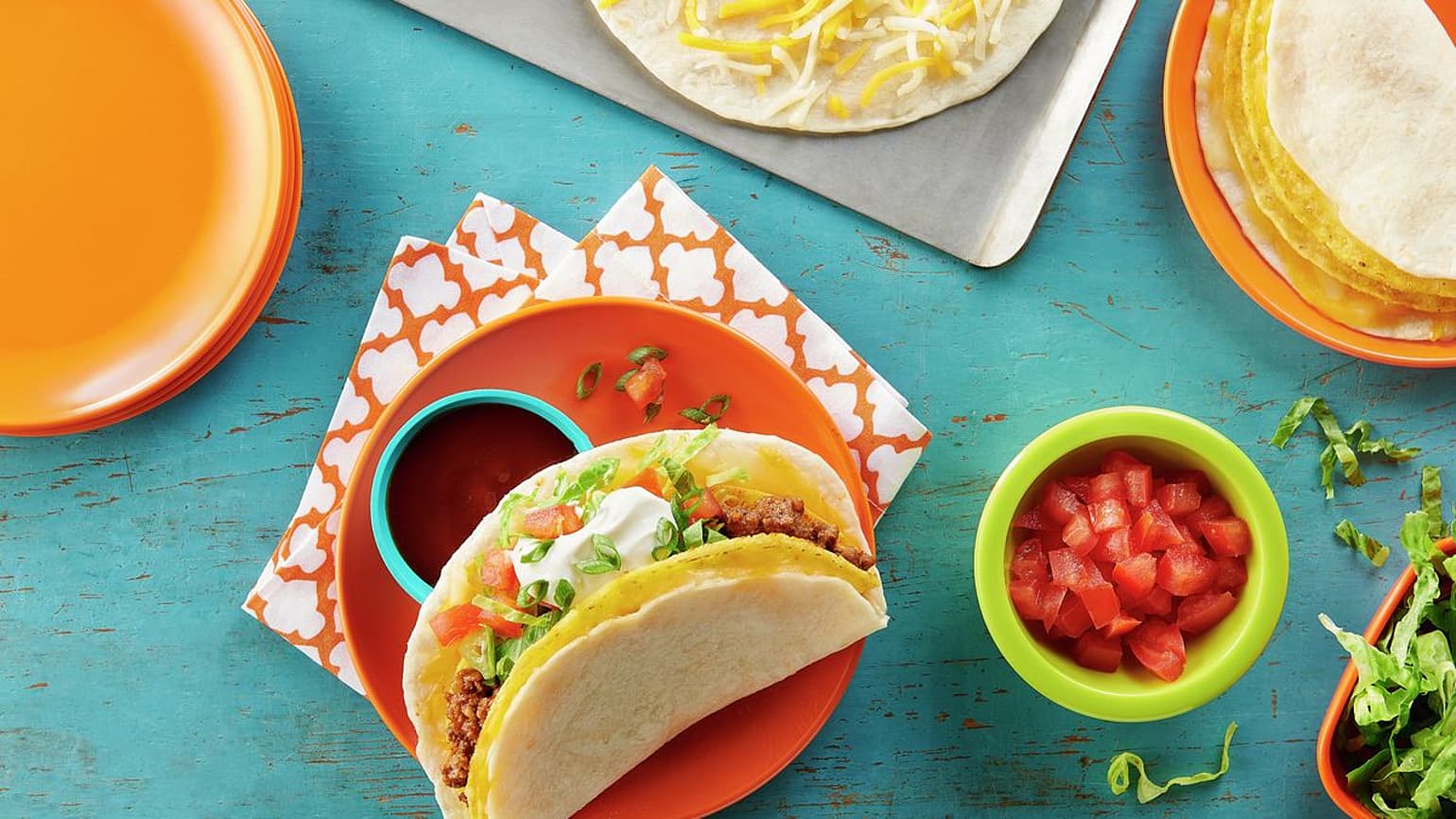 Beef Quesadilla Tacos
Can't decide between quesadillas and crunchy tacos? Now you don't have to, because this cheesy beef taco recipe gives you the best of both worlds! With an Old El Paso™ Hard and Soft Taco Dinner Kit, you can serve up delicious quesadilla tacos in just 30 minutes. Surprise your family by turning simple beef tacos into an exciting twist on taco night.
Ingredient List
1 lb ground beef (at least 80% lean)
1 package (11.4 oz) Old El Paso™ Hard & Soft Taco Dinner Kit with Taco Shells and Flour Tortillas
1 package (8 oz) Old El Paso™ Shredded Mexican Style 4 Cheese Blend (2 cups)
2/3 cup shredded lettuce
1/3 cup chopped tomatoes
1/3 cup Old El Paso™ Crema Mexicana
Advertisement
Recipe Continues Below
Preparation
Heat oven to 325°F.
In 10-inch skillet, cook beef over medium-high heat 5 to 7 minutes, stirring frequently, until thoroughly cooked; drain. Stir in 2/3 cup water and taco seasoning mix (from dinner kit); heat to boiling. Reduce heat; simmer uncovered 3 to 4 minutes, stirring frequently, until thickened. Remove from heat.
Meanwhile, heat hard taco shells (from dinner kit) as directed on package. Arrange flour tortillas (from dinner kit) on large baking sheet. Spread 1/3 cup of the cheese on each tortilla, making sure cheese covers entire tortilla. Bake 3 to 5 minutes or until cheese is melted.
While still warm, place one hard shell in middle of cheese side of each tortilla, and press tortilla around shell.
Fill hard shell with beef filling, and top with lettuce, tomatoes, crema and taco sauce (from dinner kit), as desired.
Expert Tips
The cheese on the flour tortilla only takes a few minutes to melt, so it's best not to walk away during this step. If the cheese bakes on the tortilla too long, it will form a crust and won't adhere as well to the hard taco shell.
Chopped green onions or cilantro make for extra fresh topping additions to this quesadilla taco.
Old El Paso™ Shredded 3 Pepper Cheese Blend can be substituted for the Old El Paso™ Shredded Mexican Style 4 Cheese in this recipe, if desired.
If you don't have a large baking sheet, you can bake the flour tortillas in two batches.
Beef tacos make taco night easy and delicious. Check out more recipes, like Quick and Easy Beef Tacos and Classic Beef Tacos.
Nutrition
1 taco Calories 390 (Calories from Fat 220); Total Fat 24g (Saturated Fat 13g ,Trans Fat 0g); Cholesterol 95mg; Sodium 620mg; Potassium 300mg; Total Carbohydrate 19g (Dietary Fiber 0g ,Sugars 3g); Protein 23g
% Daily Value: Vitamin A 2%; Vitamin C 0%; Calcium 30%; Iron 15%
Exchanges: 1/2 Starch; 1 Other Carbohydrate; 1 High-Fat Meat; 1 Fat
Carbohydrate Choice: 1
*Percent Daily Values are based on a 2,000 calorie diet